This dog was just an ordinary family pet—until one night her strange behavior revealed a side no one had ever seen before.
Nana Chaichanhda, from Stockton, California, is the mother of a 7-month-old baby named Masailah—and the owner of a dog named Sasha, who was born right around the same time. She said her baby and pup have formed a close bond growing up together.
"[Sasha's] in the bed every day, they take baths together," Chaichanhda told WFLA.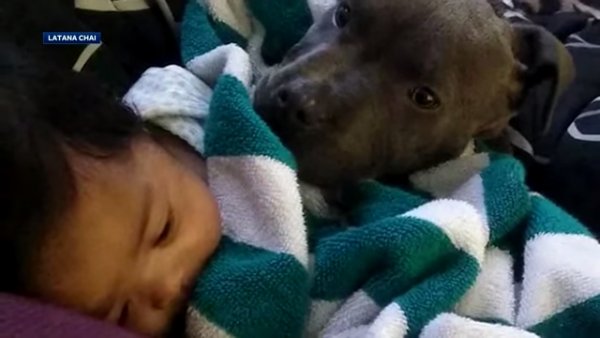 But one night, she found her dog acting unusually.
It was just past midnight on June 3. Chaichanhda had let Sasha out into the backyard of their fourplex for the night—yet suddenly heard her frantically trying to get back in the house.
"I heard like a loud bang and I was like what's going on, and I heard Sasha crying, and she kept jumping at the door," Chaichanhda told WFLA.
"As soon as I got to the door she runs in, starts barking." 
However, when she stepped outside, she realized what the dog was trying to alert her of:
The apartment was on fire.

Flames were spreading through the complex and had reached her house—and she would've had no idea, if the dog hadn't alerted her.
"I looked up and there's black smoke coming from my neighbor's house. You can see the flames coming out," she told KCRA.
Chaichanhda ran back inside to grab her baby and call 911—and realized her dog had done something even more heroic.
Sasha grabbed the baby to get her to safety!
"I ran into the room and I see Sasha," Chaichanhda said. "She has my baby … by the diaper just dragging her off the bed—trying to get her to safety."

Firefighters arrived within minutes and were able to contain the blaze. Unfortunately, the fire had damaged Chaichanhda's apartment, rendering it uninhabitable. A GoFundMe page was set up to help the family get back on their feet.
Everyone in the complex made it out unscathed—a miracle she credits to Sasha's quick-thinking.
"[Sasha] saved everybody," Chaichanhda said. "If it wasn't for her, I don't think that any of us in this complex would have known anything … if she wasn't barking or really going at the door like that, I probably wouldn't have known nothing."

This dog became a hero to everyone—but especially to Chaichanhda and her family. By instinctively running to save the baby from danger, Sasha proved that dogs really do protect and care about their owners.