Teaching is among the most noble of professions. Teachers are asked to give so much of themselves—time, energy, and attitude.
Devoted and passionate teachers will tell you that their work is more than a job, it's a calling. They love their students and are willing to go the extra mile to make sure they succeed.
Much of their work hinges on making personal connections with their students. Students who feel valued are more apt to learn and participate in class.
With that in mind, one teacher in Wichita, Kansas, has devoted an extraordinary amount of effort into making her students feel important as individuals.
Jerusha Willenborg, a teacher at Mueller Elementary in Kansas, greets each student in her class with a unique handshake.
Each student shares their own special, individual handshake with their teacher. As class ends, they line up and one-by-one go through their routine before moving on with their day.
"It is special between me and that one student," Willenborg told Inside Edition. "That one student knows I care about them."
Each of her 22 students design their own handshake, which they later teach to Willenborg. Choreography ranges from hand slaps, hip bumps, and the occasional dab.
Willenborg said she has each student run through the handshake three times to make sure it sticks for both of them.
"I do make mistakes, but the funny thing is the kids make mistakes more than I do," she said.
The handshakes started three years ago, and have become a tradition with Willenborg's classes ever since.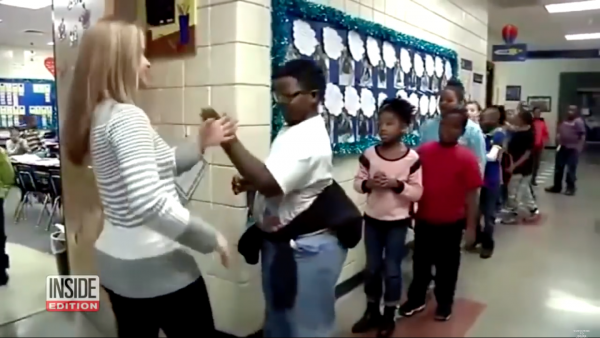 The third grade teacher has always tried to make a special connection with her students. But the roots of the now-beloved ritual can be traced back to one of her former students.
At the end of class, as she was high-fiving and fist-bumping her students, one boy wanted something different. He created a special handshake for them, quickly drawing the attention of his fellow classmates.
"He added on to it. Then everyone wanted a handshake," Willenborg told KWCH.
Since then, students have come to expect a handshake at the end of class.
Willenborg's willingness to learn each handshake has helped win the trust of her students.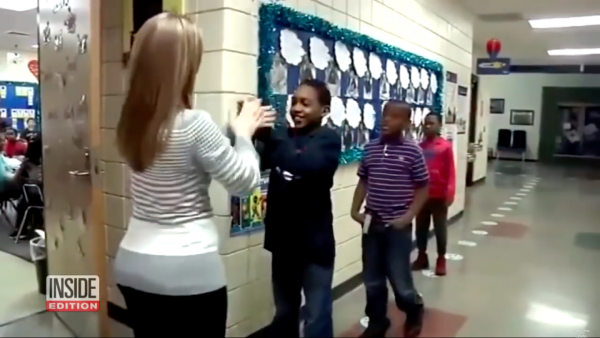 The end goal, of course, is to make the kids excited about being in school. Establishing trust in a teacher–student relationship is an integral part of that result.
"It makes me feel like Miss Willenborg has my back," one of the teacher's students, Harmoni told KWCH.
For the devoted educator, the relationship building that occurs by way of the handshakes is special—and sacred. Even when a student has had a bad day, she is sure to bid them farewell in their own special way.
"The kids don't always make good choices. They are amazing kids, but you know, they're kids. At the end of the day, they give me their handshake, whether they had a good day or not, they leave that day knowing I still care about them," Willenborg said.