One mid-October day the Fulshear Police Department in Fulshear, Texas, received an odd call. Someone had called to alert them of a young buck that had been tied up to a tree behind a house that was under construction.
Officer Zieschang responded to the call and helped to free the deer. Once the deer was free, the officer and construction workers at the house attempted to usher the deer away, but the deer had other plans.
Somehow a deer ended up tied to a tree in a backyard.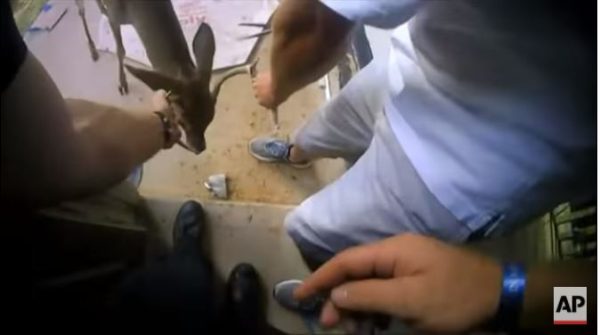 When Officer Zieschang arrived at the scene the deer had been removed from the tree, but still had pieces of rope wrapped around its antlers.
With the help of the construction workers, who were working on the house, the police officer was able to remove the remaining rope from the deer. Once the rope had been removed they expected the deer would run off, but it barely moved.
"I tried to spook him to get him to run back out into the woods, but he wasn't having it," Officer Zieschang told KTRK. "He wanted to hang out with us."
The young buck, nicknamed Hank, was in no rush to leave.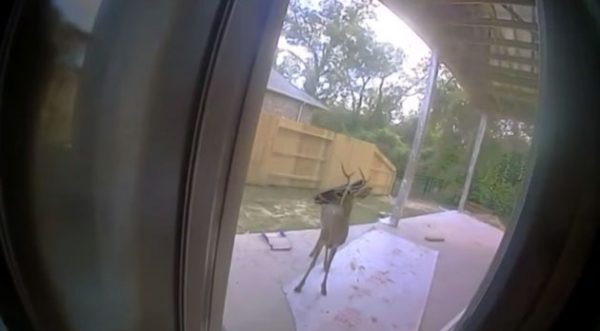 At one point the officer's body camera captured the deer walking right up to Officer Zieschang's outstretched hand. The deer appeared more interested in receiving a few behind the ear scratches than returning to the woods.
Eventually the deer made its way back into the woods, but the interaction left the officer and construction workers amused, but also confused.
Days later a news crew showed up at the house to interview Officer Zieschang about his unique rescue. While conducting the interview they were interrupted by a familiar face.
The deer returned as if he wanted to thank the officer for rescuing him.
"He came back to see me!" Officer Zieschang said.
The deer made its rounds, receiving head scratches from nearly everyone as Officer Zieschang continued with his on-camera interview.
The two meet again.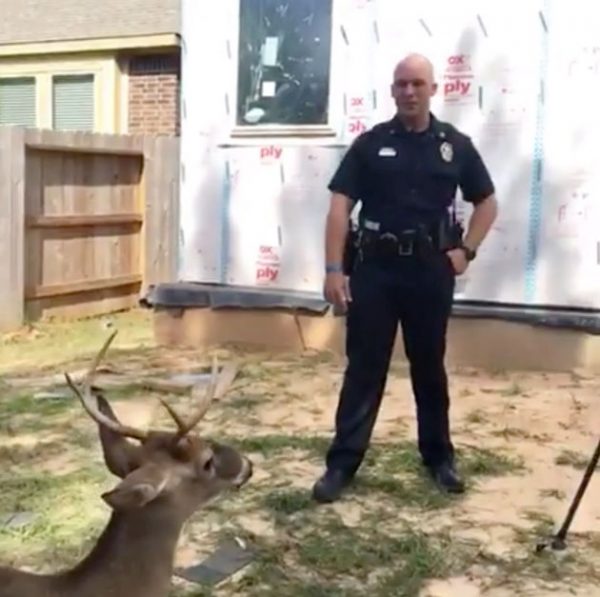 While the situation was entertaining, police were concerned what would happen to the deer, especially if it continued to approach humans in the neighborhood. With everyone's safety in mind, the deer was eventually transported to an animal sanctuary, according to the Associated Press.