26-year-old Lucas Mayne and his girlfriend Summer Holst, 21, were having an absolutely incredible night. It all started with a surprise fairytale proposal onboard a holiday-themed train in Washington state.
"When it was time for Santa to come through the aisles and take pictures with everyone, well, that's when I had my chance to drop down to a knee and ask her to marry me," Mayne said to The News Tribune.
Holst was ecstatic with the sweet proposal.
Needless to say, she said yes.

As Mayne and Holst embraced after that life-changing moment, they were looking forward to the remainder of the night.
As a firefighter, Mayne intended to take his now fiancee to the fire station where he and some of his fellow co-workers had put up an elaborate Christmas lights show. Afterwards they planned to go to dinner at Holst's parents' house.
They had no idea of the twist of fate that was about to strike.

While driving on the way to the fire station, enjoying each other's company and taking in the reality that they were now engaged to each other, Holst was the first one to realize that something was very wrong.
Nearing the fire station, there appeared to be a large gathering of people in the distance.
And that was when Holst saw the fire.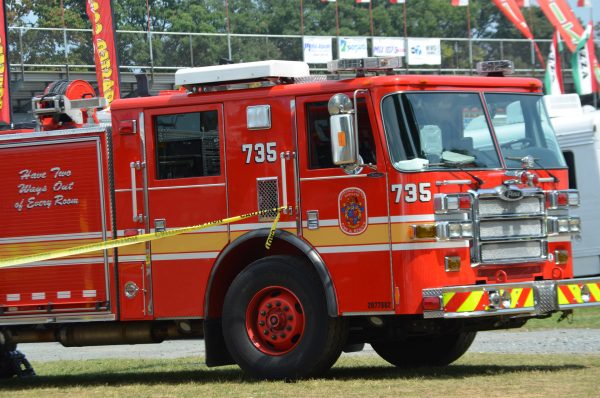 "Summer turned and saw the flames, just before I did," Mayne explained to brides.com.
A wine and liquor store was burning—but there were no firefighters in sight.
"Then we looked back at the station and we noticed all the lights were off, there were no cars parked in front," Mayne said.
Holst knew what her fiance had to do.
"We looked at each other and she said, 'You need to go, don't you?'" Mayne said.
Mayne said yes and quickly sprang into action.

Rushing into the station, Mayne got into his gear and met with other firefighters from another town to work together to subdue the blaze. Holst contributed from the sidelines, handling with traffic and crowd control and helping make sure no one was getting hurt.
Thanks to Mayne's contributions, the flames were quelled and the crisis was averted, with no other buildings affected.
Afterwards, the newly engaged couple still managed to make it to Holst's parents' house, although they did carry with them the smell of smoke from the fire.
As for the futures of Mayne and Holst, with their wedding date set for August 17th, it doesn't seem likely that they'll ever forget the night where they not only became engaged, but they stood up against a dangerous fire.
It's a story that they'll be sharing with others for years to come.