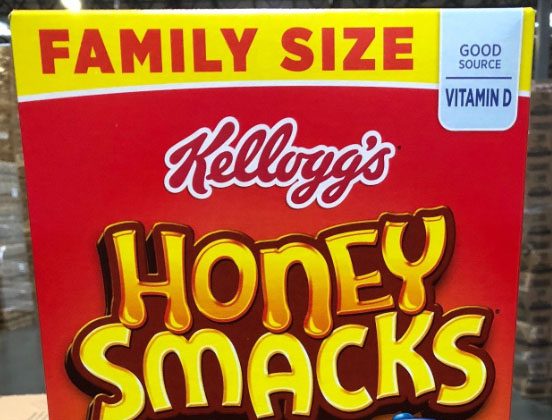 Salmonella Outbreak Leads to FDA Ban on Kellogg's Honey Smacks

The Food and Drug Administration (FDA) says that it is illegal for retailers to sell Kellogg's Honey Smacks cereal, following a multi-state outbreak of salmonella, linked to the product.
The cereal has been recalled after more than 100 people in 33 states have been found to be infected with the bacteria. There have been 30 cases in which people have been hospitalized.
They recommends that people do not eat the product. It should be discarded regardless of when it expires, and regardless of the size of the packaging. Honey smacks with earlier dates might also be contaminated.
The FDA has conducted an inspection of the facility where the Honey Smacks are manufactured, their website states.
After collecting and analyzing the environmental and product samples, they found a match to Salmonella Mbandaka. The facility stopped production on June 12, 2018.
This is one of eight investigations into outbreaks of salmonella this year, mentioned on the Centers for Disease Control and Prevention website.
Among others, there was an investigation into an outbreak of Salmonella Adelaide, involving pre-cut melons that resulted in 70 cases in seven states with 34 hospitalizations. Another was in response to an outbreak of Salmonella Braenderup, in which 206,749,248 shell eggs from nine states were recalled, after Salmonella Braenderup was found at a farm in Seymour, Indiana.
Salmonella infections may lead to symptoms such as diarrhea, fever and abdominal cramps. The symptoms are developed 12 – 72 hours after infection. Sometimes diarrhea can become so severe that people need to be hospitalized, but most people can recover from these symptoms without hospital treatment.
#FDA recently discovered that Kellogg's Honey Smacks are still being sold to consumers. ALL Honey Smacks cereal was recalled in June. BE ON NOTICE. Retailers CANNOT LEGALLY SELL this product to consumers. https://t.co/D85iPrsYfX pic.twitter.com/d4Cem8OIlx

— Scott Gottlieb, M.D. (@SGottliebFDA) July 12, 2018
The FDA has issues a reminder not to sell the Honey Smacks after finding out that some retailers were still selling them. They will closely monitor retailers to the best of their ability and contact retailers as they become aware of the defected products still being up for sale.
Kellogg's Honey Smacks cereal has also been shipped to overseas locations, including: Aruba/Curaçao/Saint Maarten (Netherlands Antilles), the Bahamas, Barbados, Tortola (British Virgin Islands), Costa Rica, Guatemala, Haiti, Mexico, Panama, and Tahiti (French Polynesia).
The public is urged to contact the FDA complaint coordinators if they see the product being offered for sale.
RECOMMENDED