Nothing can make up losing someone before their time. Whether its a friend, a family member, or loved one there is simply no act that can erase such a tragic loss.
But sometimes, acts of pure humanity and kindness can make it just a little easier as you grieve.
When a tragic car accident took the life of a young girl, nothing in this world could make up for the light that left with her. But one strangers act of kindness had her grieving family thankful that her was there.
Last weekend, a terrible car accident caused an unspeakable tragedy.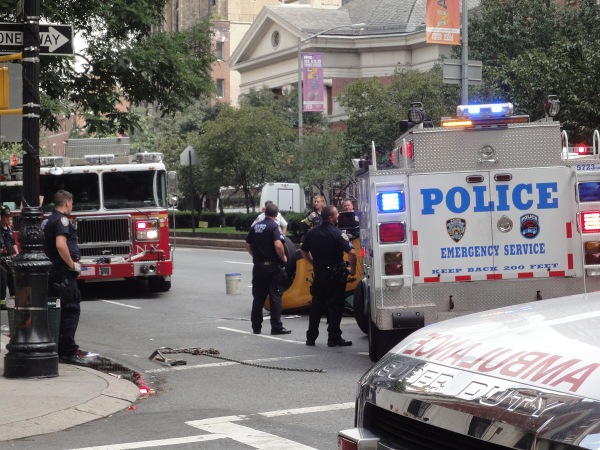 During Martin Luther King, Jr. Memorial Weekend a young couple, 17-year-old, Tony Morganti and 16-year-old, Rachel LoFaso, were driving to get a late breakfast. Road conditions were slippery, however, and as they drove down the road their car swerved into the center lane and crashed into an oncoming vehicle.
The collision was incredibly violent; everyone involved was seriously injured. However, their injuries were not life-threatening, and the passengers of the other vehicle as well as Morganti would survive.
But, tragically, young Rachel would not be so lucky.
The accident was witnessed by many and it soon attracted people looking to help, including one man driving his daughter and her friend back to their university.
But when he stopped his vehicle and found a young girl lying in the road, he soon realized just how terrible the collision was.
"He held her."

Rachel was lying down, alive, but unresponsive. Emergency medical technicians were on there way, but there was nothing they could do.
The stranger, who wished to remain anonymous, did not have any medical background, or secret knowledge to save Rachel's life. Instead, he did the only thing he could; the man took the injured teen in his arms and did his best to comfort until the paramedics arrived. She passed at some point after arriving at the hospital.
"He held her," Fred Lofaso, Rachel's father, said according to Liftable. "And he was helping her breathe."
LoFaso heard about the stranger's kindness from a post on social media. The two men then spoke on Facebook a little later.
"He told me he doesn't believe she was in pain," LoFaso said according to Liftable.
"It means everything to me."
Thank you to EVERYONE who has shared Rachel's story, supported and shown Love to our Family Our appreciation can not be measured with words❤️

Posted by Fred LoFaso on Wednesday, January 17, 2018
Nothing can give life back to their daughter, a girl so full of life and potential. However, her parents were moved at this strangers incredible act of humanity.
"What a difference beautiful people like that can make in someone's life," LaFaso said according to Liftable.
Being there for his daughter at the end, was a mercy that LoFaso is all too grateful for.
"It means everything to me," LoFaso said according to Liftable. "It just means everything."
Rachel's parents hope that, one day, they will be able to meet this samaritan in person and truly thank him for the comfort his actions must have given their daughter in her final moments.
If you would like to donate to help the LoFaso family pay the extensive medical bills from this tragedy, please visit their GoFundMe link, here.