People like to make fun of how the media—lately social media—has ruined people's lives, but it can also benefit people in ways many of us take for granted. Sure, most of us are not going to escape poverty by becoming YouTube celebrities—as much as we may want to—but there are stories of the media playing a pivotal role in changing people's fortunes for the better. Here's one: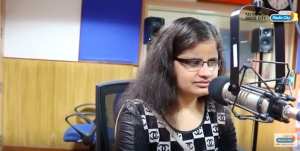 Nikita Shukla was a young, blind, homeless woman living in India when she won a radio contest with the station, Radio City 91.1. Having been invited to the station to receive her prize money, she then asked to meet the radio jockey, Sucharita Tyagi, who became inspired learning her life story.

Tyagi soon started to write out Shukla's life story in a series of Twitter posts, reported New York Minute Magazine.
"Story time you guys. I've been [a radio jockey] for 10 years, and today is the FIRST time I truly experienced the power this medium has, what it can do."
After learning that her guest had been living in a youth hostel, she continued.
"Nikita is completely blind. Something her parents were not very excited about and wanted to get her married right after high school. When Nikita refused and insisted on studying further, she was asked to leave the house." As the posts later explained, Shukla was given 20 free meals by the hostel per month—it was her sole source of food.
Story time you guys
I've been an RJ for 10 years, and today is the FIRST time I truly experienced the power this medium has, what it can do.

— Sucharita Tyagi (@Su4ita) May 16, 2017
"Nikita didn't come to @radiocityindia to tell me her story. She just came to collect a prize, but agreed to go on the record when I asked," Tyagi later explained. The Twitter posts went viral and people began contacting the radio station, asking if there was any way they could help Shukla out—some people even wrote out checks out to her.
Tyagi said she was touched by the outpouring of compassion and goodwill for Shukla, and that nobody questioned the story's veracity.
"Not ONE person asked for proof, not ONE person said, 'But what if she runs away with my money?' No, people just opened their hearts and gave."
Tyagi later announced that supporters on Twitter had helped to raise enough money to not only ensure Shukla could afford three meals a day, but also covered her hostel and school fees.
So next time you feel like grumbling about the evils of social media, remember—it is us can make it beautiful!