There's some powerful New Year's energy in the air. Now's the time to harness those vibes and head into a fresh year ready to become more healthy, awesome, and powerful.
Whether you need help thinking up resolutions for the upcoming year, or want something small and specific enough that you'll actually stick to, we've got a great list of 44 resolutions to choose from.
Consider these doable, affordable, and health-minded. These are not quick fixes. These resolutions will help you spend time more time acting on your goals and less time feeling overwhelmed by big, lofty commitments. And isn't that the point of resolutions in the first place?
Make It Easy to Stay Active

1. Take the Stairs or Walk Up the Escalator
"Making a resolution to work out more is a good goal. But incorporating movement into our daily lives is important, too," says Alena Luciani, MS, CSCS, Pn1, founder of Training2xl.
"Take the stairs! Walk up the escalator instead of just riding it. Take the stairs to the second floor, then take the elevator the rest of the way up."
2. Work Out Outside, if Possible
Skip the post-New Year's Eve gym rush and take your workout to the playground or outdoor track. Being outside, especially during the winter, will invigorate you.
In fact, a 2011 study found that outdoor exercise was associated with greater decreases in confusion, anger, and depression when compared to indoor activity. Plus, it will help you realize just how easy it is to move more anywhere.
If it's too cold for a full outdoor workout, even a 5-minute walk can boost your mood.
3. Count Your Workout Goals by Days
There's just something more fun about working out 300 days a year as opposed to five or six days a week.
"Completing 300 workouts in a year has been my resolution for the last four years. As a doctor and part-time coach this gives me more freedom to skip workouts when I'm too busy. Plus, it's fun to tell people," says former regionals CrossFit athlete Allison Warner, a coach at ICE NYC, a fitness studio in New York City. Touché.
While Warner keeps track with check marks on a monthly calendar, which she tallies and adds at the end of each month, a gold star or sticker system will work, too.
4. Do One Hip Opening Stretch a Day
Thanks to our sit-all-day lifestyle, most of us have tight hip flexors.
"Tight hip flexors can lead to pain in your back, knees, and other issues throughout your body. But spending one minute stretching each of your hip flexors can help," says Grayson Wickham, doctor of physical therapy and founder of Movement Vault, a mobility and stretch streaming service.
Wickham recommends a hip flexor stretch, which you do by getting into a lunge on the ground and placing one knee in front at a 90-degree angle. You'll then move your pelvis and torso slightly, pausing where you feel tension
5. Try to Touch Your Toes Each Morning
Doing this will help improve your hamstring strength, but don't ever force the stretch. Let yourself get there gradually.
"This is a great challenge, but you need to make certain not to do too much too soon," Wickham says. "Think about your muscles like rubber bands—which are naturally elastic in nature—if you stretch them too far before they're ready, they can snap, or get injured."
6. Learn to Do a Proper Pushup
Reminiscent of resolution eight, Warner says that setting a very specific movement-based goal can be incredibly motivating. And while we all know what a pushup is, we might not actually be doing it right. The classic move is incredibly effective at building upper body and chest strength.
7. Learn How to Do a Pull-up
A pullup is another movement using body weight that's both difficult and beneficial. Incorporating progressions like resistance band pullups, jumping pullups, and isometric holds at the top can help you get there.
8. Improve Your Shoulder Mobility
Mobility may sound like just another buzzword but it's super important for reducing the risk of injury, improving strength, and promoting graceful aging.
"I see so many shoulder injuries that could have been prevented if people had better shoulder mobility," says Ariel Osharenko, sports performance physical therapist and owner of On Point Physical Therapy in NYC.
Try Osharenko's movement once a day (10 to 15 repetitions), or before your workouts, to reduce stiff kinks in your shoulder and achieve huge improvements in mobility.
9. Meditate Before Your Workout
"Meditate more" may be one of the most popular New Year's resolutions, but since the benefits are science-backed, it's a good one. There's no bad time to meditate, but practicing meditation for just five to ten minutes before you exercise is a great way to tune into your body, relax, and prepare to focus on your workout on hand.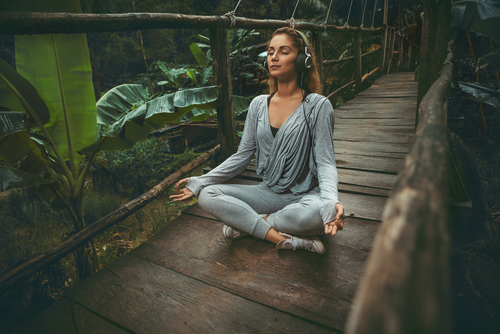 10. Pack Your Gym Bag the Night Before
Mentally preparing to hit the gym is half of the battle. Physically preparing is the other half. That's why Jackie Stauffer, founder of clean beauty brand for athletes, Recess, suggests packing your gym bag the night before.
"Remember to pack a snack, some wet wipes and dry shampoo, an extra pair of socks and underwear, earbuds, and a change of clothes," she says.
11. Find a Workout Buddy
An app is nice but a friend is better. Find a new workout buddy, or join forces with someone with similar fitness goals to keep each other accountable.
"Working out with a friend is way more fun, and I know I'm way less likely to skip a workout if I've committed to a plan with someone else," says Stauffer.
12. Leave Your Phone in the Car
So much gym time is wasted scrolling through our phones. Try leaving your phone in the car once a week, or if you need your phone for music, try putting it on airplane mode.
When you're resting, explore what the gym has to offer, introduce yourself to the personal trainers, or simply sit there. Not only will you be surprised how much quicker you get your routine done, it'll help you disconnect and de-stress from work.
12. Try Working Out Without Music
Music and exercise go together like cake and candles. But as much as we love getting our sweat on to good tunes, music can make us forget to tune in with our body. A 2009 study shows that association-based attention (focusing in the body) can reduce injuries or overexertion for high-intensity workouts.
That's why this year you should try to work out without Drake rapping in your ear, especially on the fast and hard routines. This will force you to tune into your breathing and biomechanics instead.
13. Sign Up for a Fitness Event
Get a Tough Mudder on your calendar. Put your name down for the company 5K. Crash your pal's plans to do a Spartan Sprint.
Whatever it is, signing up for a fitness event helps orient your exercise goals around something fun and community-building.
14. Prioritize Recovery
As the saying goes, "everything in moderation." That includes exercise. Make sure to take a recovery day at least once a week.
15. Be Gentle With Yourself if You Have a Bad Week
At some point during the next year—or starting from whenever you decide to work out—there may be a bad week.
Maybe work got crazy, the parents came to visit, or you succumbed to the temptation of Netflix a few nights in a row. CrossFit coach Izzy Levy, owner of ICE NYC says, "Accept that you had an off week. Then move on. Don't let a slip become a fall. Instead, make the effort to get back into a routine."