A restaurant within a restaurant, Tapas Bar has opened in the barroom of La Sirena, the restaurant from Mario Batali and Joe Bastianich inside The Maritime Hotel.
Executive chef Anthony Sasso, a 13-year veteran of Casa Mono, has devised a menu of creative and modern Spanish tapas to complement the bar program.

Sasso, who has family in Spain's Catalonia region, also worked at the restaurant El Hogar Gallego—just 25 minutes north of Barcelona—where seafood was the highlight. The region is known for a style of cuisine called "mar y montaña," meaning "sea and mountain," that highlights the bounty of the area. Some items on the menu at Tapas Bar reflect that marriage, such as the slow-cooked pork belly with lobster, or sweetbreads paired with anchovy sauce. "There's always one wink of the eye to the land and the sea," Sasso said.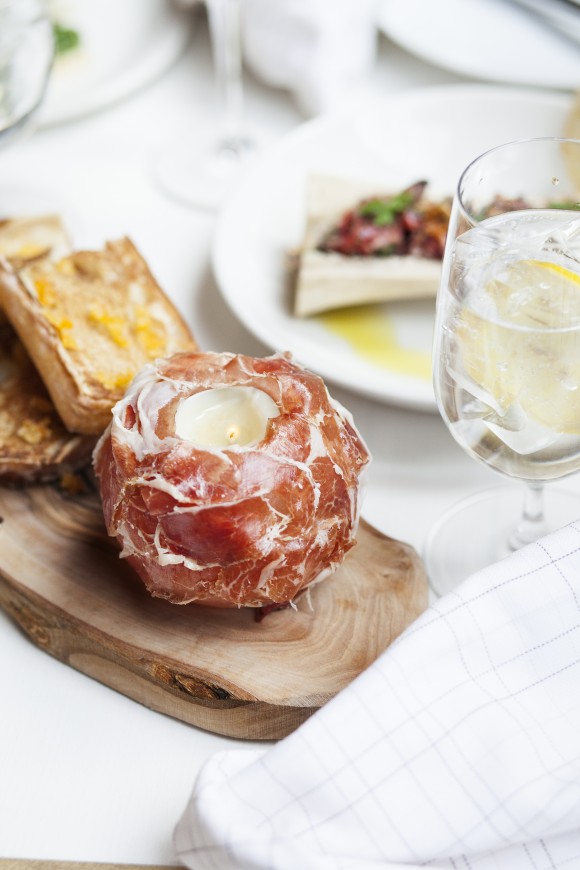 Thanks to relationships with purveyors over the years at Casa Mono, Sasso is able to feature Spanish ingredients that are be hard to come by. One is a type of eggplant that Sasso spotted inside the garden of a monastery while on a trip to southern Spain last August (and that only just became available in the United States). As it grows, the eggplant wraps around its own stem. In Spain, it is pickled and poached along with cumin, coriander, garlic, tomato, and vinegar, and eaten whole. "You eat it as is, it's so good," he said. (You can find the eggplant in his dish Lamb Ribs With Harissa and Berenjena de Almagro.) 
Sasso loves working with foie gras. "You put anything with foie gras and it'll be delicious," he said. If you're looking for foie gras for dessert—and Sasso points out its similarity to gelato in appearance and texture—try the Foie Gras Sundae with bananas borrachas ("drunk bananas"), Nutella, tostada, negroni syrup—incorporating a cocktail ingredient (this is a bar after all)—and a cherry on top.
Another sweet-savory dish that Sasso created is fried pork rinds served with thick hot chocolate. "Kind of like this churros and chocolate thing, but we didn't want to serve churros," he said. The pork rinds are dusted with Aleppo pepper, lime zest, and cinnamon from Mexico.
Spanish ingredients make their way into cocktails as well, with a selection of sherry-based cocktails such as The Cobbler, with Madeira, Tagliatella grappa, Fino sherry, and berries.

Open daily from 11 a.m.
Tapas Bar
Inside La Sirena at The Maritime Hotel
88 Ninth Ave. (between 16th & 17th streets)
212-977-6096
LaSirena-NYC.com