The Trumps are arguably the most powerful family in America. And their brood has been expanding for decades. Using our extraordinary powers of deduction, that makes our president Donald Trump, 72, a proud grandfather several times over.
We have much to go on in terms of President Trump's public presentation, but what is the doting grandad like behind closed doors? Is he a standoffish cards-on-birthdays-and-Christmas type? A hands-on soccer-in-the-park-on-Sundays type? We cannot help but investigate further.
Merry Christmas Friends! Have an amazing day and thank you all for an unbelievable year! 🎄☃️🇺🇸

由 Eric Trump 发布于 2017年12月25日周一
Eric Trump, the 35-year-old son of Donald and Ivana, had a baby with his wife, Laura, in May of 2017. The baby is the youngest member of the family, and the president's youngest grandchild. So, just how many grandchildren does President Trump have now? Let's delve into the family archives and do the math.
Donald Trump has been married three times. He had three children with his first wife, Ivana, named Donald Jr., Ivanka, and Eric. The president then had one child with ex-wife Marla Maples, named Tiffany. With First Lady Melania Trump, the president has a 12-year-old son: Barron.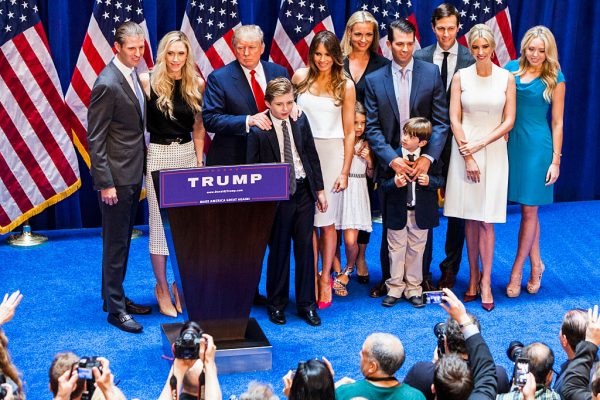 President Trump's oldest three children have nine children between them. Is this sounding like a riddle yet? Just imagine the joyous din at collective family get-togethers!
Donald Jr. and his wife, Vanessa, have had five children together since 2005: three boys, and two girls. Ivanka married her beau, Jared Kushner, and the couple has three children: a girl and two boys. And, of course, the president's son Eric has a baby.
Donald Trump has made obvious his love and care for his children, and their children too: photos show him smiling with the kids and enjoying time away from presidential duties. "Look who came to see me today! Thank you Kai!" read one of the president's emphatic social media posts. There must be nothing like the energy and wonderstruck perspective of young children to alleviate the stresses of life in the White House!
In conversation with Redbook, Ivanka revealed some insights into what her father is like in his role as a grandfather: "He wouldn't know what to do if she was crying or needed a diaper change," the mother smiled, "although I think he'd figure it out."
Coming to her father's defense, however, Ivanka assured readers that President Trump showers the children with affection "all the time." She added, speaking of her own childhood: "He was always a great father in that he was always there."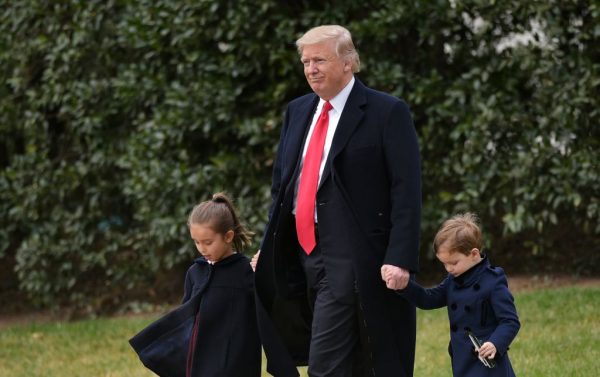 In much the same way as current wife Melania is a loving and hands-on mom to young son Barron, it seems that President Trump doesn't shy away from his grandfatherly responsibilities. He even welcomes his grandchildren to the White House, where they are allowed to play to their hearts' content.
We must commend the president on his family values. Whether it's helping with daily care, giving gifts or giving advice, or simply being a loving presence, grandparents play a very significant role in the lives of their grandchildren. It is hugely important for children to grow up under the influence of several generations; how else can they learn and internalize the wisdom of the family?
And for a family like the Trumps, we certainly think these growing children are going to want to learn from their successful elders!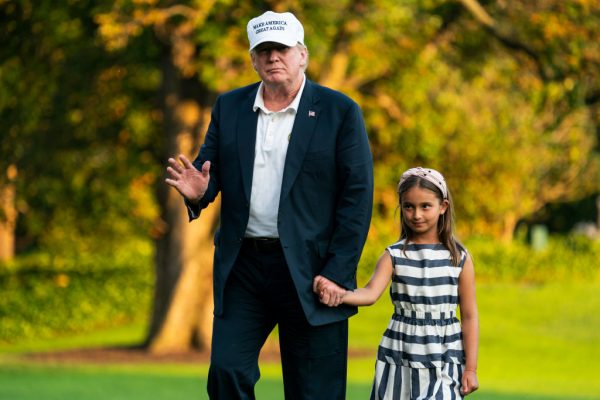 Spending time with grandparents can instil valuable life lessons, can help build excellent emotional and social intelligence, and can build the most precious family memories. We can only imagine the memories that the young Trump children will take with them into their adolescence and beyond. Playing with a train set with "Grandpa Donald" in the White House? It sounds like the stuff of dreams, but it's reality for Donald Trump's lucky young charges!
It's heartwarming to learn that the president makes time for his family in and around the extraordinary pressures of his professional life. Not even President Trump can escape family duties, but luckily, it seems that he welcomes his responsibilities as a grandparent with open arms.
Were you influenced by your grandparents growing up? Perhaps you are a grandparent yourself? Share your stories and memories in the comments section below!