Google, Facebook, Apple Ban Alex Jones's InfoWars
August 6, 2018 Last Updated: August 6, 2018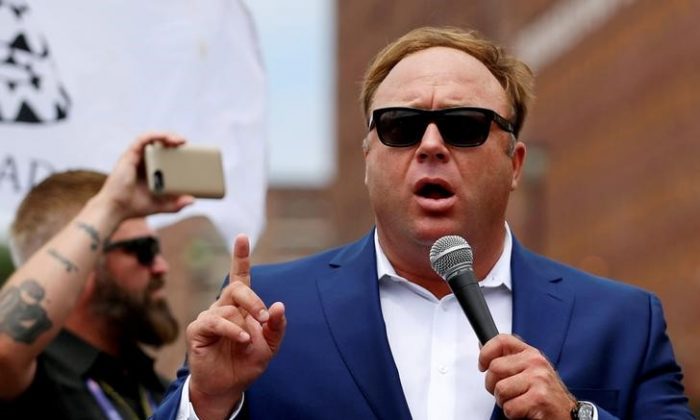 Google, Facebook, Apple, and Spotify all have removed from their platforms a large part of the InfoWars media run by Alex Jones.
Google shut down "The Alex Jones Channel" and several other InfoWars official channels around noon on Aug. 6, after Facebook removed four InfoWars pages, Apple removed five InfoWars podcasts from iTunes, and Spotify removed one podcast earlier that day.
All four companies cited "hate speech" as the reason for removing the content.
In response, InfoWars representatives said the companies coordinated their efforts to shut down independent conservative media in order to hurt Republicans in the upcoming midterm elections, as well as to set a precedent for purging political speech.
YouTube removed at least four InfoWars channels, including "The Alex Jones Channel," the "Ron Gibson" channel, "Infowars Interviews," and "RealNews with David Knight."
"All users agree to comply with our Terms of Service and Community Guidelines when they sign up to use YouTube,'' a YouTube spokesperson told The Epoch Times in an email.
Facebook said in a blog post, "When users violate these policies repeatedly, like our policies against hate speech and harassment or our terms prohibiting circumvention of our enforcement measures, we terminate their accounts." The company indicated that the InfoWars pages have been "unpublished for repeated violations of Community Standards and accumulating too many strikes."
"We have taken it down for glorifying violence, which violates our graphic violence policy, and using dehumanizing language to describe people who are transgender, Muslims and immigrants, which violates our hate speech policies," the post stated.
Apple didn't respond to The Epoch Times' request for a comment, but issued a statement to BuzzFeed.
"Apple does not tolerate hate speech, and we have clear guidelines that creators and developers must follow to ensure we provide a safe environment for all of our users," an Apple spokesperson said on Aug. 6.
"Podcasts that violate these guidelines are removed from our directory making them no longer searchable or available for download or streaming. We believe in representing a wide range of views, so long as people are respectful to those with differing opinions."
Spotify cited "hate content" reports against Jones in a release to The Epoch Times.
"We take reports of hate content seriously and review any podcast episode or song that is flagged by our community. Due to repeated violations of Spotify's prohibited content policies, 'The Alex Jones Show' has lost access to the Spotify platform," a Spotify spokesperson said in an email.
'Coordinated Effort'
InfoWars editor Paul Joseph Watson responded in an Aug. 6 article, saying that the companies "all banned InfoWars within 12 hours of each other, illustrating how last night's purge was a coordinated effort and has nothing to do with these platforms enforcing 'hate speech' rules."
"InfoWars is widely credited with having played a key role in electing Donald Trump. By banning InfoWars, big tech is engaging in election meddling just three months before crucial midterms," he wrote.
He also said the companies "have all now ascribed themselves the power to remove people & outlets from their platforms based on their political opinions" and warned that "this power will be abused time and time again to meddle in elections."
On Aug. 6, InfoWars reporter Jake Lloyd posted a response to the companies' actions to one of the now-defunct channels.
"They want to make a precedent so that they can shut anybody down that they don't like. And if you think that your media company won't get shut down just because you're an 'acceptable' type of conservative, you are wrong," he said. "As soon as they get us off the internet, they will be coming after you."



Jones, known for his animated style, has been criticized in the media for discussing controversial, sometimes unverified, claims on his show.
Some InfoWars shows, such as  "WarRoom" and "RealNews with David Knight" are still available on Facebook and YouTube. Watson's pages also appear to be affected.
Watch Next:
The First Ever Ministerial to Advance Religious Freedom Inspires Hope
The freedom of belief was at the center of the United States' founding.