"I never imagined that when I was placed in special education as a third-grader, flunking all six classes as an eighth-grader, battling through depression as a 10th-grader, a high school dropout spending time in jail as an 11th-grader, and ranked last in my class of 166 as a 12th-grader back in Oklahoma, that one day I would become a former special education teacher now at Columbia University as a Ph.D. student in education, about to pick up my two Masters degree from a top Ivy League University," Joseph Mathews wrote on his Facebook page on May 19. 
"We were very, very, poor," said Mathews, who grew up on a farm in Bivins, Texas. His parents split up when he was six years old, forcing him to leave Texas to start a new life with his mother and five older siblings in Midwest City, Oklahoma.
"We lived in a one-bedroom apartment with no furniture; my mom would feed us cornmeal—and when we didn't have food, I would steal bibles from church to sell them to people for money, so that I could buy food," Mathews said.
Sometimes, he would even steal candy and sell it, so he could fill his empty stomach.
From the ages of 7 through 18, he went from "home-to-home," moving a total of 27 times.
In the midst of moving, Mathews struggled severely with academics, but he was a very good athlete.
"I was a star football player, track runner, and state champion in wrestling," he said. He was also a musician. "But the two talents that I had, I didn't know how to bring them together," he said. 
It wasn't that he was incompetent—it was the depression he fell into from living in poverty. He couldn't focus at school.
"We had no money and no electricity. I remember doing homework by candlelight. In the winter, my brothers and I would huddle up under the covers to stay warm. I remember borrowing water from neighbors because our water was cut off. So to come to school, to perform when my stomach is growling, or knowing that I'll come home to a dark house … and teachers are concerned if you finished your homework for the night?" he said.

Mathews remembers his teacher putting him at the back of the class in the third grade, and never calling on him.
"I blurted out an answer no one else knew, so she turned my desk around. I felt so isolated from the group. I was the only black kid in school," he said.
His teacher said he had a learning disability and would need to be placed in a special education class. When asked how his mother reacted, he said: "My mom cares about me, but she didn't know anything about the education system.
"I had a lot of built up anger; I did not have an outlet … I had a dysfunctional relationship with school."
Meanwhile, Mathews recalled that the area he lived in was a pipeline for gang activity, full of Blood gang members. "The Crips and the Bloods were really big in Oklahoma in the 1990s [when I was] growing up," he said. "Everybody was either in a gang, associated with, or living in a place consisting of gangs.
"Dealing with that element—drive-by shootings … where do you turn? A lot of us turned to each other," he said. By his junior year of high school, Mathews said he had witnessed a lot of gang violence and many of his friends were either killed or incarcerated. 
The losses he experienced became the root of his depression. "I was emotionally broken from death, incarceration, and racial profiling." 

Right before Mathews' senior year in high school, he was arrested for "boosting clothes" and spent two months in jail. It was here that he realized he wasn't going to go anywhere in life while holding on to so much anger. Once he was released, his best friend at the time, Joey (who later committed suicide), talked him into going back to school.
So he did. Mathews took night classes, summer classes, and weekend classes. He finally graduated, last in his class at a predominately white high school, Carl Albert High School. "Only 12 black people were in my senior year graduation," he said.
He then went to Langston University in Oklahoma, only because he wanted to play college football. He played in a European league for one season. "Sports meant a lot to me, but it wasn't all I had to offer."
"When I got to college, I began to fall in love with education again. I began to love learning," he said. 
Mathews earned a B.A. in psychology—he wanted to get to the root of his pain and that of others. Seeing other African Americans going through similar experiences helped him to heal.
After graduating from Langston University, he became a special education teacher in Dallas, Texas. He later moved to Chicago and worked as a behavior specialist for two years.
What propelled him to take that career path, he said, was an internship he completed at a correctional facility for juvenile offenders. "As I talked to [the kids], I realized the majority of problems didn't start at home, but at school—and the structure of school," he said. "So I became a teacher because I know how to talk to students and engage with them, and [how to] talk to parents of disengaged students."
"It's therapeutic when I am able to heal others," he said.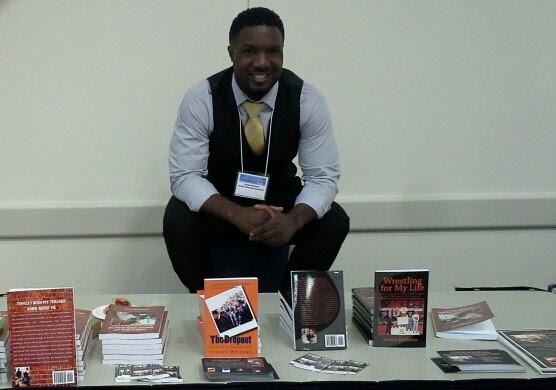 Fast forward to 2016 and Mathews is now a doctoral student at Columbia University, set to graduate in 2017 with a Ph.D. in Urban Education. He has two masters degrees: an M.A. in Family and Community Education and an M.Ed. in Urban Education. He is the author of five books: "The Dropout" (2008), "Me and My Homies" (2010), "Why Do Boys Make Girls Cry?" (2011), "Wrestling for My Life" (2012), and "Things I Wish My Teacher Knew About Me" (2015). He also mentors at many different schools in urban communities, teaching students about decision-making, anger management, conflict resolution, and emotional development. 
"I always asked students this: 'If you were walking down the street and someone would try and steal your shoes, what would you do?' They always said they would not let someone take their shoes. So I say to them: 'The same way you would protect your shoes, is the same way you should protect your dreams. You can't let school, education, or problems in life punch you in the mouth—and not fight back.' I tell them, 'Don't lose who you are—become a better version of yourself,'" he said.
Although Mathews is very pleased that his Facebook post has been liked over 33,000 times and shared over 8,000 times, he wants people to know that he does not chase prosperity, even if he grew up with nothing. "I chase pain," he said. "I go to places where people are hurting; I help heal hurt and pain, and that's where I make the most difference."
When asked how he feels about all that he has accomplished so far, he said: "I didn't make it to the football league, but I made it to the Ivy League … I didn't make it to a place where everyone thought I'd go, but I made it to a place where no one thought I would be." 

For more information about Joseph Mathews, visit his website here or reach out to him via email at jdm2193@tc.columbia.edu