Chinese Authorities Force Citizens to Abandon Age-Old Burial Traditions in Pursuit of Efficiency
July 31, 2018 Last Updated: July 31, 2018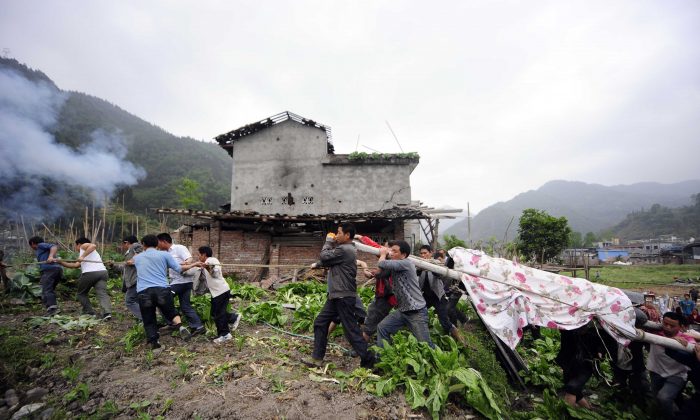 A war on coffins is being waged in China.
This summer, Jiangxi Province, located in southeastern China, has been swept up in the "Green Reform of Funerals," a movement directed by the local government to replace traditional burials with cremation.
"All bodies in the county must be cremated with no exception. … Burials are strictly prohibited, and failure to comply will result in the forced cremation of the body and the demolition of the grave," read an official notice released by the authorities in Ji'an County, Jiangxi Province, on July 19.
The goal is to "reach 100 percent cremation countywide" by Sept. 1, according to the notice.
Burial in an elaborate coffin signifies good wishes and respect for the dead, and  has been part of China's folk traditions of death rituals for thousands of years.
In many rural areas, including villages in Jiangxi, the elderly often spend their latter years investing their savings to ensure they'll have a good final resting place.
However, carrying the slogan of breaking "feudalistic superstitions" and under the guise of promoting eco-friendly death burials, the Chinese regime has been enforcing cremation as a simpler burial solution in various parts of the country, particularly in rural areas such as Jiangxi, where traditional burial customs are most widely valued.
According to online videos and photos recently circulated by Chinese media, Jiangxi law enforcement has rushed into villages and broken into houses, forcibly carrying away coffins from their elderly owners and destroying them with excavators.
Some elderly jumped into their soon-to-be-destroyed coffins wishing to be "gone together with it," until the police dragged them away.
In 2014, during a "funeral" reform campaign in Anhui Province in eastern China, six elderly residents committed suicide after they were threatened by authorities and had their coffins seized, according to a report by British newspaper The Times.
Destroying Traditional Culture
Liu Qi, governor of Jiangxi, said in a speech on July 18 that funeral reform is an important step in "destroying thousand-year-long customs."
In Chinese culture, "to have a place of burial, and to rest in peace in the earth"—as the old saying goes—is the ideal conclusion to a person's life.
However, the Chinese Communist Party (CCP) has made it a "political task" for local authorities to dig up graves and destroy coffins, undermining cultural traditions in the process.
"It's like the Party's movement of 'Breaking the Four Olds' all over again," a netizen named "farmer_112" said on Weibo, China's version of Twitter, in response to an article about Jiangxi funeral reform published by Hong Kong-based Phoenix TV on July 30.
The term "four olds" was used by the Chinese regime to describe four elements of Chinese culture it aimed to eradicate during the Cultural Revolution (1967-1976) as supposedly running counter to the communist cause, namely: old thinking, old habits, old culture, and old customs. Many historical sites, Buddhist temples, Confucius statues, and other elements of traditional culture were destroyed during the campaign.
"This is the characteristic of the Chinese regime: just be like a bandit," said a netizen named "cloud_17892."
A Profit-Oriented Industry
Aside from the forced removal of their folk culture, Jiangxi villagers are also upset with the authorities' policy because of the extra financial burden that comes with cremation.
With the new mandate requiring cremations by official-sanctioned methods, the Jiangxi authorities are in effect forcing people to pay for extra costs involving transportation of the body, cremation service, and rents for space in public cemeteries—which villagers did not have to pay for in the past.
Furthermore, on Nov. 6, 2017, three state-run conglomerates in Jiangxi jointly established and invested in a  company called Jiangxi Funeral Investment Group. It had a registered capital of 200 million yuan (about $29 million) and established partnerships with major banks in China, receiving a total credit of 12 billion yuan (about $1.76 billion).
The newly founded company, unsurprisingly, was to be "under the direction" of the Jiangxi provincial government. On its website, the company also describes its mission as promoting "burial reform" and "standardized burial services"—which align with the government's agenda.
In fact, funerals are not the only component of people's lives that the Chinese regime wants to commercialize—basic needs, such as senior care, education, and health care are also part of its agenda to boost the economy.
"It [the government] can say tens of thousands of different things, but after all, it's just for the money," said a netizen named "MEYO_grain," in a Weibo post that has since been deleted.