It would be easy to believe that the road is paved with gold for an America's Got Talent season winner. However, the challenges only continue to mount, and the nerves never truly subside.
"All of the butterflies from the very first audition just came back, like, ten times worse," said a jittery Darci Lynne, remembering her first audition for the AGT: Champions comeback season.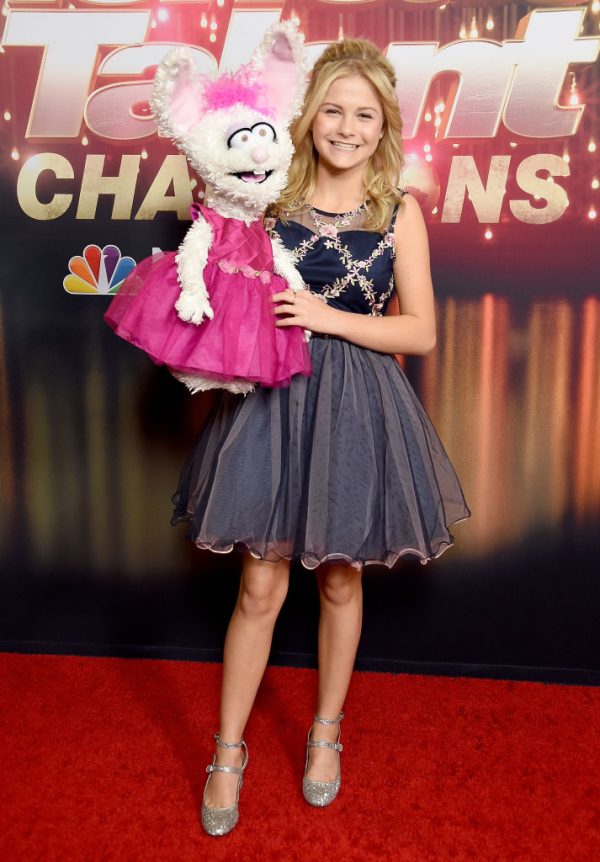 However, after a landslide victory on the 12th season of the show, a second success was not meant to be. The talented young ventriloquist performed "Nutbush City Limits" and "Proud Mary" with her new puppet, Oscar, but didn't receive enough votes to continue.
But was it really the end?
"I got the call to be a 'wild card!'" Darci exclaimed, heralding her return to the Champions stage for one last chance to impress.
Having been voted off once already, the young star suffered an acute bout of self-doubt: "How am I gonna come back and blow the roof off the place?" she mused. Darci was aware that she needed an amazing new gimmick to prove to the judges and audience that she has what it takes to win the competition.
Thank you all for watching me on America's Got Talent last night for #AGTChampions ✨ It was so much fun being back with all my friends and performing for all of you 💗💗 See you guys at the #AGTFinale!

Gepostet von Darci Lynne am Dienstag, 12. Februar 2019
"Oh my carrots!" exclaimed a sassy Petunia, as Darci took to the stage for her "wild card" comeback. Petunia is Darci's "lucky charm," of course, and the young performer wanted all the good luck she could muster.
And how exactly did Darci plan to blow the roof off the place, this time?
"I want to sing … Italian opera!" declared her sassy rabbit sidekick.
The judges looked to one another in surprise and delight. Darci certainly knew that bringing high culture to the AGT stage would change the mood, reignite the attention of the audience, and showcase a skill that Darci has kept fascinatingly quiet until now: she really can sing opera!
Darci Lynne and her super-talented rabbit friend performed an outstanding rendition of  "O Mio Babbino Caro" ("Oh My Dear Daddy," in Italian). The song is a beautiful soprano aria from the opera Gianni Schicchi, written in 1918. The song laments family tensions, a troubled love interest, and the trials that keep the two lovers apart, all set in the romantic surroundings of medieval Florence.
The song was a bold choice, and an amazing expression of how much Darci has matured since her first experience of the AGT stage in 2017.
As her performance drew to a close, Simon was beside himself: "Wow, wow, wow, Darci!" the gobsmacked judge exclaimed. "I actually believe this, for so many reasons, is your best ever performance."
Darci, still riddled with comeback nerves, blushed shyly.
"It's hard enough at your age to sing opera," Simon continued, obviously delighted, "but you're doing it through a rabbit!"
The audience cheered and applauded as Simon made his all-important prediction: "I think you may win tonight."
Mel B echoed his enthusiasm: "Oh my gosh of course I agree!" she said. "You are self-taught and you have worked so hard to get this far. You deserve everything, and much much more."
Howie, not to be left out, added: "It was truly amazing because we didn't know you sing opera … you still surprise! I think you got a shot at this tonight."
Neither Darci nor the quick-witted Petunia had a word to say. They were both stunned into silence by the judges' high praise. Darci's smart thinking had paid off, however: the talented ventriloquist had pulled an amazing trick out of the bag by choosing to sing a classic Italian opera song, and sing it so very well indeed.
Darci, you still surprise! And welcome back to the competition. You deserve every moment.
Did you see Darci Lynne singing Italian opera? She never ceases to amaze! Share your thoughts with us in the comments section below.