Professional hockey players do some pretty incredible things during their games, things that earn them plenty of adoring fans who look up to them.
But sometimes it's the things they do off the ice that really leave an unforgettable impression.
Pavel Buchnevich is a Russian-born hockey player who's been a forward for the New York Rangers since 2016. And all along, he's had a big fan in 12-year-old Benjamin Lefkowitz, a Rangers season ticket holder who's been excited about his potential on the team.
"He's a great player, he has a great one-timer, I love seeing him play," Benjamin told Rangers TV. "He's just an overall great player, and I think he's gonna be someone who evolves into one of the top stars and help this team."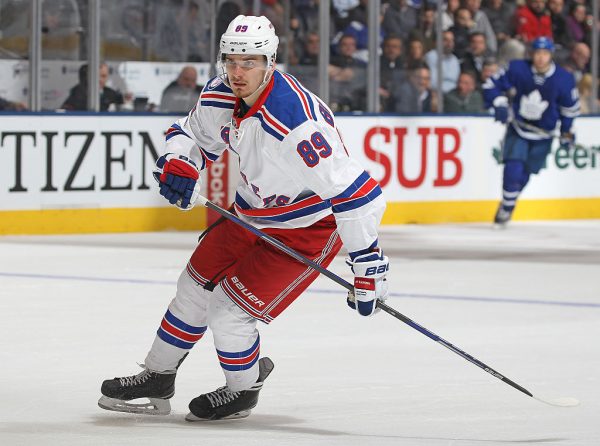 He's such a big fan that his grandfather, also a longtime season ticket holder, got him a Buchnevich jersey.
And not just any regular Rangers jersey you can buy in a store—a jersey from when Buchnevich was on the Severstal Cherepovets, a Russian KGA team. The jersey was ordered off a Russian website and took three months to arrive.

Benjamin was wearing that rare jersey at MSG for the Rangers' game against the Pittsburgh Penguins.
He was in a great seat, right in the front row against the glass, cheering on his favorite players.
And suddenly, Buchnevich spotted his jersey.
"I see Buchnevich and then he winked, like, 'Wow that's a very nice jersey,' and then he was talking to [Vladislav] Namestnikov like, 'Look at this kid.'"
Moments later, Buchnevich was skating over—and handed him something over the ice.

It was his stick!
The forward was so thrilled to see someone wearing a jersey from his old team that he gave him a very cool surprise … and Benjamin was so thrilled that he couldn't hold back his emotions.
"Boom, Buchnevich comes and gives me the stick over the glass and I'm crying."

And as if the kid's experience couldn't get any better, he even got to meet Buchnevich after the game. (Plus, the Rangers won 4–3!)
It's not uncommon to see NHL players give away their sticks to fans, but Benjamin's reaction just goes to show how impactful these little acts of kindness from athletes can be.

Watch the heartwarming video below:
Buch making dreams come true tonight for this @JuniorRangers fan in the sweater of the night.

We're not crying… pic.twitter.com/CPPz05OC4o

— New York Rangers (@NYRangers) March 14, 2018
And watch Benjamin share his story with Rangers TV:
Last night 12 year old #NYR Season Ticket Member Benjamin had the "top moment of his life" when Pavel Buchnevich gave him his signed stick. See him tell his RangersTown story! pic.twitter.com/DUPf0G3sKZ

— New York Rangers (@NYRangers) March 15, 2018