Adding to the existing concepts in the Woolworth Building—The Wooly Daily, a café and bakeshop, and The Wooly bar and private events venue—owners David Tobias and Eric Adolfsen are launching a full-service restaurant and cocktail bar named The Wooly Public.
Diners will find a modern interpretation of neo-Gothic design, as well as subtle appearances by the Wooly mascot (a mammoth, what else?). The table tops in the front room sport designs of board games, and guests can get game pieces from the bar to play rounds of Scrabble or chess.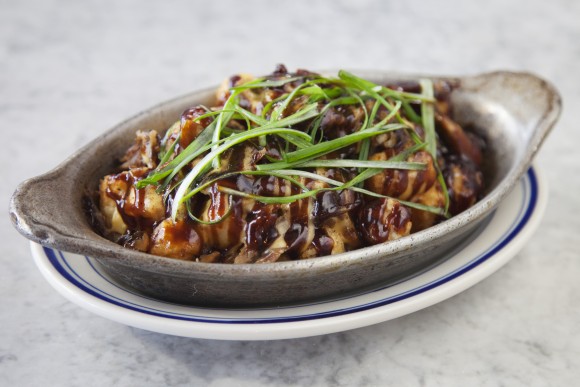 Chef Jeff Srole, who was most recently sous chef at Maison Premiere, serves old-school dishes with a twist, such as Peking Duck Tots, Confit Chicken with parsnips and charred broccoli rabe, and Pumpkin Ravioli, served with walnuts, winter greens, and pink peppercorns. The dinner menu also features a rotating selection of dishes from the first restaurant in the Woolworth Building, back in 1913.
For the bar program, Eryn Reece, who worked at Death & Co. and Mayahuel, features lesser-known classic cocktails and contemporary cocktails.
Open Monday through Friday for lunch and dinner, and Saturday for dinner.
The Wooly Public
9 Barclay St. (between Church Street & Broadway)
Tribeca
212-571-2930
TheWoolyPublic.com