Cameron Nelson was just stopping by Chick-fil-A when he saw a sight behind the register he never thought he'd lay eyes on.
"We sneeze too hard & decide to call in, but he's working like nothing's wrong," Nelson wrote, posting a photo of the teen cashier online.

The teen's name, he found out, was Jakeem Tyler. He'd been in a car accident and now had his neck in a brace and his arm in a sling, but was still filling his shifts like normal. Nelson asked Tyler for his story, which he shared honestly, and Nelson could barely believe it.
"He was working 'cause he needs the money & also wants to feed the homeless for Christmas," Nelson wrote.
It inspired the man to make a GoFundMe page in the hopes that others would be as moved as he was and want to lend a few dollars to Tyler's cause.
They ended up giving him a lot more.
The fundraising page was created one year ago on Dec. 9, 2016, with a $2,500 goal, but Tyler's photo went viral.
People ended up donating over $44,000, and Tyler's family couldn't believe what was happening. Nelson had shown them the page and gave them the account where the money was going after setting it up, but no one expected the donations to keep rising.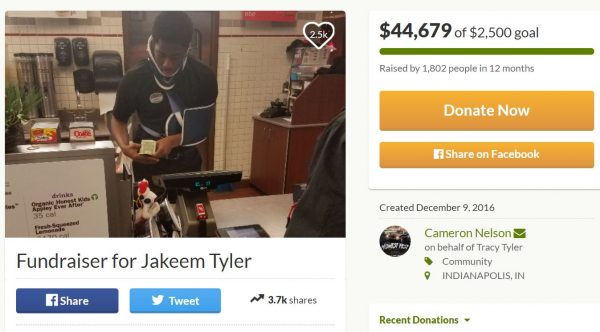 "I intend to use all my parenting skills and guidance to help Jakeem lived up to the potential that I have always seen, and now the rest of the world has seen. My wife and I love our sons very much!! And my one and only job is to protect them, this includes there reputation by guiding them in life," Tyler's father Tracy wrote on the page.

Meanwhile, Jakeem had no idea what was going on.
It was only days after the fundraising page went on that he was told—by one of his brother's friends—that he was going viral and his photo was everywhere.
He had been telling customers who asked—and many did—how he got his injuries, and explaining why he was working, if they asked.
"People would come in and be like 'OMG what happened?'" he told Daily Mail.
"If they had little kids I would be like: 'I fought a bear,' but if they were other adults I would tell them I was in a car accident but blessed to be alive."
Once Jakeem found out what total strangers had done for him because this one customer shared his story, he was just amazed.
"And I was so grateful," he added. "I didn't look to get any attention or receive any donations from anyone. I'm just glad that so many people get to see my testimony and see that not all teens are bad and that there are good people in this world."
True to his word, Jakeem used the money to feed the homeless for Christmas, and was looking to use part of it to set up a charitable foundation to further his work for the homeless.
"I want to build a foundation for the homeless in Indiana and then nationwide and even worldwide," he said.
His brother Trey told Daily Mail that Jakeem has always been like this.
"And this is what he is meant to do," he added. "He has always been the standout and doesn't follow other kids. It is awesome to see his actions and words come together."
He ended up feeding 150 people living on the streets of Indianapolis that holiday season with plans to team up with more local events to provide homeless people with support and things they would need.
His parents are completely supportive as well.
"It is just an amazing thing because Jakeem has always been the type of person to leave work with food and give it to people out on the street," his mother Debra said. "Now he can do so much more."