Gavin Harding and his fiancée Melissa have a storybook love story. They met in grade school, innocent crushes began to develop and soon turned into genuine feelings. The two eventually fell in love and swore one day they'd get married.
These plans had to be put on hold when Harding decided to serve his country and become a Marine. Before he left for boot camp, Melissa agreed to marry him. The two even set a date for their wedding, which would take place after Harding returned from his first assignment.
Away from his future wife, Harding pushed through his training with determination and fire in his heart. His dream of a fairy tale wedding with Melissa was in sight, and he wasn't going to let anything deter him from reaching that goal. He couldn't wait to get home and see her again.
But he also had an additional special person waiting for him back home.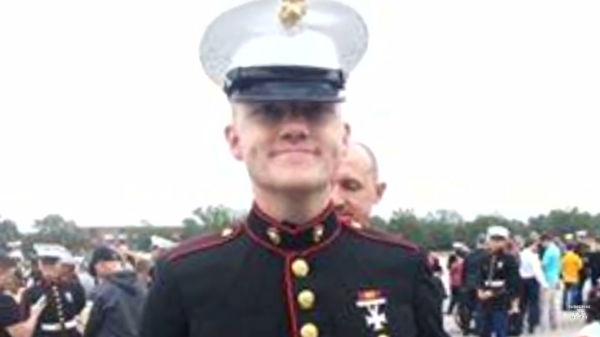 Before he left for boot camp, Melissa had gotten pregnant with their first child. Due to his military obligations, Harding wasn't able to be there for the birth, but he stayed in touch with Melissa. Being conscious of the fact that he now had a child waiting for him back home only strengthened Harding's resolve. He felt the responsibility of having a family.
"It made me want to push harder," he told Inside Edition.
Though he missed the birth of his son William, Harding was put at ease with the news that his boy was happy and healthy. He would be 2 months old before his father would finally be able to meet him. The moment he met his son for the first time was captured on video. 
"I lost it," Harding went on to say. "[He's] the most perfect baby I have ever seen in my life."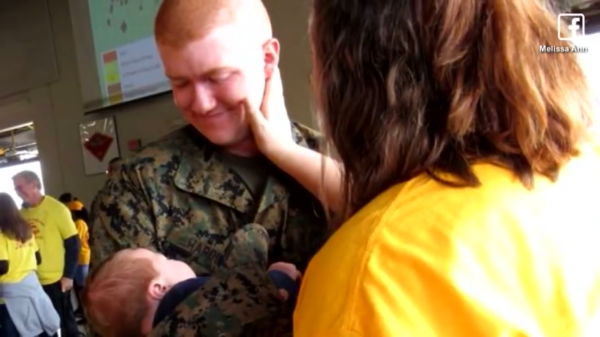 Since Harding returned home they have all been spending lots of time together. Harding spent all his time with his newborn son before he had to return to duty. Diaper changes, bottle feedings, and stroller walks were a welcome change from the grueling Marine Corps training.
The two were finally able to tie the knot and have their long-wished-for fairy tale wedding. In the end, all that waiting Harding had endured was well worth it.
Harding will be returning to the Marines to continue his training. Instead of caring for and protecting one family, he'll be protecting all American families, a duty and privilege he doesn't take lightly. Above all else, he's hoping his wife and son will be proud of his service. They'll be home rooting for him all the while.
Watch the video of Harding meeting his son below.