Since our ancestors started cooking with fire, hot-smoking food has been a tried and true tradition. Cookbook author and host of PBS television show "Project Smoke" Steven Raichlen has a theory about how the idea first struck.
"What I imagine is that whoever sat down with a wood fire and smoke, probably got stung by mosquitoes and bothered by flies and left," he said in a phone interview. "So people took to hanging meat on sticks down by the end of the fire where they would get smoke, and that was found to retard spoilage."
Chemical compounds released during the smoking process kill bacteria, while smoke lends unique flavors and transforms the texture of the food.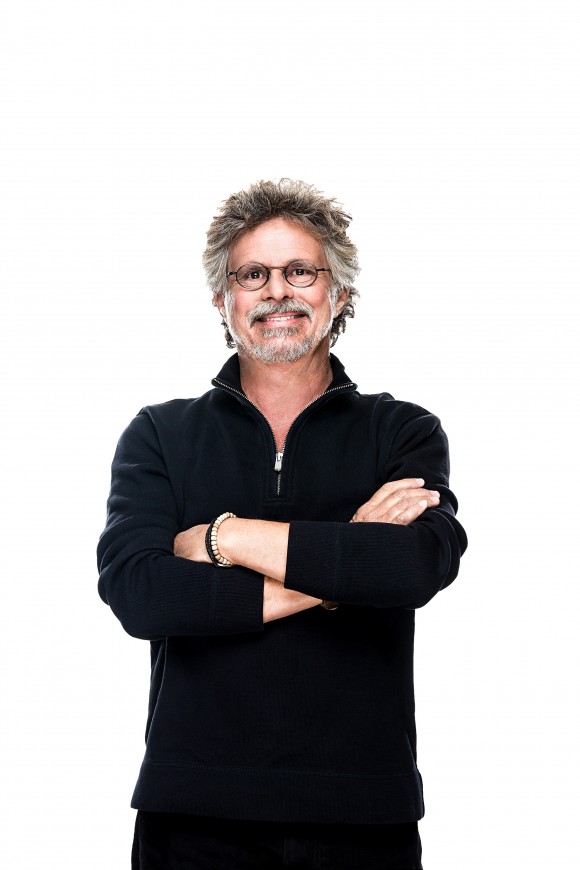 What began as a means of preservation developed over time into rich culinary traditions, with a complex set of techniques involving different cooking temperatures, types of smoking equipment and wood (or other plant fuels such as hay or peat). Even varying sizes of wood segments produce different amounts and flavors of smoke.
A Universal Practice
Hot-smoking is practically universal to every culture. Italy has smoked cheeses, Germany has its smoked sausages. And did you know traditional scotch is made from barley that has been smoked over peat?
In America, a delicious range of barbecue styles emerged out of the local geography and history. In the Carolinas, hogs were introduced by Spanish colonists and eventually became a staple in the cuisine. Hickory wood, native to the landscape, was the fuel of choice for smoking the pigs, Raichlen explained. Meanwhile in Texas, where cattle-raising reigned, beef brisket became a common barbecue item—smoked with oak wood.
The traditional "low and slow" style of American barbecue—cooked at the relatively low temperatures of 225 to 275 degrees Fahrenheit for hours on end—renders meat juicy and melt-in-your-mouth tender.
At the newly opened Pig Bleecker restaurant in New York City, chef Matt Abdoo plays with barbecue-style, hot-smoked ingredients to assemble comfort food dishes. In a lasagna dish, for example, pieces of smoked confit duck are hidden among the layers of pasta. The duck sits in the smoker for four hours, becoming succulent and soft, without any of the gaminess duck meat tends to possess.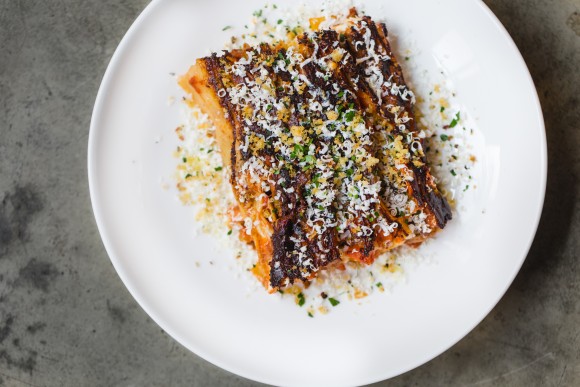 In another dish, the main stars—steak and mashed potatoes—are accompanied by a smoked beef cheek marmalade: The beef is first smoked, then cooked in port wine, red wine, and veal stock. The liquid is reduced until it becomes thick and then poured over the cheek meat.
And pork chop, often tough and firm, gets a complete makeover after smoking: It becomes improbably soft like pork belly, with a slight bounciness, breaking apart with ease under the knife. First rubbed in salt, pepper, and secret ingredients, then served with a peach-habanero jam, the smoked and grilled pork chop, with its tangy seasoning—coupled with its charred edges—conjures a hot day outdoors by the grill.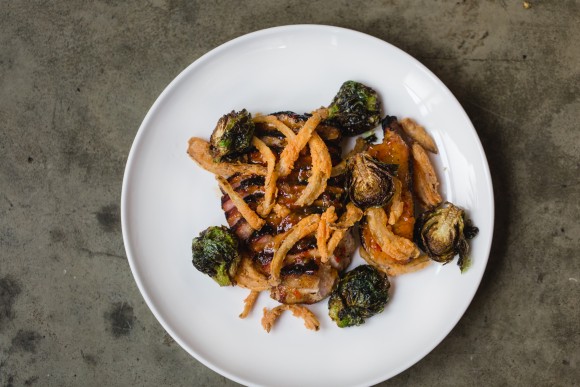 Abdoo, who was previously chef de cuisine at Del Posto, fell in love with smoking foods after he began competing at barbecue competitions. In 2015, he opened Pig Beach in Brooklyn to explore different styles of smoking meat. Now, at Pig Bleecker, he smokes vegetables, cheese, and salt too, to enhance composed dishes with the magic of smoky heat.
Smoking Seafood
Aside from barbecue, in coastal fishing communities, curing and smoking seafood is a long-held tradition. Chef Seadon Shouse at Halifax in Hoboken, New Jersey, showcases some varieties of seafood charcuterie that are common in Nova Scotia, where he is from.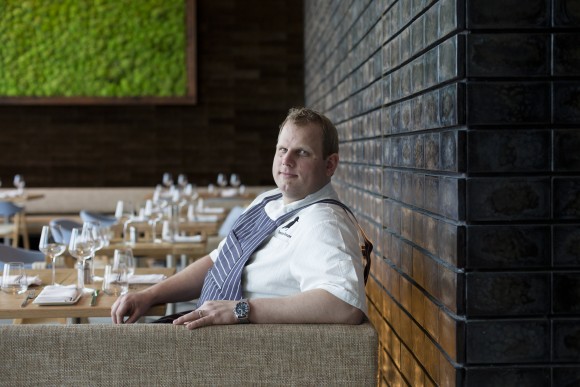 Wild Alaskan salmon (or Atlantic Sapphire salmon, sustainably raised in Denmark) is cured in maple syrup, brown sugar, and salt for two days, dried for a day, and then slowly hot-smoked. The salmon gains a firm, jerky-like texture, tasting of caramelized sweetness and light smoke. Shouse uses cherry wood, as fruit woods produce a softer smoke, he said.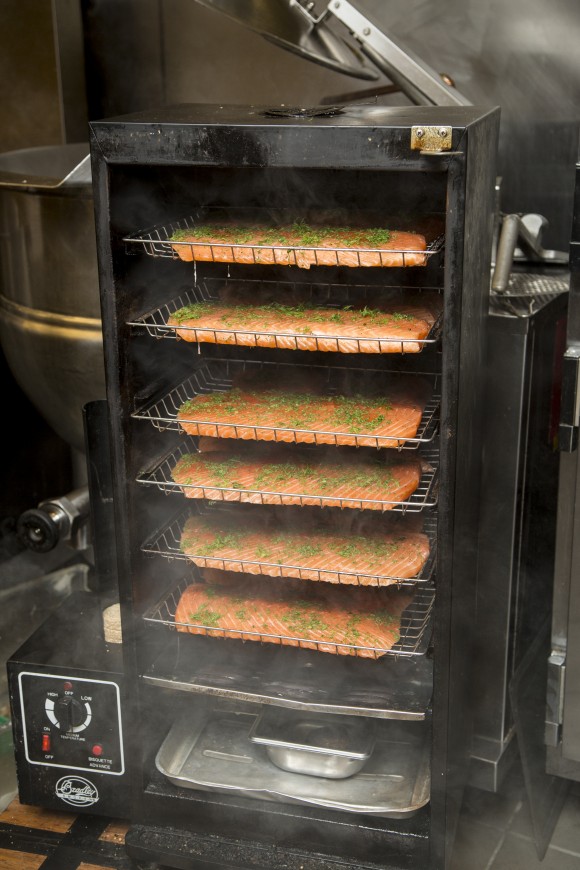 Maine and Massachusetts pollock, meanwhile, are turned into rillettes after a brine in salt and sugar, then dried, sprinkled with black peppercorns, and hot-smoked. The fish, having turned into fibrous bits in the smoker, is shredded and mixed with crème fraîche, lemon zest, and parsley, creating a light, citrusy fish salad.
Sometimes, smoke brings out natural flavors in the seafood. After steaming mussels (Rhode Island, Maine) in white wine, garlic, onion, and thyme, Shouse cold-smokes the bivalves (under 100 degrees F), adding a layer of smoky flavor that heightens their clean sweetness, while removing flavors of ocean brine.
Smoking at Home
For busy cooks, some of Raichlen's hot-smoking recipes can be prepared in shorter amounts of time.
Raichlen's recipe for Salmon Candy takes up only 30 minutes of active time, while the recipe for Smoked Shrimp Cocktail With Chipotle-Orange Cocktail Sauce, a fiery Mexican twist on the classic, gives you the option to go "low and slow" with a smoker, or high-heat on a grill.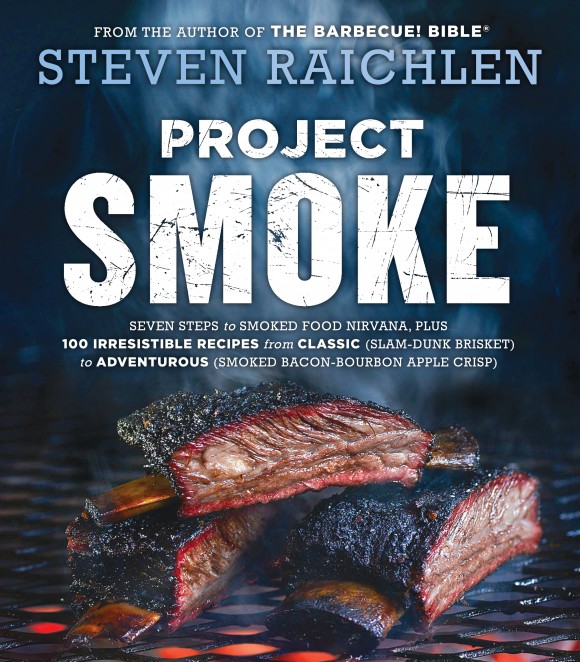 If you're an urban dweller with tight space, don't despair. You can still smoke foods using a stovetop smoker that consists of a drip pan, food rack, and lid. Raichlen provides plenty of tips and pointers for smoking in his cookbook and on his websites, ProjectSmoke.org and BarbecueBible.com