Weekend Picks:
Morgenstern's Hot Chocolate
The ice cream shop Morgernstern's is now offering a hot chocolate menu with unique flavors: Vietnamese hot chocolate with 64-percent dark chocolate and Vietnamese-style coffee (mixed with condensed milk); Szechuan hot chocolate with 38 percent milk chocolate and Szechuan peppercorn; and durian hot chocolate, with white chocolate, banana, and the pungent-flavored durian fruit. $4 per cup.
Through Saturday, Dec. 31
Morgernstern's Finest Ice Cream
2 Rivington St. (between Chrystie Street & Bowery)
MorgensternsNYC.com
Champagne Cocktails at Cherche Midi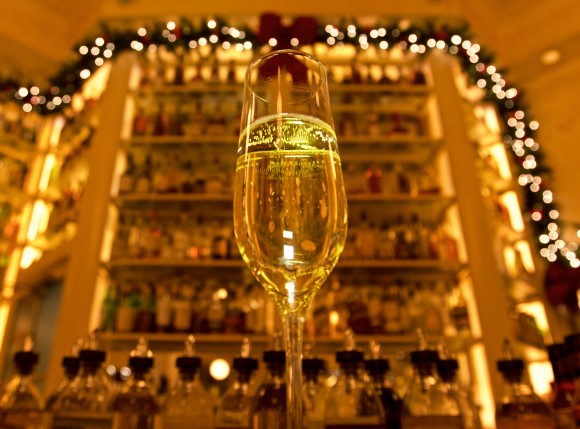 Restaurateur Keith McNally's latest restaurant is serving a menu of champagne cocktails to ring in the holidays. These include The Taj Mahal Spritz with ginger-cardamom-kaffir lime syrup, Cocchi Americano Rosa, and grapefruit bitters; the Honfleur with Calvados float, cider, sage syrup, and crème de pomme; and the Castagnaccio with rosé, chestnut honey-and-rosemary syrup, and Tempus Fugit Crème de Cacao. $16 each.
During happy hour (5 p.m. to 7 p.m. daily), glasses of champagne are half-priced and served with complimentary bar snacks.
Cherche Midi
282 Bowery (at East Houston Street)
ChercheMidiNY.com
Brunch at Shay&Ivy 
The newly opened Flatiron restaurant Shay&Ivy will be serving brunch classics with a twist, such as Stuffed French Toast with blackberry preserves, ricotta, and apricot honey; Virginia Benedict with Virginia cured ham, buttermilk biscuit, and pepper gravy, and served with a house salad; and the Shay&Ivy Burger with grass-fed beef, aged white cheddar, garlic aioli, and housemade pickles, served on a sesame brioche bun with thrice-cooked fries.
Saturdays & Sundays 
11 a.m.–4 p.m.
Shay&Ivy
39 W. 24th St. (between Broadway & Sixth Avenue)
ShayAndIvyNY.com
Upcoming Events:
Asian-Jewish Brunch at The Queens Kickshaw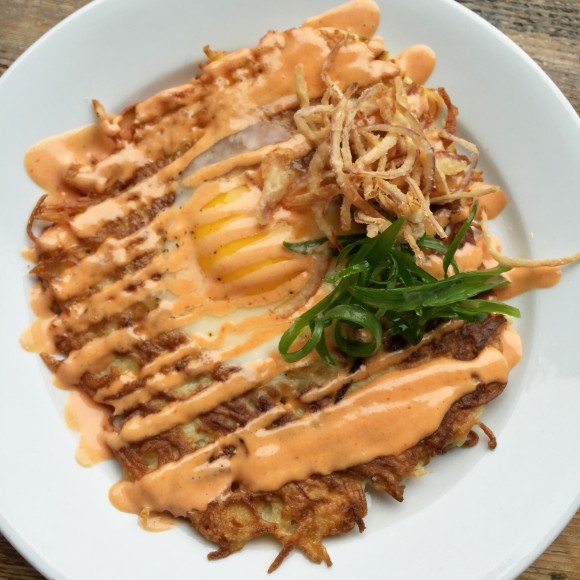 For an early holiday brunch, The Queens Kickshaw is kicking off festivities with Asian-Jewish fusion dishes like Egg in a Latke Basket, Matzo Szechuan Peppercorn Beer, Scallion Pancake with Cardamon Labneh, and Egg Cream Bubble Tea.
Friday, Dec. 23 & Saturday, Dec. 24 
9 a.m.–4:30 p.m.
The Queens Kickshaw
40-17 Broadway (at 41st Street), Queens
TheQueensKickshaw.com 
New Year's Eve Dining
Eataly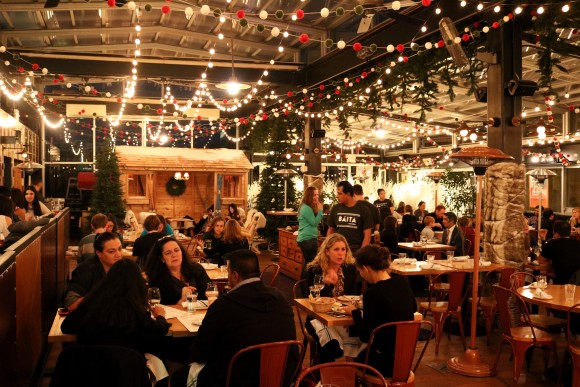 At Eataly's rooftop pop-up restaurant, Baita, guests can dance the night away at this standing event while sampling a buffet of traditional Italian alpine dishes. The menu includes roast pork loin porchetta with salsa verde, salt-cured cod and polenta with black truffle butter, white truffle arancini, and a 22-pound panettone. Drinks include wines, holiday cocktails, prosecco, aperol spritz, and Italian mulled wine. $155 per person before Dec. 27 , $170 before Dec. 31.
At Eataly's fine dining restaurant, Manzo, a seven-course meal will be served. Dishes include Parmigiano Reggiano shortbread with Mangalitsa lardo and Calvisius caviar; Maine lobster with winter citrus and Italian chicories; and braised Sekel Farms veal shoulder with pappardelle, white truffle butter, and caciocavallo. $160 per person.
Saturday, Dec. 31
Eataly Flatiron
200 Fifth Ave. (between 23rd & 24th streets)
Eataly.com
Gotham Bar and Grill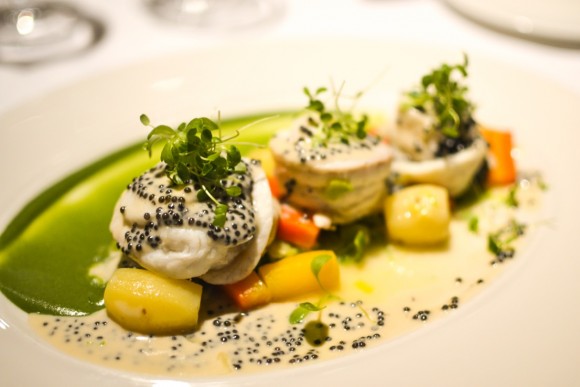 Gotham Bar and Grill will have two seatings for New Year's Eve dinner. The first will feature four courses plus dessert: Globe Artichoke Agnolotti with poached Maine lobster, black Périgord truffle, and sauce américaine; Short Rib of Beef with black Périgord truffles, buttered leeks, root vegetables, celeriac, apple purée, and Barolo sauce; and dark chocolate mousse with dark chocolate dacquoise, blood orange, and Earl Grey ice cream. $130 per person.
The second "gala" seating will have five courses plus dessert, with the addition of Romanesco Cauliflower Velouté with seared Peconic Bay scallop, sea urchin, and golden trout roe. $350 per person.
Saturday, Dec. 31
Seatings start at 5 p.m.
Gotham Bar and Grill
12 E. 12th St. (between University Place & Fifth Avenue)
GothamBarAndGrill.com
Wallflower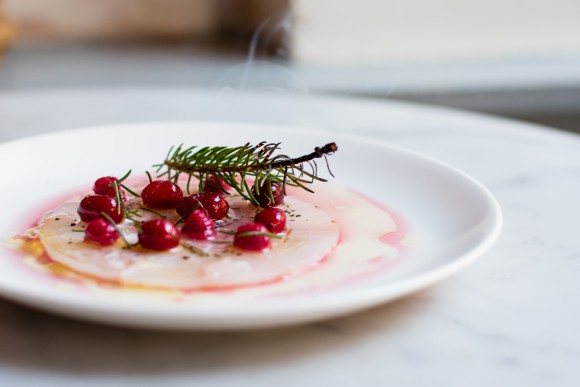 This West Village French restaurant is hosting a three-course dinner (plus dessert) in the early evening, then a four-course dinner as it gets closer to midnight. Dishes include chestnut agnolotti with consommé; Wagyu Châteaubriand with chanterelles and sage puff pastry; sea scallops with parsnips, horseradish, and brown butter; and fennel pound cake with poached pear and rosemary angelaise. $80 per person for the early seating; $95 for the later seating.
Saturday, Dec. 31
Seatings start at 5 p.m.
Wallflower
235 W. 12th St. (at Greenwich Avenue)
WallflowerNYC.com
Osteria Morini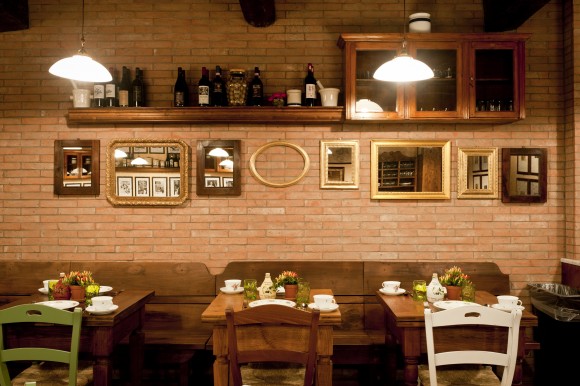 Chef-restaurateur Michael White's Emilia-Romagna Italian spot in SoHo is throwing a 1920s-themed party, featuring a live jazz and blues band and a globally inspired cocktail menu. Dishes on the multicourse menu include prosciutto and mortadella meatballs simmered in tomato sauce; Bolognese ragù with tagliatelle and Parmigiano cheese; and pig's trotter with cotechino (charcuterie), spinach, and saba (reduced grape must). $85 per person for a four-course dinner at the early seatings, $175 for a five-course dinner with champagne toast at the late seating. 
Saturday, Dec. 31
Seatings start at 5:15 p.m.
Osteria Morini
218 Lafayette St. (between Spring & Broome streets)
OsteriaMorini.com
Bouley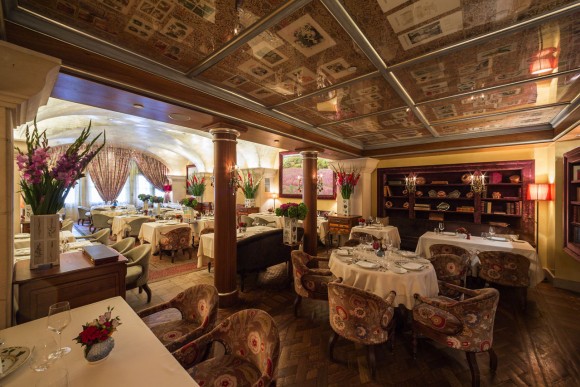 Chef David Bouley is preparing a six-course tasting menu at his namesake restaurant. The dishes will remain a surprise until the dinner, but past dishes have included Alaska Dungeness and South Carolina Pink Deep Water Crab Flan with porcini and black truffle dashi; Wild Scottish Grouse with Canadian chanterelle and Red Rhone wine risotto; and Organic Colorado Rack of Lamb with Aligote potato purée, cipollini soubise, aged port, and black truffle. $225 per person for the first seating, $450 for the second seating.
Saturday, Dec. 31
Seatings start at 5 p.m.
Bouley
163 Duane St. (at Hudson Street)
DavidBouley.com
Hakubai at the Kitano Hotel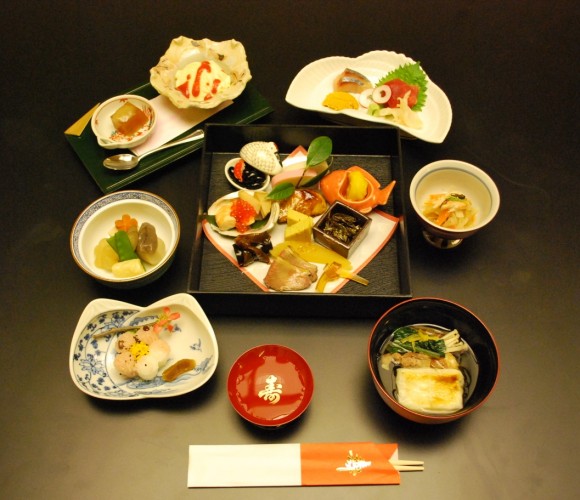 The Japanese kaiseki restaurant Hakubai is serving "osechi," a feast filled with Japanese dishes traditionally eaten for the New Year's celebration. The offerings include steamed abalone with sake; grilled black cod with Saikyo miso; Miyazaki Wagyu beef steak with grated radish sauce; and milk tofu with brown sugar syrup and kinako (roasted soybean flour). $200 per person. 
Sunday, Jan. 1 & Monday, Jan. 2
Hakubai at The Kitano
66 Park Ave. (at East 38th Street)
Kitano.com
New Year's Party at the Viceroy Central Park Hotel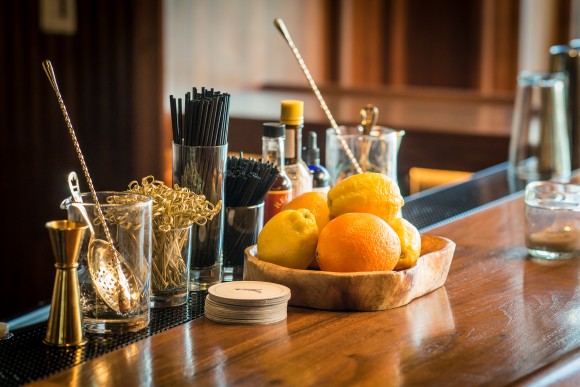 For your luxurious New Year's Eve party, Suite 57 penthouse inside the Viceroy hotel is available for booking. The package includes Petrossian caviar, Dom Perignon Champagne, a fully stocked bar, makeup and nails, an in-room massage, Uber black car transportation for the evening, plus breakfast in bed the next morning.  $14,800 for the two-night package.
Meanwhile, the Viceroy's rooftop bar, The Roof, is throwing a party with prime views of the Central Park fireworks. There will be passed hors d'oeuvres, a live feed of the Times Square festivities, music from DJ Tim Martell, and a champagne toast at midnight. $50 to $100 per person.
Saturday, Dec. 31
9 p.m. for The Roof 
Viceroy Central Park New York
120 W. 57th St. (between Sixth & Seventh avenues)
ViceroyHotelsAndResorts.com
TheRoofNY.NightOut.com