Late last year, a couple moved out of their Las Vegas home. But after they had vacated, their property manager discovered they had left something behind:
Their pet German Shepherd.

Thinking it must've been a mistake, property manager Michele Brown tried to contact the couple. But when they didn't answer their calls, the sad truth became clear: they had intentionally abandoned their dog.
The dog, named Nine, had been locked up in that abandoned backyard for some time already—and by the looks of it, he was left for dead.
"According to neighbors they've been gone for a while, so I'm obviously very concerned," Brown told KTNV.
"The dog is much skinnier than I've ever seen the dog before."

Neighbors and animal control did what they could to help and feed the dog, but he remained in the backyard. KTNV Las Vegas aired a report on the dog's abandonment:
After the first report aired, the Vegas German Shepherd Rescue worked to get the dog to safety—but since the dog was understandably wary of strangers, it took time to win his trust.
"We went over there and tried to make friends with him," rescue member Shari Dale told KTNV. "It took a couple of visits and then one of our volunteers was able to get him out."
Dale was determined to help Nine, disgusted by the careless way he was abandoned.
"Makes me sick to my stomach," said Dale.
"Just horrifying, I mean these are family members."

She was determined to find Nine a new home, with people who would treat him right this time.
Little did she realize, there was a perfect couple just waiting for that dog to come into their lives.
Kimberly and Stephen Stonestreet were at home watching TV the night KTNV aired their report on Nine—and the Stonestreets knew it was meant to be when they discovered a stunning coincidence.
That same night, their own German Shepherd had passed away—and he was also named Nine.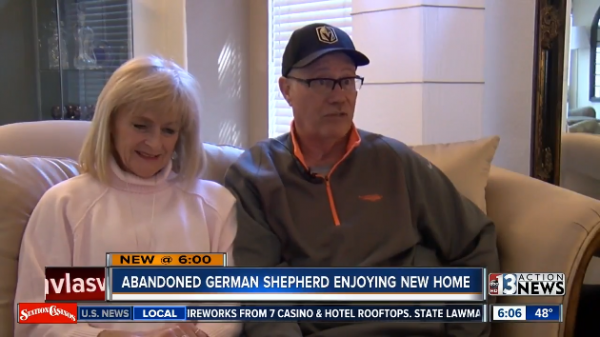 The Stonestreets went to see about adopting Nine, and were warned that the dog didn't usually respond well to new people. They were told to not look him in the eye and feed him cheese.
But to everyone's amazement, the Stonestreets bonded with the dog immediately. They knew it was truly meant to be.

Now living under the care of the Stonestreets, Nine has gotten a new chance at life.
"He's been through a lot but look at him now," Stonestreet told KTNV. "This guy is happy and healthy and feeling great."
After nearly starving to death in that backyard, Nine has gained back 25 pounds—and his new owners are happy to feed him his favorite snacks.
"He likes watermelon, he likes carrots," Stephen joked. "He loves food."

He may have been abandoned by his owners, but everything worked out in the end for Nine, thanks to the love and care of people who didn't give up on him.
"Look at him, he's beautiful," Dale told KTNV.
"He's just an amazing dog."