Something cold and sweet: that's what you need to cool down at the beach. When you're basking in the sun in Coney Island, Coney's Cones makes for a refreshing one-stop shop for artisanal gelato, granitas, sorbets, frozen yogurt, and iced drinks.
The gelato maker, Daniele Dal Sasso, is from Vicenza, Italy. He began working in kitchens at a young age, but later fell in love with gelato-making and opened his own shop in his hometown. Now, years later, Dal Sasso serves his refreshing treats at the Luna Park amusement park.

Using imported Italian ingredients and no additives, Dal Sasso churns smooth, rich flavors like stracciatella, milky and pure, with chocolate shavings swimming throughout ($4 for one scoop, $5 for two, $6 for three).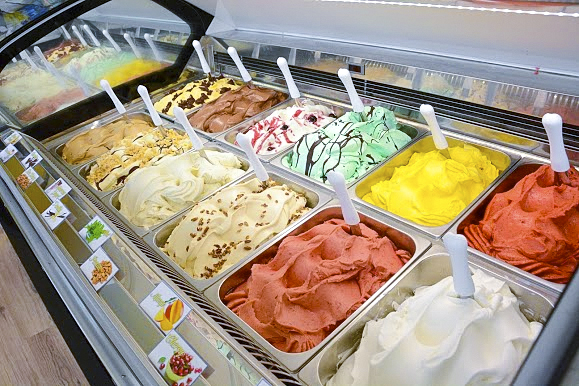 Gelato lovers are spoiled for choice—there are 24 flavors in all, from coconut to cappuccino. The pistachio gelato is perfectly nutty, while raspberry is bright and tangy—the taste of summer.

For a more decadent treat, try the gelato sandwich, featuring your flavor of choice on a buttery brioche bun.

The Milano cookie flavor is a heavenly combination of creamy vanilla and chocolate gelato, swirled with the eponymous chocolate cookies, crispy and delightful to munch on.
Icy granitas are also a thirst-quenching option, offered in green apple, cherry, lemon, and blue raspberry ($5).
Coney's Cones has a main shop located on the boardwalk, while two kiosks are located inside Luna Park, across from the Luna 360 ride and behind the Soarin' Eagle ride.
Other dining options also operated by CAI Foods include the festive Mexican-themed Place to Beach on the boardwalk, and Cyclone Cafe, offering classic American fare at Luna Park.
Coney's Cones
1023 Boardwalk West
Coney Island, Brooklyn
718-373-5862
ConeysCones.com
Hours:
Sunday–Thursday
11 a.m.–11 p.m.
Friday & Saturday
11 a.m.–midnight