Dumplings are a symbol of prosperity. Thus, they are a staple on the dinner table for the Chinese New Year feast. This recipe comes from a staff writer's Cantonese mother, Jenny Jiang.
Pork and Shrimp Dumplings 
Amount Makes
40–45 dumplings
Ingredients
For the dumplings
1/2 pound chives
10 shrimp, deveined and with heads and tails removed
A dash of salt
1 egg, separated
1 1/2 pounds pork, minced or ground
4 tablespoons soy sauce
A dash of ground white pepper (optional)
2 tablespoons cornstarch
1 tablespoon sesame oil
2 tablespoons vegetable oil, plus more for drizzling
1 packet dumpling wrappers (about 40 to 45 in the packet)
1 small bowl of water
For the Dipping Sauce
4 tablespoons Chinkiang vinegar
2 tablespoons soy sauce
1 tablespoon sesame oil
Scallions and garlic, chopped and minced (optional)
Directions
For the Filling:
Clean chives and dry them out.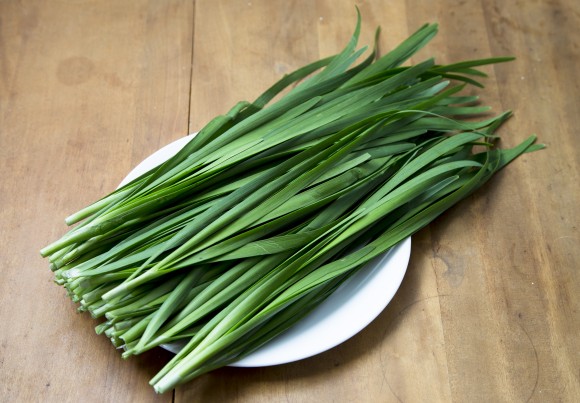 Cut the shrimp into small pieces and place into a bowl. Add salt and the egg white  (reserve the egg yolk), and mix together. (Egg whites help make the shrimp crunchy.) Then, place in the fridge for half an hour.
Place the pork into a large bowl. Add salt, soy sauce, ground white pepper, cornstarch, sesame oil, and egg yolk. Mix evenly. Put the pork in the fridge for half an hour.
After half an hour, remove the shrimp and pork from the fridge. Chop up chives finely. In a separate bowl, add the chives and vegetable oil. Mix well. (This prevents chives from losing moisture.)
Add shrimp and chives to the bowl of pork.
To Make the Dumplings:
Dollop a medallion-sized mound onto the center of the dumpling wrapper.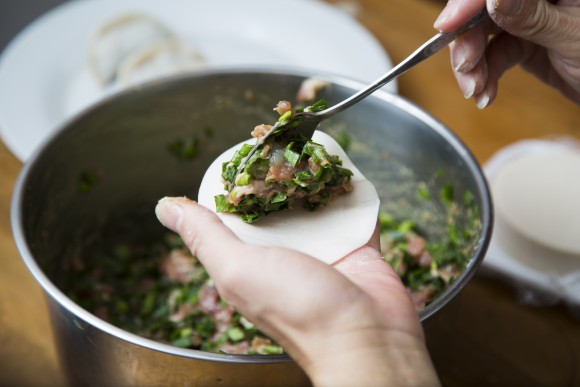 Dip your fingers in the bowl of water and swipe your wet fingers along the perimeter of the wrapper. This allows the wrapper to stick.
Fold the wrapper up into a semi-circle and crimp the edges by folding in with one finger and pressing down with another, making sure the filling does not spill out.
Place dumplings on the pan. Pour water into the pan, enough to cover a third of the height of the dumplings. Add a dash of oil on top of the dumplings. Cover with lid. Cook over high heat.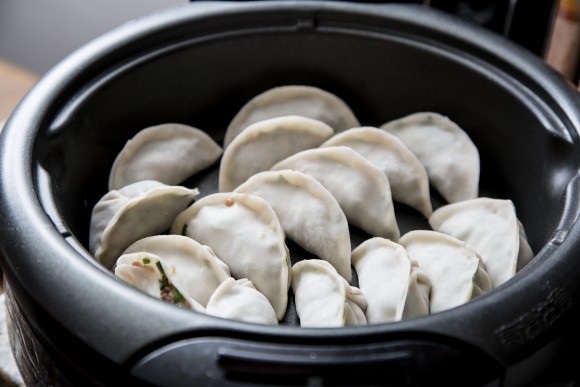 After about a minute, turn heat down to medium.
When the dumplings start to sizzle, lower the heat to low.
When the water in the pan has completely evaporated and the dumplings have a golden brown color on the edges, they are ready. Remove from the pan. Repeat the cooking steps with each batch.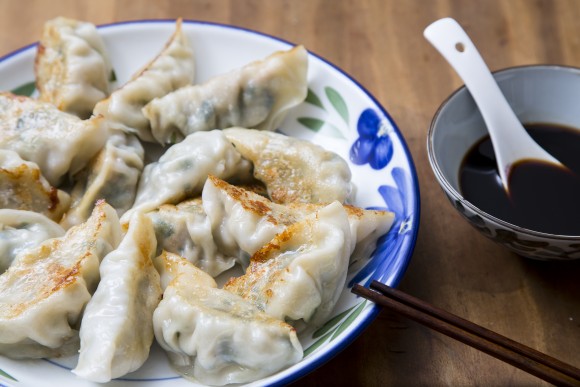 For the Dipping Sauce:

Mix together Chinkiang vinegar, soy sauce, and sesame oil. Add chopped scallions and minced garlic.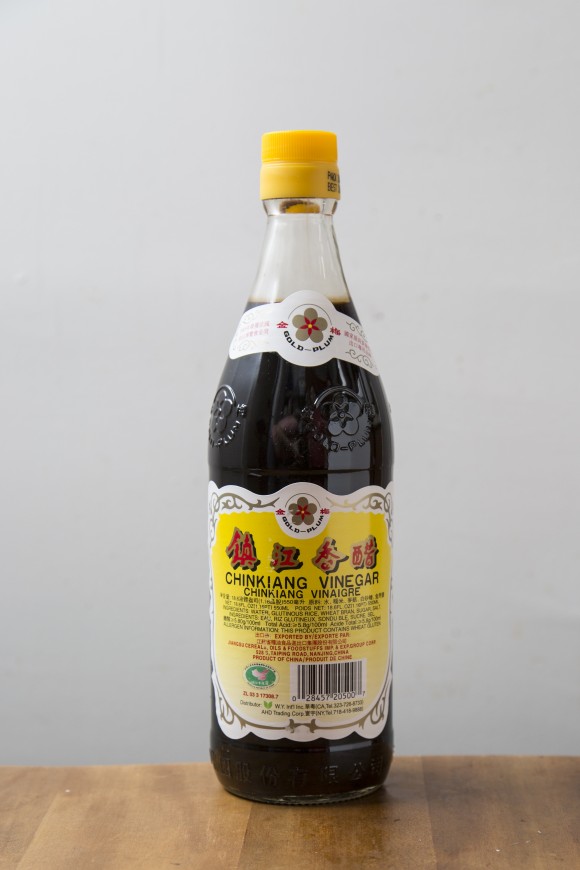 Recipe by Jenny Jiang