Working in the field of medicine requires a strong stomach. Nurses and doctors in the emergency room see unusual accidents on a daily basis.
But just when they think they've seen it all, a boy like Darius Foreman is wheeled in through the emergency room door.
Foreman, 13, was playing with his cousins in the backyard of his own home. In what any parent would hope to be the safest environment possible for their child, Foreman endured a shocking injury.
In January 2018 in Maryland, a 5 foot long board with a construction nail fell on Darius Foreman's head.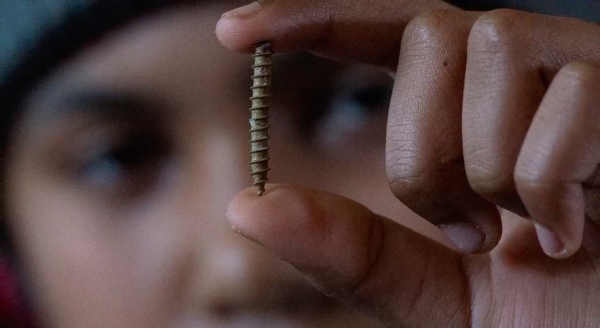 Initially, Foreman was unsure of what happened. His body was in shock and hadn't felt the puncture created by the nail in the board.
His cousins immediately ran inside and told his mother what happened.
"It was instant dread," Foreman's mother, Joy Ellington told Delmarva Now.
It wasn't until he saw the shocked expressions on everyone's faces that he realized how bad his injury was.
"I thought something was stuck in my hair," Foreman said to Delmarva Now, not realizing the severity of his injury.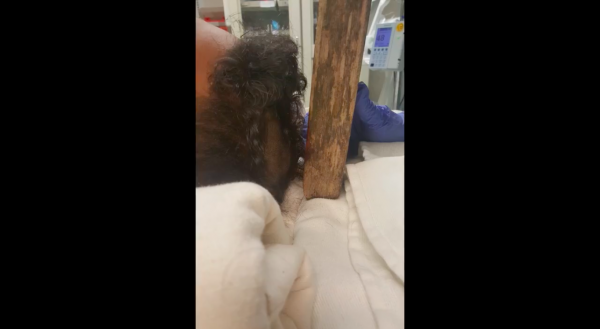 Foreman was taken to the Peninsula Regional Medical Center in Salisbury, Maryland. They ran X-rays that revealed the nail had penetrated his brain.
It was a race against time, and there was a legitimate fear that Foreman would bleed out.
They decided to have him airlifted to Johns Hopkins in Baltimore. The only problem was that they needed a special helicopter to get him there.
The board sticking out of his head was too big to fit through the entrance of the helicopter they had available.
Maryland State Police lent their helicopter to the effort. It was large enough to fit the unusual protrusion from Foreman's head.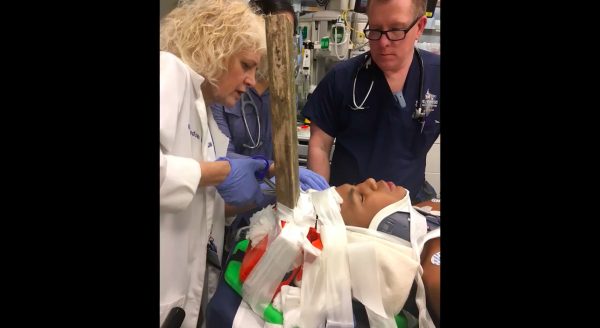 The board had been attached to the 13-year-old boy's head for seven hours. Once he arrived at Johns Hopkins Medical Center, doctors and surgeons immediately rushed him into surgery.
The first challenge was getting the board detached from his skull. They opted to go with an effective, yet startlingly rudimentary tool for the job: bolt cutters.
"They ended up just rolling him onto his side so that they could go up from underneath with a pair of bolt clippers and just snapping that off," his mother, Joy Ellingsworth, said to told Delmarva Now.
The focus now shifted to get the 6-inch corkscrew nail out of the boy's head.
The nail in Foreman's head was particularly precarious. It was currently piercing a main blood draining vein in his brain.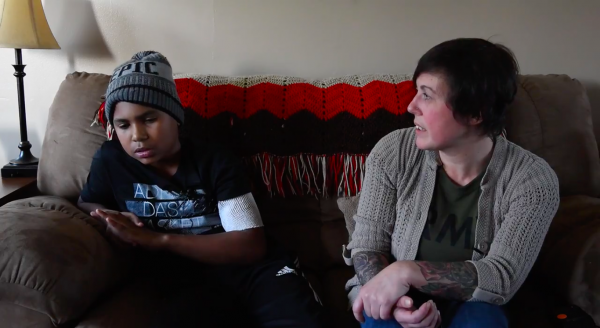 "The danger was where it was located," said Dr. Alan R. Cohen, chief of pediatric neurosurgery at Hopkins told Delmarva Now.
"We went slowly and carefully, and we managed to get the thing out," he said.
A small blood clot also formed as a result of the injury, which the team was able to repair as well.
Foreman was kept in the hospital for several days after the surgery for observation. He was released on the day of his 13th birthday.
Foreman will need several more days of IV antibiotics at home, but he is going to make a full recovery. It was a team effort to save his life, and he now has a titanium plate in his head to show for it.