It all started on the morning of October 9th, when Sara Spaulding-Phillips and Sam Kimbles, a married couple from Hidden Hills, California, received a warning from their neighbors. A wildfire was fast approaching and they needed to get away as soon as possible.
Their daughter, Sara Phillips-Larson, describes her parents as in their "Golden Years."  Spaulding-Phillips is an artist, writer, and retired therapist. Kimbles is a psychologist and former president of the San Francisco Jungian Institute. They had been living in the same home for over twenty-five years. It contained their collective life's work, but when they received their neighbors' warning, they knew that they had to leave it all behind.
They gathered their cat, Mele Kalikimaka (also known as simply "Mele"), along with their phones and laptop before hopping inside their Subaru to vacate the area. However, they were not able to get very far—a tree had fallen at the end of their driveway, blocking their path.
Spaulding-Phillips was not able to get around the tree, as she had recently undergone hip surgery. The couple did the smart thing and called 911 for help. Yet they were uncertain if the police would reach them, since the street ahead of them had become a terrifying obstacle course of downed power lines and fire.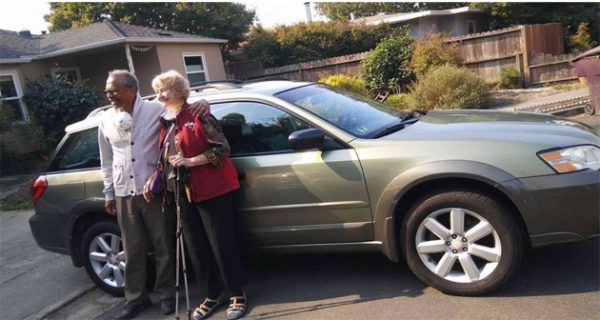 "We drove back and forth on our road trying to avoid the flames that engulfed all our neighbors' homes, including ours," Spaulding-Phillips told SFGATE.
Believing that this might be the end for them, the couple decided to text their family to say their farewells. Their oldest daughter, Victoria Phillips-Larson, saw the text message on her phone at 2:48 in the morning.
"This may be goodbye," read her mother's text, "I love you."
"I thought the text I read was a strange sick joke," Phillips-Larson explained. Still, she dialed her mother back immediately, and when she learned the truth, she sprang right into action.
"I wanted them to hear the voices of their family," Phillips-Larson elaborated, "My son called every shelter in Santa Rosa to connect with law enforcement and report their situation. My daughter and sister in Corvallis, Oregon called the local news to report their whereabouts. My sister in Texas and my brother in Switzerland both called to keep them on the phone and offer comfort. My folks spent those hours in a clear area next door to their home, watching as their entire neighborhood burst into flames."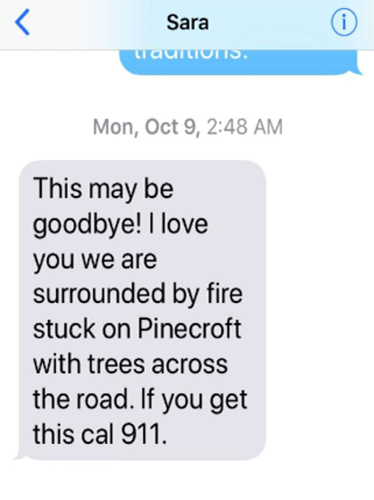 Sara's cousin, a physician assistant and former helicopter medic, even started driving out to California from Oregon.  When propane tanks were blowing up around the couple, he instructed them to keep "moving from black spot to black spot … (where) there's no more fuel for fire."
Spaulding-Phillips remembers she and her husband saying goodbye to each other, "We said, 'It's been a good life.'"
Yet, when they thought all hope was lost, a California Highway Patrol officer burst onto the scene. Spaulding-Phillips told the SFGATE, "some divine force was on our side."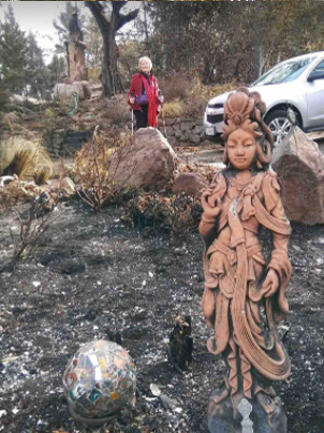 "We got a call about an elderly couple in a burning area trapped behind a side street of Reibli Road, five miles outside Larkfield," California Highway Patrol Officer Jonathan Sloat remarked. "There were a lot of fallen trees, abandoned vehicles."
Sloat's colleague, Officer Ken Enger, was at the bottom of Mark West Springs Road when he received a call about the couple's whereabouts. It was right then and there that it occurred to Enger that he was the only one who would be able reach them. At roughly 4:30 in the morning, Sloat and Enger moved in close to Spaulding-Phillips and Kimbles. They used their public address system to call out to the couple.
Unfortunately, Spaulding-Phillips was still recovering from her surgery and couldn't get around the tree. They couldn't walk down to meet the team in the street, like they had requested, so the CHP officers formulated a new plan.
"Two strong young men said, 'we're coming to you,' and they climbed over the log," Spaulding-Phillips explained.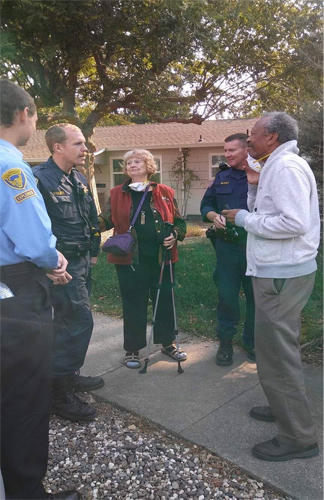 Sloat and Enger each got on one side of Spaulding-Phillips and helped to walk her over. Kimbles and Mele joined them as they made their way through a burned path to their CHP vehicle. The couple and cat were then transported to Kimbles' office in Santa Rosa, where they stayed the night.
The officers were even kind enough to retrieve and fix up the couple's car, which they had to leave behind in the fire and assumed was lost forever. Once the Subaru was detailed, Enger wanted to surprise them by showing up in the driveway with their old car. Phillips-Larson had to arrange for her parents to be in the same place at the same time, as her father had already gone back to work. As a psychologist, Kimbles felt like it was his duty to help other locals cope with their own personal tragedies.
"We've had a lot of training to deal with crisis," Spaulding-Phillips assured, "but this is the worst thing we've ever been through."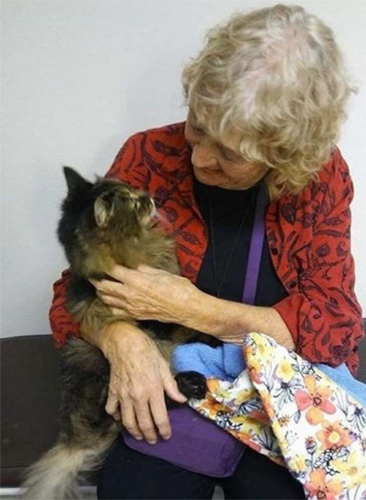 The couple is extremely gracious for their friends and family members, who have helped them immensely and even given them places to stay, including their assistant, Maricela Garcia, who has been running errands for them alongside taking care of her own son who suffers from asthma. Still, one of the biggest "thank yous" goes out to the CHP officers who dived straight into the inferno to save their lives.
"They saved our lives and we are forever grateful," Sam Kimbles rejoiced. "We still believe in miracles."
"I am grateful that my parents are safe but I can only imagine what they will need to rise up and rebuild at this time in their life," said Phillips-Larson on a GoFundMe page for her parents. "If you can't donate, please share, as someone you know may be able to help."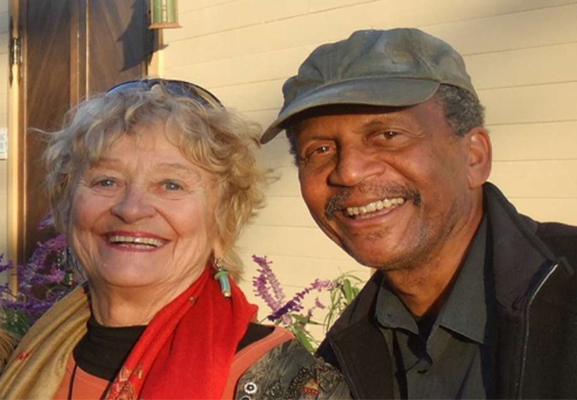 [via Victoria Phillips-Larson, Sara Spaulding-Phillips, and SFGATE]