Kylie Simonds was only 8 when she was diagnosed with cancer.
The brave girl went through a grueling 46 months of chemotherapy for her cancer, which was located in her throat. The long six-hour sessions drained her, as she had to stay next to a chemotherapy machine and tall IV pole for a large portion of the day, which is the last thing a child wants to do.
Kylie said that she "didn't really know what was happening at that time," according to Huffington Post, which doesn't come as a shock. Many kids aren't aware of what chemotherapy is, let alone know what it's like to go through it.

Three years after her diagnosis, she went into remission and is currently cancer-free. At 11 years old, she was given a school assignment that asked her to solve an everyday problem—so she decided that she wanted to help the thousands of other children out there who have cancer.
With the help of her parents, Kylie built an IV backpack, a pediatric version of a chemo machine with an IV drip attachment. With the backpack, a child can receive chemotherapy treatment without being forced to sit in the same spot for hours on end or tripping over long wires and tubing if they do attempt to move around, as kids tend to do.

"It was a lot because of the IV poles," Kylie told Huffington Post. "They were really big, bulky, and hard to push around . . . so I thought about how that affects kids every day."
She made a cute prototype of the backpack with a Hello Kitty design, but she said she planned to have other designs available, like Superman and football.
"I thought of all my friends that had cancer," Kylie said when asked who she was thinking about when designing the backpack.

Instead of sitting around for up to six hours waiting for chemotherapy to be finished, now children could wear the backpack, get their treatment, and go on with their day without having to stay indoors.
Kylie's mother stated that they were "looking for different companies that could help us get the IV medical aspect done," so that they could perfect the chemo process and make it accessible for people with different kinds of cancers, and hopefully get the backpacks donated to hospitals and kids who need it.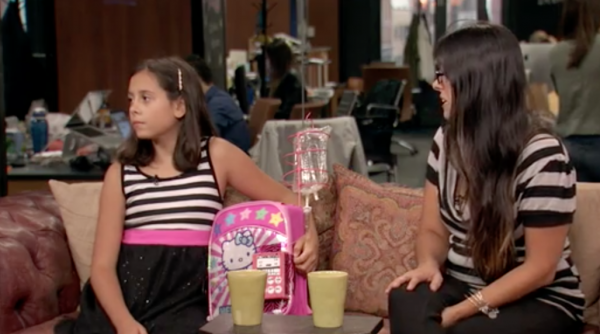 The family's GoFundMe page for the backpack is now at over $55,000. It will be sure to increase given how this simple idea can make life so much easier for thousands of children worldwide, and also give them hope.
Kylie said it best when she said, "Keep holding on."
You can learn more about Kylie and her cause here.
(Via Huffington Post & MSNBC)