At Round K Cafe on the Lower East Side, owner Ockhyeon Byeon wants to revive something that's nearly gone in his native South Korea.
They're "dabang," old-school cafes that cropped up in the early 20th century during the period of Japanese occupation. As Korea became more exposed to the Western world, the country developed its own coffee culture, Byeon explains.
The dabang possess a retro aesthetic. At Byeon's cafe, wall sconces, an old typewriter, and an antique telephone resembling those made in Alexander Graham Bell's time can all be found within the dimly lit space.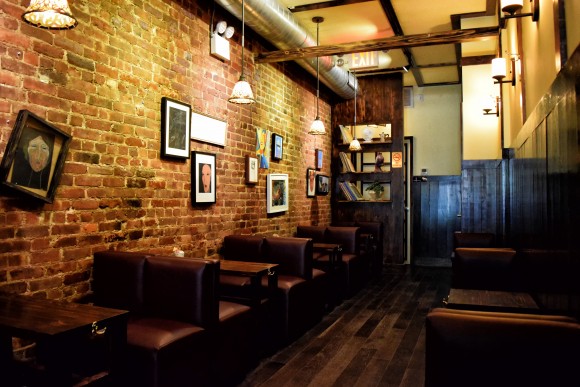 These cafes were especially popular among Korean youth during the '50s and '60s. Then, around 1996, the election of a president eager to wipe away memories of Japanese colonization led to the demolition of many old buildings where these cafes thrived, Byeon says.
But he wants to do his part in preserving the coffee culture of that era. "We have to know what happened in our history, and to remember that, you have to see the historical, cultural parts," he said.
The Egg Cappuccino on Round K's menu pays homage to yesteryear ($6). It comes from an old recipe in which egg yolk is added to coffee for extra protein.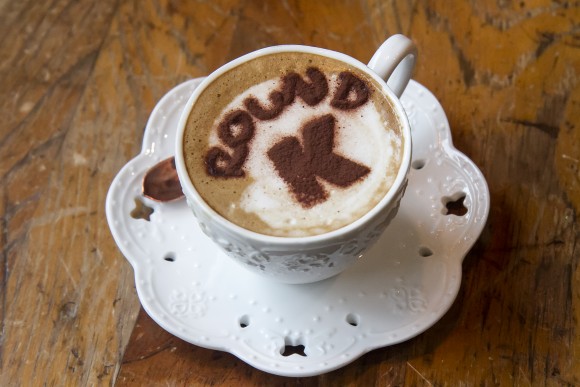 Looking at the drink, you wouldn't notice any difference from a standard cappuccino. Byeon slips the egg yolk into the espresso before whisking in the milk. The temperature of the egg yolk is critical, as it must be cool enough so that it won't start cooking in the coffee. With Byeon's expert skills, the yolk gives a creamy, frothy texture to the cappuccino that makes it even more enjoyable to sip.
He has also whipped up his own inventions. Inspired to make a truly "black coffee," Byeon mixes coconut ash, coconut cream, almond paste, and cocoa powder to create a matte black iced coffee, his own twist on the Italian classic shakerato ($3.50). According to Byeon, coconut ash has teeth-cleansing properties, so you won't have to worry about this coffee staining your pearly whites.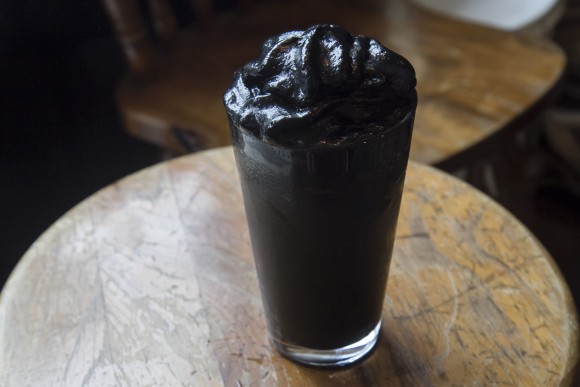 Another creation, inspired by the flavor of wasabi pea snacks, is the Wasabi Latte, made by frothing housemade wasabi syrup with milk, then pouring the mixture into espresso ($5). Unlike most wasabi-flavored foods, the latte doesn't punch your nose with intensity, but instead has a gently spicy kick.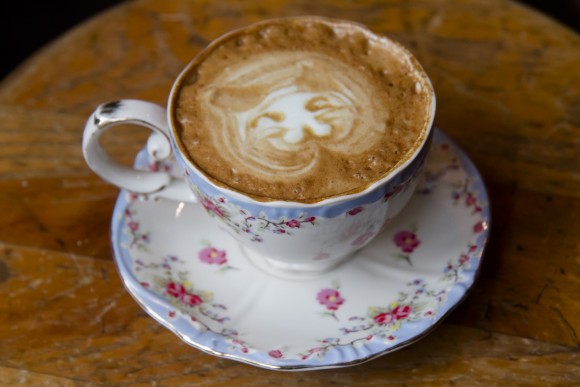 On the food menu, there's a slew of breakfast sandwiches and platters, all featuring scrambled eggs that Byeon cooks by letting in steam from the espresso machine into a pitcher filled with eggs. The eggs come out incredibly fluffy, akin to the Korean steamed egg dish you often find at K-Town restaurants but with more heft.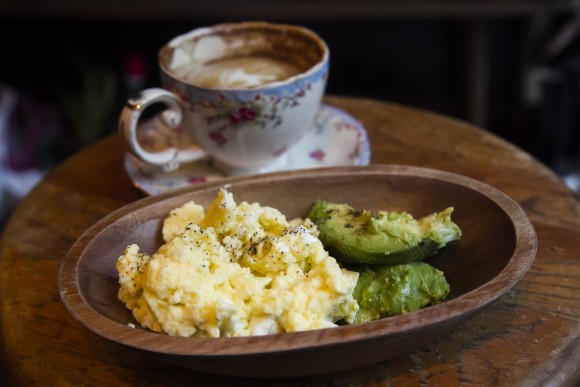 Only in New York can you find remnants of old Korea serving up modern takes on a cup of joe and egg breakfasts.
Round K Cafe
99 Allen St. (between Delancey & Broome streets)
Lower East Side
917-475-1423
RoundK.com
Hours:
Monday–Wednesday
8 a.m.–10 p.m.
Thursday & Friday
8 a.m.–midnight
Saturday
9 a.m.–midnight
Sunday
9 a.m.–10 p.m.