The saying "time heals all wounds" is true in many circumstances. However, the devastating loss of Wang Kefei—a former staff member of the Changchun Agricultural Bank—in the hands of the Chinese Communist Party still weighs heavily on the shoulders of her family even though almost two decades have passed since her tragic death.
Wang Yifei, a former journalist for the Chinese Communist Party, who lives in exile in San Fransisco after escaping persecution in her home country, still struggles to heal from the pain of losing her beloved sister, Wang Kefei. With the mention of her sister's name in an interview with Fox 11 Los Angeles, she broke down.
"I can't even think about her, because when I do, it always breaks my heart," said Yifei, sobbing uncontrollably. "I think about when we were young and would play together, she was a brilliant girl."

Yifei's sister, Kefei, was allegedly persecuted to death in Changchun Heizuizi Forced Labor Camp for practicing an ancient meditation practice called Falun Gong, also known as Falun Dafa.
According to Minghui.org— a clearinghouse for firsthand information related to the persecution of this ancient spiritual system, a witness reported that during the period of the one-month hunger strike, Kefei was tortured by labor camp guards both physically and mentally. The witness also added: "During two years of detention, I witnessed the guards' extremely brutal and wicked behavior; they are the real murderers. Wang Kefei is only one of the many Falun Gong practitioners being persecuted."
On Dec. 20, 2001, Kefei was sent to Tiebei Police Hospital and died on the very same day. "A few days before she passed away, even before they sent Wang Kefei to the hospital, the officials from the labor camp forced each and every person to sign their names on a statement, which said that Wang Kefei's death had nothing to do with guard Wang Lihua," the witness continued.

Though nearly 18 years have passed since that tragic incident, Yifei and her family are still seeking justice for the murder of Kefei. They have demanded that the Chinese government return her body.
During a 2015 trip to China, Yifei's husband, Gordon, secretly recorded the negotiation with the authority that unfolded at the labor camp.
In the secretly filmed video, Gordon is seen sitting in the office of the labor camp. He had specifically traveled to China in 2015 to seek justice and get Kefei's body back. He waited an hour and a half with other family members just to see the labor camp director. "It's been 15 years and we haven't seen it, we just want to see the body," a family member said. "We want to know if it's still here, we write every year to request to see the body."
The director answered: "It's still here. We pay the morgue fees every year, I sign for it every year, every six months." However, the director told the family that they still couldn't see the body unless they agreed that "she died naturally." In response to the unreasonable request, the family said: "You don't have proof it was natural. To put it simply, director, she didn't die of normal causes!"
Hearing the family's accusation, the director remained silent. The director's silence seemed like an admission of the allegation that Kefei was tortured to death by the authorities in the labor camp. In the end, the family left the labor camp empty-handed.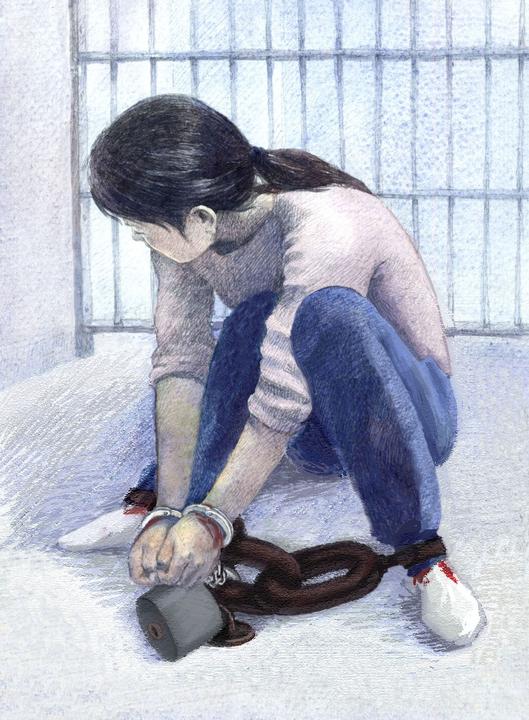 Despite the slim hope with the passing of time, the family will never stop trying to get Kefei's body back. They will never stop seeking justice for the murder of their near and dear one, whom they believe was persecuted to death at the hands of the Chinese authorities.
Speaking to Fox 11, Gordon said: "I wanted to get the truth out about Kefei's death. And I wanted to get her body released."
Both Yifei and Kefei were practitioners of Falun Gong, an ancient mind-body cultivation practice based upon the principles of Truthfulness, Compassion, and Forbearance. Falun Gong is practiced by people in over 100 countries today, and it has received more than 2,000 awards and recognition.

However, in China, the former Chinese Communist Party (CCP) leader Jiang Zemin launched a brutal persecution to eradicate the practice on July 20, 1999. With an estimated 70 million to 100 million adherents in China alone, the CCP perceived Falun Gong's presence as a threat to its authoritarian rule.
Since then, the adherents of the practice have been defamed, slandered, and persecuted. To dispel the lies spread by the communist party, many practitioners have gone to Tiananmen Square and other places to let people know about the immense benefits of the practice and have also appealed to stop the brutal persecution. In the last two decades, millions of innocent people in China have been fired, expelled, jailed, tortured, or killed simply for practicing Falun Gong.
In 2001, both the sisters were arrested for holding up banners that read "Falun Dafa is Good" at Tiananmen Square. Yifei and Kefei were then arrested and imprisoned in labor camps to be "re-educated" and were forced to give up their belief. However, Yifei escaped torture and death and was eventually released by a sympathetic guard.
Unfortunately, Kefei never made it out of the labor camp. Her family was told Kefei, just 30 at the time, died of a heart attack after spending four months in the labor camp.
INVESTIGATION: Undercover video reveals brutal treatment of Falun Gong prisoners inside Chinese labor camps w/@BillFOXLA: https://t.co/lNimPwrGC0 pic.twitter.com/iPkFU43rHm

— FOX 11 Los Angeles (@FOXLA) May 21, 2019
However, Yifei and her family have never believed that Kefei passed away from a heart attack. When the family saw Kefei's condition at the hospital, they knew she was being tortured to death. "The family doesn't believe that, they saw her at the hospital—they want an autopsy and want to check for blunt-force trauma on her bones, that sort of thing," Fox 11 investigative reporter Bill Melugin said.
He further added: "The family are hoping to have a formal funeral for her [Kefei] and more importantly, they want an autopsy. Again, the camp told the family that she died of a heart attack at around 30-years-old."
One cannot imagine the inhumane torture Kefei had to go through while being held in the Chinese labor camp.
As per Status of Chinese People, a website that exposes rights abuses in China, there are as many as 100 types of torture used on these prisoners of conscience, such as savage beatings, sexual abuse, handcuffing in painful positions for long periods, exposure to weather extremes, force-feeding with urine or feces, cigarette burns, solitary confinement, sleep deprivation, and impaling of fingernails with sharpened bamboo sticks.
"These are people who are just trying to live," said Kay Rubacek. "This is not someone who died of a heart attack," she continued, alluding to Kefei's mysterious death. "We're talking about brutal torture, and for what? For standing up for freedom of belief, something we take for granted."
Kay Rubacek, a producer with Swoop Films, has made a documentary called Finding Courage, which depicts the heartbreaking story of the Wang family, as well as the Chinese regime's persecution of Falun Gong.
To learn more about the documentary Finding Courage, visit its website.
Watch the video:
FINDING COURAGE Trailer – Coming Soon

A former journalist for the Chinese Communist Party (YIFEI WANG), living in exile in San Francisco, struggles to settle into life in America while working to heal her family's wounds from their tragic past, and seeking justice for the murder of her sister at the hands of the Chinese authorities. Rare undercover footage of a meeting with the director of the labor camp where Yifei's sister was killed reveals shocking admissions of torture, slave labor, corruption, and a general disregard for human life pervading the camp system today. Exclusive interviews with former Chinese Communist Party officials provide a unique insight into the hidden world of terror that many Chinese citizens live without ever knowing that life can, and does, exist with freedom outside their world. SWOOP FILMSLearn more: https://www.swoopfilms.com/finding-courage-film/Article: https://www.theepochtimes.com/embargoed-do-not-publish-documenting-the-persecution-videos-of-torture-victims-smuggled-out-of-chinese-prison_2930207.html

The Epoch Times စာစုတင်ရာတွင် အသုံးပြုမှု ၂၀၁၉၊ မေ ၂၁၊ အင်္ဂါနေ့