As a Dozen Wildfires Burn, Thousands of Californians Forced to Evacuate
July 26, 2018 Last Updated: July 27, 2018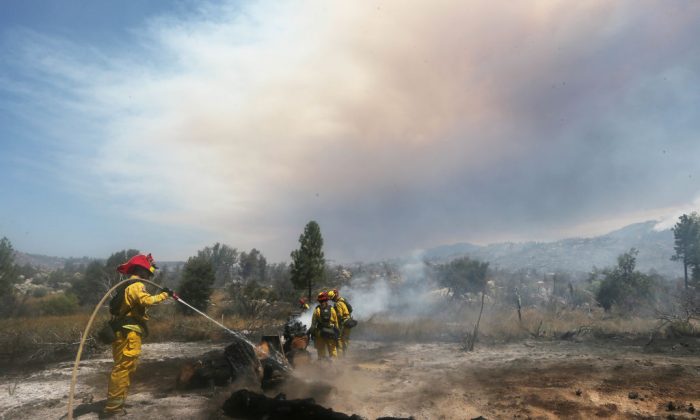 There are currently around a dozen wildfires of different sizes happening in California, according to Incident Information System and other sources.
However, three of them threaten people more than the others: the Carr Fire that is near Redding (north of Sacramento), the Ferguson Fire that is near Yosemite National Park, and the Cranston Fire that is 90 miles east of Los Angeles in Riverside.

The continued hot and dry weather with triple digit temperatures that will continue until this Friday make the fires more ferocious and grow quickly overnight.
The Cranston Fire just started on Wednesday around noon in Riverside but has already forced 3,200 people and 2,147 homes to be evacuated. It destroyed five homes, burned approximately 4,700 acres with only 5 percent contained. Highways 74 & 243 are partially closed, so are four hiking trails: Desert View, Round Valley, Wellmans Divide, and San Jacinto Peak. About 700 personnel are fighting the Cranston Fire.
On the same day (July 25), Brandon N. McGlover, 32, resident of Temecula, was booked with five counts of arson to wildland including the Cranston Fire, according to Incident Information System. Additional charges may be added as the investigation continues.

The Carr Fire of Northern California started on July 23 around 1 p.m. because of a vehicle's mechanical failure. It burned about 20,000 acres by the morning of July 26 and only 10 percent is contained. Highway 299 is partially closed and 192 structures are threatened.
With very hot and dry conditions, along with northwest winds, the #CarrFire made a significant push toward the city of Redding in the last day #cawx

H/T @Cal_OES @slaiguy pic.twitter.com/9DjmlnOT1X

— Tom Dang (@DangWx) July 26, 2018
The almost two-week-old Ferguson Fire that started on July 13 has grown almost another 5,000 acres in size and reached a total of 43,299 acres within one day. It was only 27 percent contained on July 26 compared to 25 percent contained a day ago.

The Ferguson Fire is currently the largest fire in California and has forced officials to close nearby Yosemite National Park around noon on July 25 (Wednesday) because of the large amount of unhealthy smoke.