She can be dubbed America's favorite mom.  At least this is how I see Patricia Arquette.  I first fell in love with Arquette during her hit NBC television series Medium.  From January 2005 to January 2011 she portrayed a gifted psychic named Allison DuBois, who works for the Phoenix, Arizona District Attorney's office to help them solve crimes. The show was based on the real life psychic of the same name.
In the meantime this psychic was also the mother of three adorable and precocious little girls and wife to a supportive, if not sometimes beleaguered husband who did his best to muddle through life with a house full of female psychics.  Yes, by the final episodes of Medium even the baby girl displayed  psychic abilities.
 Patricia Arquette as Allison DuBois in NBC's Medium

The DuBois Family. A husband (Joe DuBois) living with four psychic ladies.

What I wasn't aware of at the time was that my favorite tv mom Arquette was all the while intermittently shooting a major motion picture that spanned 12 years of her life beginning in May 2002 and ending in October 2013.  The film was Richard Linklater's Boyhood. The actual shooting time was approximately 12 weeks and Linklater was given 200,000 for each year that he shot the project. They shot annually over a 12 year period, and Arquette would again reign supreme as a silver screen single mom, taking a Golden Globe award for Best Supporting Actress in a motion picture.
Arquette last night with her Golden Globe Statuette. Is she on her way to Oscar?

Boyhood is the coming-of-age tale of a young Mason Evans, Jr. (Ellar Coltrane) as he endures lifes ups and downs along with his older sister Samantha ( portrayed Lorelei Linklater, Richard's daughter), his mother Olivia (Arquette) and his father Mason Evans,Sr. (Ethan Hawke).
In 2002 Mason is six years old when his mother decides that she must go back to school to earn a degree in order to better care for them.  This is the year that their father also returns from a work stint in Alaska.  He returns and promises to spend more time with them on the weekends.
In 2005 Mason is nine and his mother marries a professor with two children of his own. Mason and Samantha bond with their new brother and sister whom are all around the same age. During the good times they all attend a Harry Potter book purchasing party clad in Harry Potter character costumes. But time soon enough reveals that Olivia's husband drinks far too much and can be physically and verbally abusive.   He forces Mason to cut his long, boyish locks.   Olivia realizes it is time to end the marriage.
In the meantime Mason Jr. continues to bond with his father who faithfully sticks to his promise to remain in their lives.  He takes them to baseball games and has them over to his home for sleepovers.
In 2008 Mason is 12, Samantha has a boyfriend and Mason Sr. decides that it is time to chat with the kids about sex and contraception.
Between 2008 and 2012 Patricia Arquette, Ellar Coltrane, Lorelei Linklater and Ethan Hawke, along with other cast members return to fulfill their character roles.  Before your eyes young Ellar Coltrane as Mason Jr. matures into a stunningly handsome, swarthy young man on his way to college. Along the way his mother marries and divorces again, and his father also remarries and has another young son named Cooper.  Mason turns out to be a quiet,  introspective (if not somewhat brooding) and non-conforming artist (photographer).  His photographs win a statewide competition.
Written and directed by Linklater (Before Sunrise 1995, Before Sunset 1994, and Before Midnight 2013),  his serialized Ethan Hawke and Julie Delpy  "Before" films along with his chronicalized  Boyhood project has rendered him a creative visionary who has been blessed to find a cast that believed enough in this vision to carry it out to the bittersweet end. His muse Ethan Hawke was even assigned to complete the project in the event that Linklater passed away. Hawke can be seen in theaters right now in the Science Fiction time travel thriller Predestination.
Boyhood is a never before accomplished cinematic phenomenon that is now giving birth to a proposed Linklater sequel for Coltrane, entitled Manhood which would be set for an amazing 2026 release date.  With a Golden Globe for Best Director and Best Film under his belt for Boyhood, he certainly shouldn't find it hard to obtain funding for the new endeavor.
Twelve intermittent years of shooting young Ellar Coltrane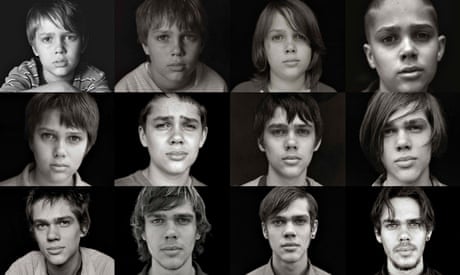 Richard Linklater snags the coveted GOLDEN GLOBE honor for BEST DIRECTOR and BEST FILM. 

As well it would be a delight to see more of Ethan Hawke, Lorelei Linklater and Patricia Arquette as they all age in Linklater's family saga.  For now here's to wishing Linklater and Arquette nods for the big one… Mr. Oscar.
JWL
"When All Is Said And Done… You'll Go To The Movies." – JWL
Follow Janet Walters Levite's News and Entertainment Posts on Twitter: @JanetWLevite