Woman Who Received Diploma at Age of 102 Has Died
April 11, 2016 Last Updated: April 13, 2016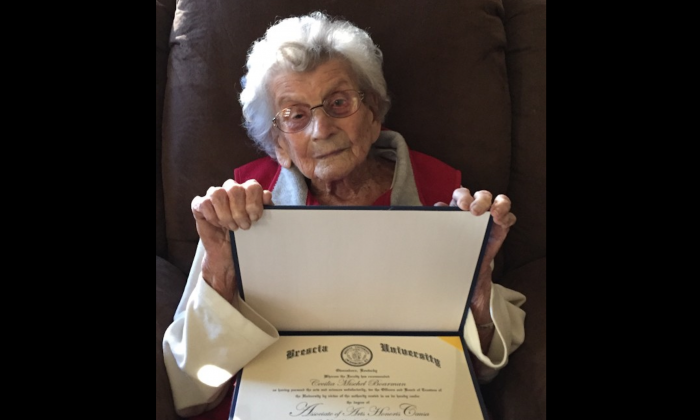 An Arizona woman completed her college diploma at the grand old age of 102, more than 59 years after she started taking classes, has died, less than two months after graduating. 
Cecelia "Dolly" Mischel Boarman was 102 years old when she received her Associate's degree from Brescia University on Feb. 8. 
On the day before she died, Boarman was shown a copy of a newspaper, where her story had made front page. 
I read the article and showed her the picture. At that point, she was starting to fade.
, daughter
"I think she was a little taken aback by it," Dolly's daughter Jovita Fine told ABC News. "What's ironic is that April 6, the story was on the front page of the paper. She was already in the hospital and that was her last day of living. I read the article and showed her the picture. At that point, she was starting to fade. We wanted to make sure she knew that she made front page news."
Boarman first began taking classes at Brescia University in her hometown of Owensboro, Kentucky, in 1957. 
She later became a teacher at parochial schools. She was allowed to teach even without a degree as long as she was taking classes toward a degree. 
In 1969, she took her final course, but never took her bachelor's degree. 
I am so thrilled to finally get a diploma after all these years.
Boarman led a tough life. Her husband died shortly after they married during WWII, and she raised her daughter as a widow. 
When her daughter Fine was scheduling an alumni visit to Brescia, which she also attended and graduated from, she told the administration about her mother's story. 
Pulling up Boarman's transcript, the school administration saw that Boarman had enough credits, and awarded her with a honorary Associate's degree. 
"I am so thrilled to finally get a diploma after all these years," Boarman said in a statement. "Thank you to Tracy. And thank you to Brescia."