Battling cancer is one of the most difficult things a person can do. It's a debilitating illness that requires extensive, and oftentimes painful treatment. Every time a person conquers the disease and goes into remission, it's nothing short of a miracle.
Modern medicine has managed to find ways to greatly improve the survival rates of cancer patients. But there is something to be said for a person's drive and desire to live, as well as their spirit. One cancer patient, Lorna, was in the heat of her battle with the disease in 2015 and needed something to lift her up.
Lorna had been diagnosed with stage three breast cancer in 2014. She'd already had a double-mastectomy and was still fighting to go into remission.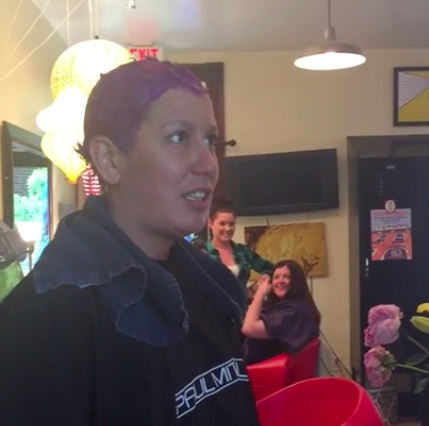 The day started off as a way to make her feel like her life was returning to normalcy. Immediately following her diagnosis, Lorna had to both battle the cancer in her body and the fact that she didn't have health insurance. In order to receive treatment, she would have to raise the funds without the help of insurance.
Thanks to her family and friends, Lorna was able to afford chemotherapy, radiation treatment, and a double-mastectomy. But her vibrant purple hair had fallen out as a result of the treatment, and now that it was growing back, she made an appointment at a salon to have it dyed purple again.
That alone would have been enough to make it a great day. But her former roommate decided to make it a day Lorna would never forget.
While Lorna was at the salon dying her hair purple, her former roommate, Nathan, surprised her with a puppy.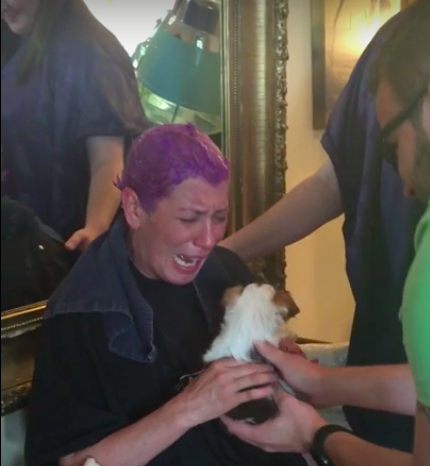 Nathan had recently moved out, and as a result, taken his dog with him. Nathan's French Bulldog was one of the few things that was a constant source of happiness while she was going through treatment. The dog was affectionately referred to as "Lorna's best friend," and she was devastated when it was gone.
That's why he decided to bring her a new pup of her own. When her friends show up, camera in one hand, a puppy in the other, Lorna has no idea why they are there. But once she sees what her friend is hiding behind his back, she can't help but to start crying.
Lorna goes through an entire spectrum of emotions when she sees her new puppy. From tears to laughter, she can hardly believe she has a new friend.
"Is it really mine?" Lorna asks as she wipes tears from her eyes and reaches for her new best friend. Throughout the entire video, which is a little over four minutes long, Lorna is crying one minute, laughing and joking the next. Then before you know it, she's crying again.
"I think I might puke," Lorna says in a fit of elation.
Watch her reaction below: