Kevin Duke had purchased a used vehicle for his daughter, Jada, and was working on it, when he made an interesting discovery. While searching within the glove box, he discovered an envelope under a mat at the bottom of the storage box, which recounted a heartbreaking story detailing the car's past.
The car was the writer's remaining link to her lost mother and daughter.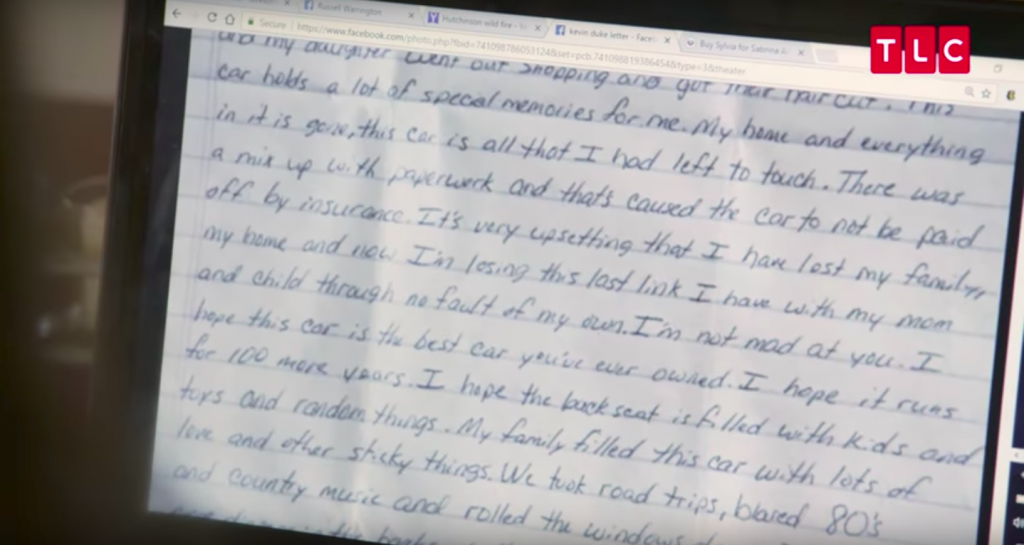 "To the person that gets this car, I just wanted to let you know what a special vehicle you've bought."

"This car belonged to my mum. She passed away Feb 25, 2015 in a house fire along with my 6-year-old daughter and my aunt."

"The last time my mum drove this car was the day she left us. Her and my daughter went out shopping and got their haircut."
"This car holds a lot of special memories for me. My home and everything in it is gone, this car is all that I had left to touch."
"There was a mix up with paperwork and that's caused the car to not be paid off by insurance."
The writer still wished good hope for the new owner.

"It's very upsetting that I have lost my family, my home and now I'm losing this last link I have with my mum and child through no fault of my own."
"I'm not mad at you. I hope this car is the best car you've ever owned."
"I hope it runs for 100 more years. I hope the back seat is filled with kids and toys and random things. My family filled this car with lots of love and other sticky things."

"Love, joy, and adventure was had in this car. So now that it's yours, please remember it isn't just a car. It's a memory."
"You're riding with angels. My angels. Talk to them if you like, I'm sure they'd like to see and hear about any new adventure you take in this car."
"Be blessed, be happy, live and love like we did. I wish you, and Sylvia, all the best!," ended the mysterious letter, according to Daily Star.
The plan to find the missing owner

Moved by what the letter had said, Duke decided he would try to find the car's missing, former owner. Through the use of a Facebook campaign, the writer of the letter was eventually identified as Sabrina Archey.
Hoping to return the car to her, an online campaign was developed on the crowd-funding website, YouCaring. Eventually, the story was featured on an episode of the TLC show, "This is Life Live," where Archey had been reunited with her mother's car, which had been given the name "Sylvia."
Archey eventually uploaded her first ride in "Sylvia" onto YouTube as well.
Father excited after wife got him color correcting glasses. Then she tells him to look at kid's hair