Grandmother's are unlike any other people on the planet. They've already been through the rigors of raising their own kids, and are ready to spoil their grandkids at every turn.
As good as they are with hugs, kisses, candy, and dollar bills, they occasionally struggle with technology. In this case, it was an easy mistake that anyone could make, but it led to a heartwarming exchange.
One redditor recently posted a text message he received from a grandmother with the wrong number.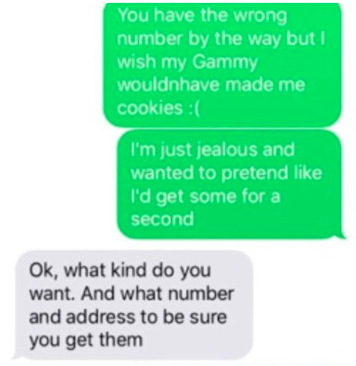 True to form, this grandmother was trying to text her grandchild about baking them some cookies. But she had the wrong number, and the redditor, prplpineappls, who received the text was quick to point it out to her.
"You have the wrong number by the way. But I just wish my Gammy would have made me cookies," the redditor said via text message and later posted to the MadeMeSmile subreddit.
"I'm jealous and wanted to pretend I'd get some for a second."
Grandma didn't mess around, and without anymore prompting, the good deed was underway.
Even after learning she had the wrong number, the grandmother still offered to send the stranger cookies.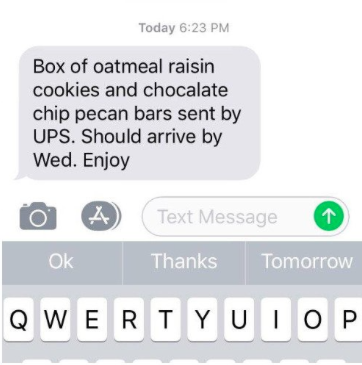 Before too long, the delectable confections were baked and on their way.
"Box of oatmeal raisin cookies and chocolate chip pecan bars sent by UPS. Should arrive by Wed. Enjoy," the grandmother said.
True to her word, the homemade cookies arrived in a plastic Tupperware container a few days later. Baked with love, and snugly packed with a paper towel.
"Wrong number led to the most wholesome experience of my life," the post said on Reddit. "She was so sweet and adorable and checked to see if I got them. And they're delicious!"
Those who saw the post on Reddit were quick to offer suggestions of how to thank the grandmother.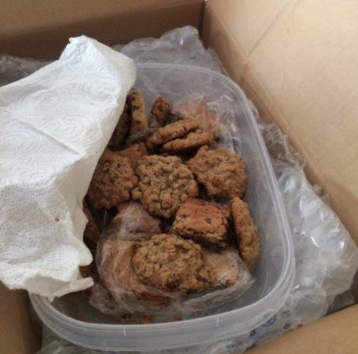 Most suggestions in the comments section of the post urged the lucky cookie recipient to send back the Tupperware with a personalized thank you note. Others suggested sending some flowers, or even some home made cookies in return.
Who knows, this could be the beginning of a delicious pen-pal relationship.