Most weddings consist of flowers, a blushing bride and groom… and a cheesy slice of pizza pie?
Frequent &Pizza aficionados were in for a surprise upon walking into the popular East Village shop on late Wednesday afternoon. White balloons of all sizes adored the exposed charcoal-brick walls of the pizza shop, hovering just above a long banquet table garnished with several white lily and daisy-filled vases.
The tantalizing smell of dough baking in the kitchen wafted through the air, as Joyce and fiancé Phil Thomas happily greeted their wedding guests with hugs and beaming smiles.
"We're both very excited," said Joyce just before adding, "We also feel quite surreal that this is actually happening — It all happened so quickly … especially since it's only been three months since we got engaged!"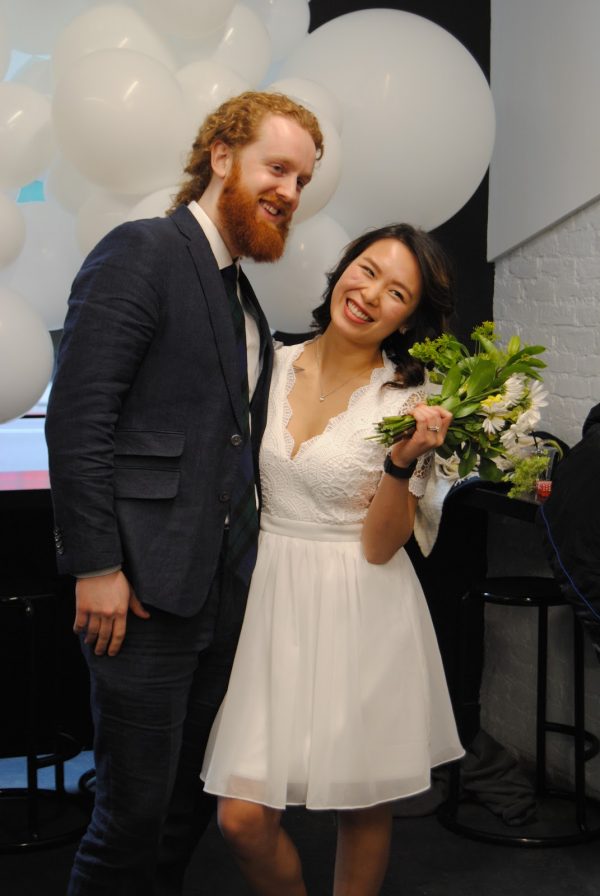 The newly engaged couple may be new to sharing the same last name, but certainly not new to sharing a New York style slice of pizza or a unique adventure.
"It's funny because we used to have [one] dollar slice pizzas all the time back when Phil was living in Hell's Kitchen," Joyce said. This was up until Phil began a diet that limited his gluten and dairy intake — however, this would not get in the way of his love for pizza entirely.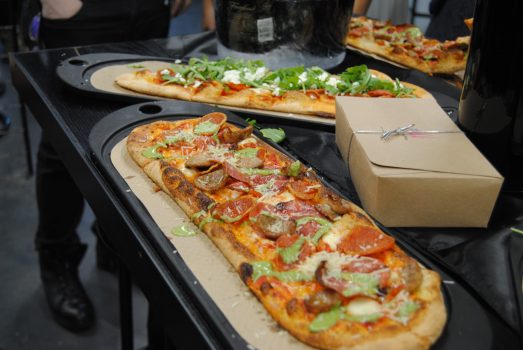 On one particular lunch break stroll into &Pizza, Phil inspected the menu and found a variety of gluten-free options. Much to his surprise, Phil also found out the pizza shop was hosting free weddings in honor of Pi Day – thus the inception of the grand idea: A one-of-a-kind wedding held at a pizza shop!
"Now that were actually having a wedding at a pizza place, pizza is definitely something that will stay special to our hearts," Joyce said.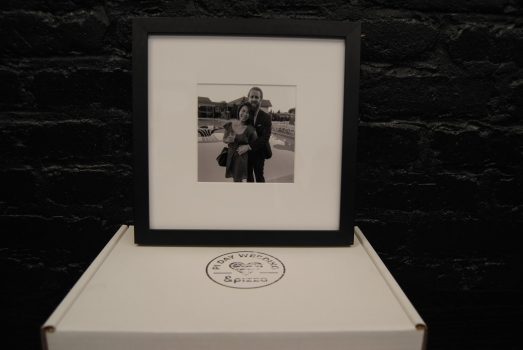 The couple met back in 2014 while working on the same team within their company. Phil, originally a Connecticut resident, was new to the city and quickly found himself befriending Joyce over outings with mutual friends. Within three and a half years, the two soon developed a love for one another which would take their relationship to new places — literally.
Aashish Srivas, a friend of Phil's for over six years, recalled that the couple has "traveled to at least 3 continents" in the time that he's known them.
Srivas described a large geographical map of the United States lining the couple's apartment wall, with "a big percent" of it colored in according to places they've visited.
"They're always trying to do weird and crazy things," Srivas said with a knowing smile before adding, "[but] they're perfect for each other in that way."
The idea of the couple holding their wedding at a pizza shop didn't completely take Joyce's brother, Christopher, and sister, Stephanie Tse, by surprise either when combining the couple's quirky style and sense for adventure.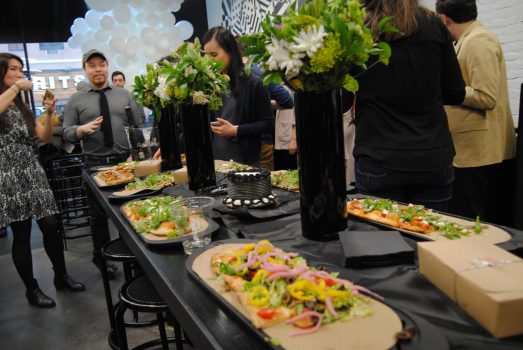 "It's different – but I like it!" Stephanie said while bobbing her head to the rhythmic beats exuding from speakers behind the deejay booth. In between bites of a slice covered in pepperoni, Christopher nodded enthusiastically.
"When I heard about the pizza place [idea] I kind of thought it was normal for her because it's kind of her style, Christopher said before continuing, "[Joyce] is really not into the basic kind of stuff."
And neither is the staff behind creating a dream wedding in a pizza shop. Playing the dual role of both Senior Brand Manager of &Pizza and temporary Wedding Concierge, Dana Fraser set out to ensure that Joyce and Phil's day was one of a kind.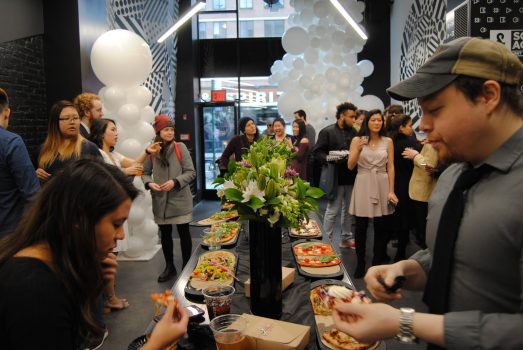 "[&Pizza's] guest experience manager has lead Pi-Day since its inception in 2015 with the support of marketing, so a lot of people both in DC and NY had a hand in this; including Baltimore and Philly," Dana said with a smile.
After sending out a massive email in regards to hosting a free wedding for &Pizza subscribers in honor or Pi Day, over 100 guests submitted an application in hopes of eventually making it into the top 20 couples to be in the running – but Joyce and Phil doubled their chances in submitting two separate applications.
The process took an entirety of two months, as Dana and her team provided a free deejay, alcohol for an open-bar, a photographer, a cake, and an unlimited amount of delicious pizza – with all the specifications made to accommodate the couple.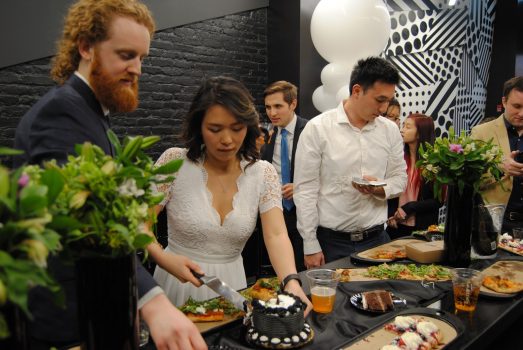 After the champagne bubbles settled, and all guests on their way out the door with their take-home boxes of pizza, there is only one thing on the mind of the couple in marital bliss, as told by Joyce.
"We merely just want to be married and live happily ever after."