Doris Vehar lives a quiet life in Mentor, Ohio. A widow for the last 17 years, she finds ways to keep herself entertained now that her kids are grown and out of the house. She had no idea that a tradition she started while her granddaughter was in elementary school would give her so much joy later in life.
When Vehar's granddaughter was at Fairfax Elementary School, she started walking down her driveway to wave at her school bus as it drove past.
"I started to go outside and wave to the bus because my granddaughter was riding it. She graduated to Memorial Middle School, but I still went out every day to greet those kids," Vehar told the Cleveland Plain Dealer.
88-year old Doris Vehar waves and blows kisses to the kids on the school bus every morning. The kids on the bus affectionately call her "grandma."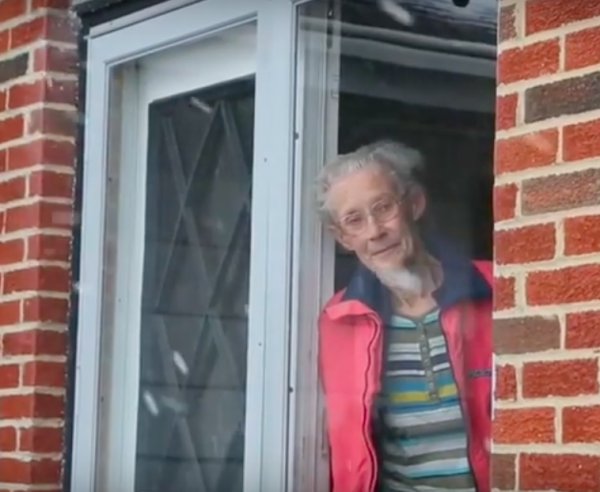 Vehar didn't know how much of an impact she'd made on the students who were riding the bus to the school. They all affectionately call her "Grandma," and when she waves and blows kisses, they do the same in return.
"I feel like she loves us a lot," one young student told Cleveland.com. "We always say hi to her, because sometimes she is home alone and we want to cheer her up."
Normally the bus goes whizzing by; the interaction is a brief, fleeting moment in her day. But on this very special day last year, school bus number 46 came to a stop in front of her house. The kids all threw down their windows, the doors of the bus came flying open, and Vehar's eyes swelled with tears.
Amid a choir of "I love you, Grandma!" from the children aboard emerged a familiar refrain. It was Vehar's birthday, and in (an attempt at) unison, the children began to sing the "Happy Birthday" jingle to their honorary grandma.
Vehar couldn't believe what she was hearing. From the windows of the school bus came a rendition of Happy Birthday intended especially for her.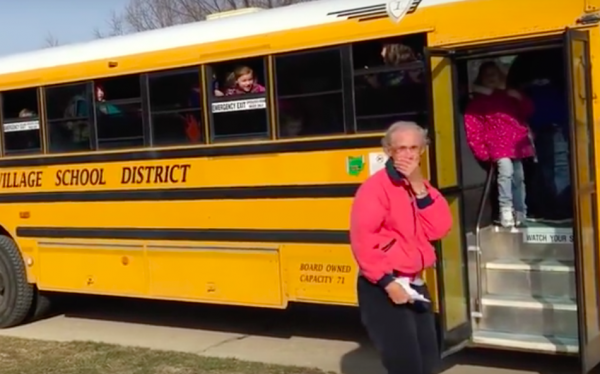 As the children continued to sing, she turned back to her neighbor, Kathy Latino, who alongside her Yellow Labrador Ellie, recorded the entire exchange on her phone and later posted the video to Facebook. Vehar's hand covered her agape mouth, and at 88 years old, she proved that it's never too late to get the surprise of a lifetime.
"There is something about this bus. I don't know what it is, it just got to me. They are so lovable," Vehar said, her voice weak and wavering from the outpouring of love.
"Love you Grandma! Happy Birthday! Have many more!" one boy says, sticking his head out of the last window on the bus.
Even as the bus is out of sight from the camera, she continues to wave. In her hand, she has a note handed to her by one of the students who met her at the door to the bus.
"This is like a beautiful dream," says Vehar.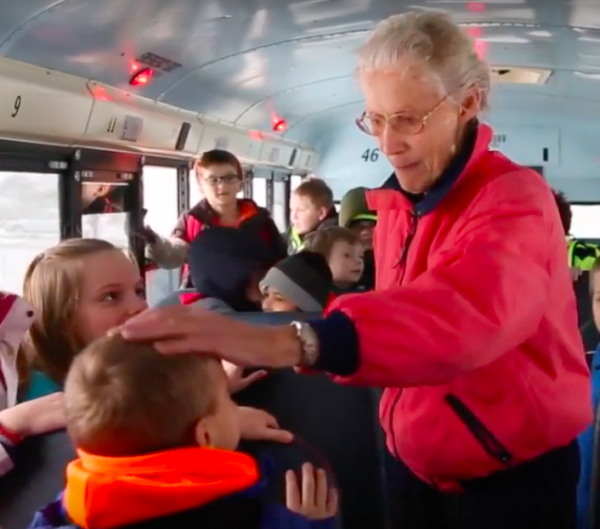 The bus driver, Stacey Wolfe, loves Grandma just as much as the kids do. She recognizes how much the daily passing of the bus means to her, and has gone out of her way to make sure she passes her house while driving the kids to school every morning.
"My route, for the past two years, took me a different way. But I couldn't leave Grandma behind so we rerouted it and came back this way. And we make her happy and the kids happy every day," Wolfe told Cleveland.com
The daily waves and blown kisses mean as much to the kids as they do to Vehar.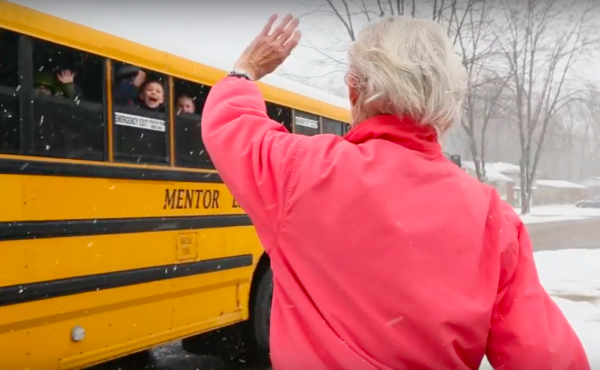 Vehar continues to stand outside, waiting for the bus to pass by regardless of weather. On one particularly snowy day in which Wolfe was running ahead of schedule, she decided to pull over and let Grandma board the bus to greet all the kids personally.
"I kissed every one on that bus," she said. "Every one. My best wish. It was my best wish in the 17 years since my husband has been gone. I got to hug them all."