It's pretty unbelievable how some people treat their pets, from slight neglect to outright abuse. Not only since cats and dogs rely on us for everything, but even abused pets often stay loyal to their owners. Some dogs take this a step further and attempt to attack their rescuers.
Such a scene played out when two dogs were found locked in a hot car in Roswell, Georgia.
A concerned citizen reported seeing one of the dogs in a car on a hot day.
Two Dogs Rescued From A Hot Car

A concerned citizen noticed a dog suffering in a hot car and called 911. The first officer arrived in 18 seconds. What you are about to see is actual bodycam footage of the rescue and medical treatment of two dogs suffering from heat stroke. Help us spread the word about the dangers of leaving pets inside of a hot vehicle. If you see an animal trapped inside of a hot car, call 9-1-1, so that a tragedy can be avoided. #PetSafety #DogInHotCar #DontLeaveDogsInCars

Posted by Roswell Police Department on Wednesday, July 5, 2017
Fortunately, the first police officer arrived at the parking lot of Studio Movie Grill an incredible 18 seconds after the call went out. For this case, time was of the essence.
While outside of the car it was an uncomfortable 89 degrees with 52% humidity, inside the Chevy Impala it was much, much hotter, even though the owner had left the windows slightly cracked.
"That doesn't mean, you know, that the car is getting any sort of breeze," said Roswell Police Officer Lisa Holland, according to ABC7 News. "It was parked directly in the sunshine."
It was an unbelievable 167 degrees inside the car.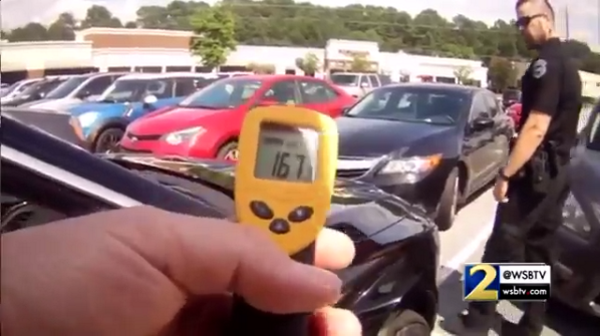 The dogs would not last long at that temperature. Officers needed to break into the car and get them out as soon as possible. However, the first dog did not grasp the grave situation, and it barked and snarled at the officers.
But rescuers did not have time to waste. After breaking into the car, they collared the dog, and proceeded to remove it.
As the officers rescued the dog, another dog jumped out at them.
A smaller dog appeared from under one of the seats and attacked the police officers. After a brief standoff, police successfully removed both dogs from the car.
Just in time, too! As they were pulling the larger dog towards a fire engine to get some water, it had a seizure—the dog had developed heat stroke.
The dogs were pulled out just in time.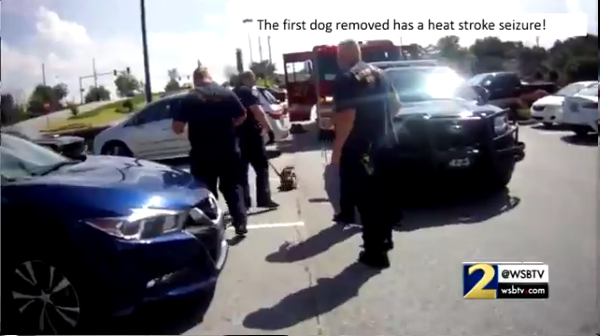 Desperate to save the animals, officers used the water from a fire hydrant to quickly cool the dogs down.
"There's no way you should have had them dogs in the car," Beloadea Omerto-Anderson, who had witnessed the rescue, told ABC7 News. "It's just horrible and horrific how the dogs even look."
When the owner was tracked down, it was discovered that she was in the theater with her family, watching a movie.
"That's just crazy and bizarre," Omerto-Anderson told ABC7 News.
The owner was charged with animal abuse, and the dogs have been taken from her custody. Both are alive, and well, and are currently being held at Fulton County Animal Shelter as evidence.
Watch the news story below: