This charming Classic Easter Basket from L.A. Burdick Handmade Chocolates looks like something author and illustrator Beatrix Potter might take a liking to.
There's the requisite hollow chocolate bunny, while their famous chocolate mice bonbons yield the spotlight for cute white chocolate bunnies with toasted almond ears. They are filled with hazelnut gianduja, infused with a hint of orange.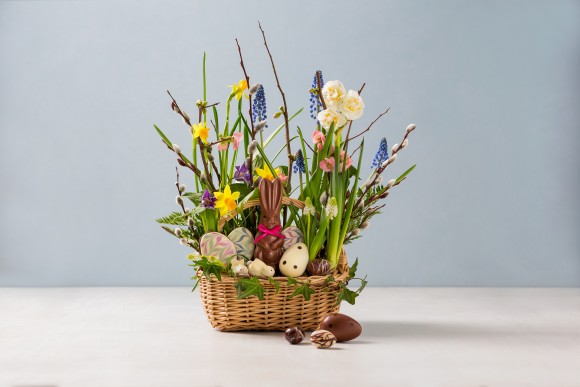 The eggs are likely the tastiest part of this basket. Hand-painted polka dot Crispy Eggs, the size of regular chicken eggs, contain a delicious surprise. Rather than being hollow, they are filled with a delightfully crispy hazelnut and chocolate filling. The white egg hides a filling of orange-pistachio dark chocolate, while the milk chocolate egg holds a rich hazelnut-mocha dark chocolate. Another three little chocolate praline eggs pack some inviting flavors into bite-size packages, including a surprisingly fun banana honey caramel.
The basket also includes three chocolate cookies with royal icing. True to the chocolatier's tradition, there are no artificial ingredients, additives, or coloring. (Note: Plants in image are not included.)
Ships March 29 to April 21. $42, BurdickChocolate.com