Just a few years ago, Mumbai's Versova Beach practically doubled as a landfill.
The plastic garbage and filth was piled literally feet high; photographs were taken of people standing knee-deep in garbage, rendering the beach effectively useless for the turtles and other sea-dwelling creatures that use beaches—crucial parts of their habitat.
Indian lawyer and conservationist Afroz Shah knew that something had to be done about the condition of the beach, so he helped organize what the United Nations has called the "largest beach cleanup" ever.
For more than 100 weeks, Afroz Shah, has been clearing plastic waste from Versova Beach. While Mumbai had accepted this…

由 Shi Tan Shu 发布于 2017年10月1日周日
It took years, quite literally—but thanks to the tremendous efforts of volunteers to both clean up the beach and maintain its cleanliness, the baby Olive Ridley turtles that used to consider Versova Beach a crucial part of their migration to the Arabian Sea have finally returned.
The Olive Ridley sea turtle is both the smallest and most common of the world's sea turtle species, but their population worldwide has shrunk by as much as 32 percent in the last generation alone. Between exploitation concerns and polluted migration paths, like how Versova Beach was for nearly three decades, the number of nesting females plummeted.
Week 127 .

Fantastic news for Mumbai .

We got back Olive Ridley Sea Turtle after 20 years. Historic moment

Nested and Hatched at our beach. We facilitate their journey to ocean.

Constant cleaning helps marine species.

Marine conservation centre needed at @versovabeach pic.twitter.com/j79xCKamNh

— Afroz shah🐬 (@AfrozShah1) March 22, 2018
Knowing how crucial it was to provide them a safe habitat once again, Shah gathered hundreds of volunteers and went to work cleaning up a reported 11,684,500 pounds (approx. 5,300,000 kg) of trash over a grueling two-year period. The volunteers cleaned up both the beach and upstream rivers, ensuring that the pollution didn't simply get swept right back again.
Then, they waited—and in the spring of 2018, the turtles came.
"Week 127," Shah wrote. "Fantastic news for Mumbai. We got back Olive Ridley Sea Turtle after 20 years. Historic moment Nested and Hatched at our beach. We facilitate their journey to ocean. Constant cleaning helps marine species."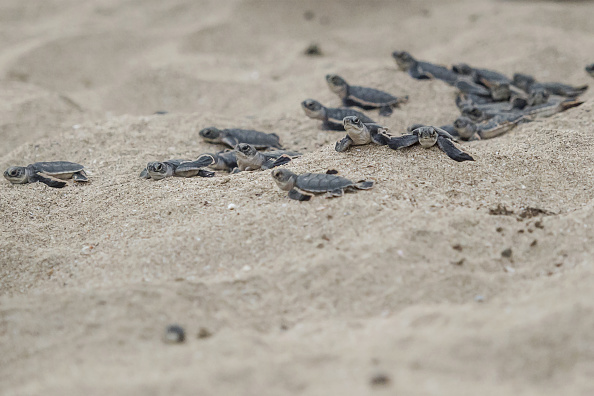 Link to full, updated story on Mumbai as a Olive Ridley turtles nesting site. (yes, egg shells were found this morning, confirming it is one) https://t.co/0P7r9maqoA

— Sachin Kalbag (@SachinKalbag) March 23, 2018
In an interview with The Guardian, Shah explained that seeing the turtles return to their rightful migration path—something that was completely impossible with the previous levels of trash—brought tears to his eyes.
When the incredible experience occurred, the Indian news circuit was understandably skeptical. Despite the excitement displayed, they rigorously fact-checked to ensure that what they were seeing was truly a reversed trend in favor of nature conservation.
After finding the eggshells from the turtles, though—proving that they had, indeed, hatched at Versova Beach and hadn't been brought in or hatched elsewhere as a PR stunt—the joy was expressed across India.
Shah was given tremendous accolades by the United Nations for his cleanup effort, winning the Earth Champs award for the cleanup:
.@AfrozShah1 wins #EarthChamps award for his efforts in launching the world's largest beach clean-up in Mumbai: https://t.co/4bGfOPIspX pic.twitter.com/9ynFoliaXf

— UN Environment (@UNEnvironment) December 2, 2016
Although Shah could have easily accepted the praise for a job well done and moved on, though, the young Mumbai-based lawyer has kept up his efforts to make sure that the trash doesn't return and chase the turtles from their habitat once again. Now, he's on to cleaning up the Mithi River, where they'll add a dam to help control floodwaters during monsoon season as well—something that not only helps the environment, but the Mumbai population as well:
Week 179 .#BeatPlasticPollution

River Mithi rejuvenation is :

1. Community development to adopt
#Circulareconomy .

2. Less attack on fragile water
ecosystem .

3 .Less plastic in the river/ocean .

4. Then a clean river for us . pic.twitter.com/YYXANXV0WQ

— Afroz shah🐬 (@AfrozShah1) March 24, 2019
India has long dealt with massive pollution concerns, facing challenges posed by both the nation's exploding population and their developing country status.
Thanks to Shah, though, it's not just the rivers and beaches that are being cleaned. Hes changing the attitudes in India, as well—which could lead to a more sustainable environment across the nation.
"@AfrozShah1u inspire," one Twitter user wrote. "For years I saw this garbage as I used to run past it, I had to clean it, I did today."
With that kind of change, India is taking incredible steps towards saving the planet!
You may also want to watch this video
Men on a fishing trip do a good deed when they rescue turtles and a booby snagged in a line