It's not every day you come across someone going out of their way to show respect to a funeral procession. So when an Indiana woman, named Joy Wagler, came across a sight like this, she was so moved that she took out her phone to snap a photo, and shared it on her Facebook page. This moment is now warming the hearts of social media users.
On April 24, Wagler shared about a heartwarming gesture by a stranger in Bloomington who showed respect to a passing-by funeral procession, despite the pouring rain.
Wagler wrote, "I don't know him, but he is a wonderful example of how we need to act when a funeral procession comes through while we are driving."
The touched Wagler went on to explain that the stranger not only pulled over and stopped his truck to show respect, but also got out of it, "took his hat off and stood (in the rain) with his hat on his chest and head bowed!"
The procession lasted longer than the average, but the stranger stood solemnly outside his truck to pay respect.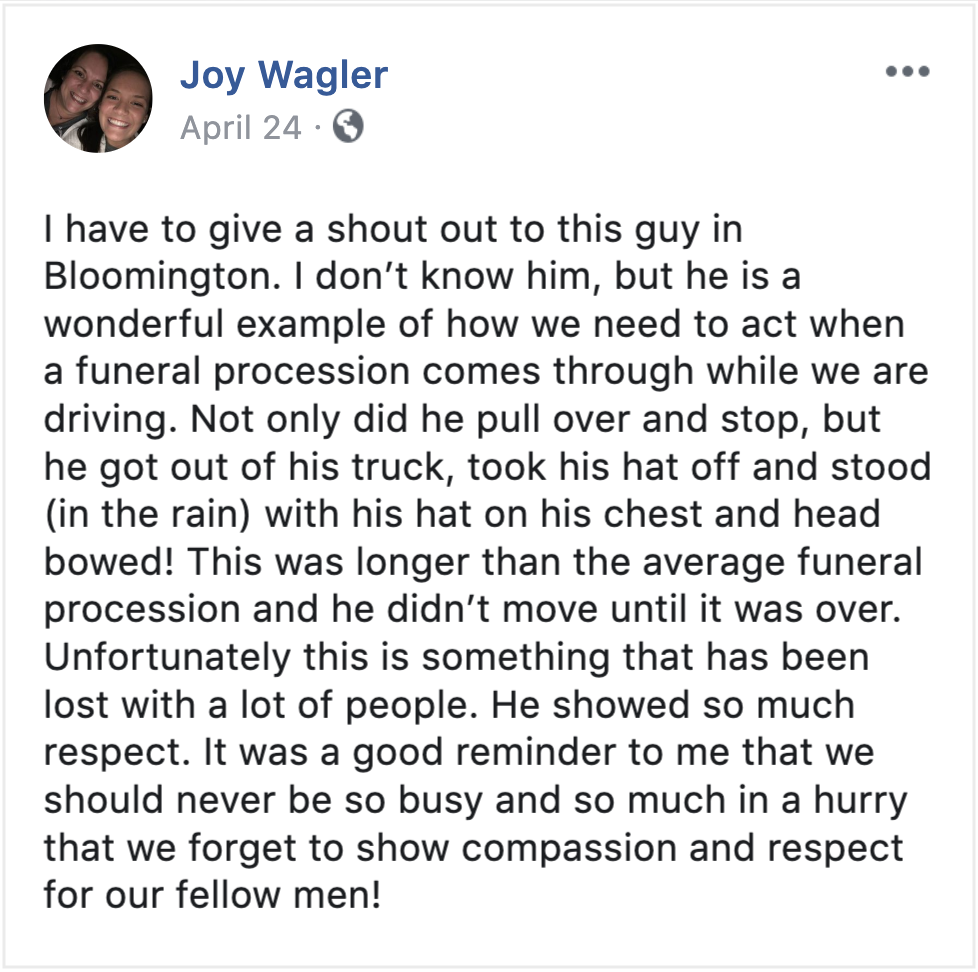 Wagler concluded the post by writing, "Unfortunately this is something that has been lost with a lot of people. He showed so much respect."
She further added: "It was a good reminder to me that we should never be so busy and so much in a hurry that we forget to show compassion and respect for our fellow men!"
This compassionate gesture immediately resonated with social media users. When Wagler shared this selfless act of respect, it spread like wildfire. Since then, the post has garnered 10,000 reactions, over 790 comments, and some 4,900 shares.
One touched user wrote, "Oh wow! I love how they do that I think it should be done everywhere."
While another enthused: "Outstanding, A great way to show respect for the for the individual (Funeral procession), who had passed away."
"You will understand it when someone does it for your friend/relative. You will not forget it!" a third one chimed in.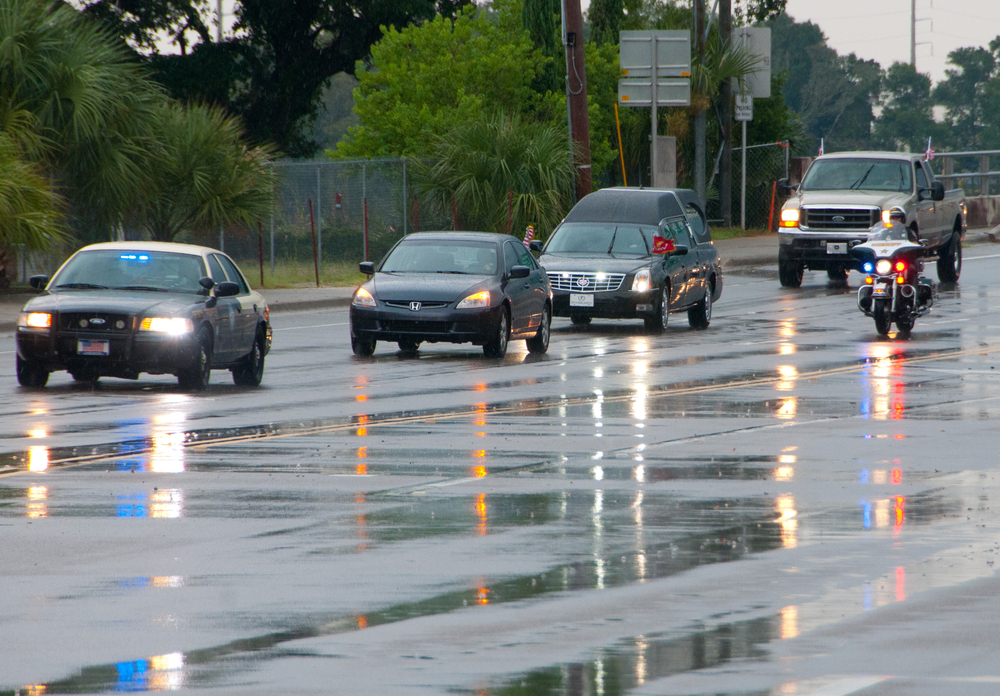 But this is not the first time that people have gone above and beyond to show respect to passing-by funeral procession despite heavy rains. In another instance, a mystery man was spotted shielding Deputy Tiffany Dial in Birmingham, Alabama, as she was paying her final respects to the fallen Birmingham Police Sgt. Wytasha Carter.
On Jan. 19, Dial raised her arm and extended her four fingers to the brim of her hat as Carter's casket went by.
Unbeknownst to Dial, a mystery man was standing a few steps behind her, holding a big umbrella over her head to keep her dry from the downpour as she paid respect.
"I didn't know he was there. My peripheral vision was cut off with my hat, so I didn't know anything was there. I was in my moment," Dial told WBMA-TV.
The man stood there silently, shielding Dial for over 30 minutes without uttering a word to her.
Dial told WBMA-TV that when she became aware of the mystery man's act of kindness, she turned around to thank him, but he had left. As Dial couldn't express her gratitude at that very moment, she wished to meet the mystery man some day and thank him in person.
So, in order to track the man down, WBMA-TV posted the heartwarming photo on their Facebook page, writing: "Do you recognize this man?"
The post then reached the man's wife, Stephanie Muro Allen, who commented: "That's my husband Shawn! He is a Deputy District Attorney with Jefferson County and was on call that day."
On Jan. 23, Dial reunited with the mystery man and thanked him in person.
This story serves to remind us that no matter how busy we get, it is still commendable to stop by and give our final respects to fellow men whenever we can.