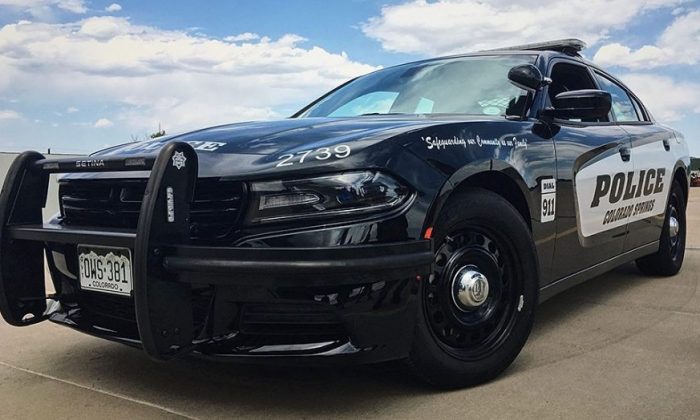 Colorado Springs Officer Shot, in Critical Condition

A Colorado Springs police officer was shot and critically injured in a shootout around 2:45 a.m. on Thursday, Aug. 2.
Patrol Officer Cem Duzel was one of a number of officers responding to multiple reports of a man firing a gun on the east side of Colorado Springs. The officers located the armed man and exchanged shots.
The suspect was shot and suffered nonlife-threatening wounds.   
EPSO lead agency in investigating Officer Involved Shooting at Bonfoy and Boulder. Suspect sustained non-life threatening injuries. Officer still in critical condition. pic.twitter.com/X9M0xq4BN3

— EPCSheriff (@EPCSheriff) August 2, 2018
Duzel wasn't as lucky.
"Cem Duzel a five-year veteran of the Colorado Springs police department was critically wounded," Colorado Springs Police Chief Peter Carey said at a Thursday morning press conference. "He sustained a gunshot wound."
Duzel had been assigned to the Sand Creek Division as a patrol officer.
"The El Paso Sheriff's Office will be investigating this with the Deadly Force Investigations team as outlined by law," Carey continued.
Duzel and the suspect were taken to Memorial Central Hospital for treatment.
A String of Officer Shootings
"This has been an extremely difficult year with law enforcement officers being hurt or killed, in particular in our region," Carey said at the press conference. "Please keep Officer Duzel, his family, and the Colorado Springs Police Department in your thoughts and prayers."
Three Colorado Springs officers have been killed in the line of duty since Dec. 31, 2017.

The bad spell started just after 5 a.m. on Dec. 31 when officers responded to a reported disturbance in an apartment complex in Highlands Ranch, Colorado, 9News reported. The shooter was well-armed and lying in wait for the officers—as soon as they entered the property he opened fire. The shooter fired more than 100 rounds at the officers.
Douglas County Sheriff's Deputy Zackari Parrish died in the shooting. Four other laws enforcement officers—Deputy Michael Doyle, 28; Deputy Jeff Pelle, 32; and Deputy Taylor Davis, 30, all from Douglas County, and Castle Rock SWAT Officer Thomas O'Donnell, 41, were wounded.
Officer Parish, 29, left behind a wife and two young children.
Two civilians also sustained minor wounds.     
Firearms instructor Robert Butler says Douglas County shooting suspect took his rifle classes over the summer. "He didn't show any signs of being violent or unstable," Butler said. He says the weapons in the photos belonged to the suspect. #9NEWS pic.twitter.com/thDjyBLxv9

— Kyle Clark (@KyleClark) January 1, 2018
The shooter, Matthew Riehl, was well-known to local law enforcement—he had posted angry tweets about the Sheriff's Office and the University of Wyoming, where he had attended law school. Riehl had taken a firearms class over the summer, but at that time showed no special tendency toward violence or aggression, according to the class instructor.
Riehl was killed in the shootout.         
We are able to confirm the identity of our fallen officer. Deputy Heath Gumm, 31, served honorably beginning in 2012.

— Adams Sheriff's Page (@AdamsCoSheriff) January 25, 2018

Adams County Sheriff's Deputy Heath Gumm was part of a team of officers responding to a call an on Jan. 24, 2018, about multiple men, dressed in all black, assaulting a woman.
Gumm and another officer pursued one suspect through a backyard, and exchanged shots with that suspect. Gumm received a fatal bullet wound to the torso, 9News reported.
The suspect, 22-year-old Dreion Dearing, was taken into custody. He was later charged with first-degree murder.   
Our Brother Deputy Flick. End of Watch, February 5, 2018 pic.twitter.com/EkCLTICtfl

— EPCSheriff (@EPCSheriff) February 6, 2018
An El Paso County sheriff's deputy was killed while investigating a stolen motor vehicle on Feb. 5, 2018, 9News reported.
Deputy Micah Flick was with two other deputies and an officer from the Colorado Springs Police department investigating an auto theft on the 4200 block of Galley Road in Colorado Springs.
The officers encountered the suspect who started fighting with them, then fled on foot. A gunfight ensued. All four officers were hit, but only Flick suffered serious wounds. A civilian was also shot and slightly wounded.
Flick, 34, was an 11-year veteran of the force. He is survived by his wife and 7-year-old twins, a boy and a girl.
From NTD.tv
Watch Next:
The First Ever Ministerial to Advance Religious Freedom Inspires Hope
The freedom of belief was at the center of the United States' founding
RECOMMENDED