The title of Matt Moore's new cookbook, "The South's Best Butts," is easily seared into one's mind, reinforced by a number of puns along the way. In the book, he travels through the South, looking to gather secrets and recipes from the region's best barbecue masters.
Though he is also a fan of other cuts and meats—ribs, brisket, sausage—it is pork butt, the upper shoulder part of the hog (a good 180 degrees from where the meat sounds like it comes from), that he decides to focus on. "It is humble, affordable, and forgiving," he writes.

One of the most fascinating aspects of his travels are his visits to different pitmasters, who are all driven by a passion and a pursuit of perfection, yet are wildly different in background and personality.
At Heirloom Market BBQ in Atlanta, Jiyeon Lee, one of Korea's first pop idols back in the '80s, teams up with husband Cody Taylor, who by way of research ate at 500 barbecue joints before they opened Heirloom. Their Spicy Korean Pork makes use of sweet chili sauce and gochugaru (Korean chili flakes), among other ingredients. As for the sides, think Kimchi Slaw, as well as Rice Wine Vinegar and Miso Braised Collard Greens (see recipe here). It's an intriguing meeting of Korean cuisine with American Southern.
Then there's Helen Turner, the owner and pitmaster of Helen's BBQ in Brownsville, Tennessee, who tends to the fire pit out back while at the same time managing the restaurant. Moore is pressed to tag along with Turner throughout the day, and when he starts to lag in energy, Turner ramps up hers. She revives him with a smoked bologna sandwich (sliced extra thick and the best he'd ever eaten, he proclaims), followed by spare ribs, chopped pork, and Polish sausage.
Moore does pretty well in collecting recipes, though he is met with some polite evasion now and then. At Shuler's Barbecue in Latta, South Carolina, he asks Lorraine Hamilton for her famous watermelon cupcake recipe. He writes, "Lorraine replies, 'bless your heart,' which in Southern vernacular translates to 'over-my-dead-body.'"
Moore makes a fine translator—and ambassador—for Southern 'cue.
The book also includes recipes for sides, like Spicy Okra Fries, Root Beer Baked Beans, and Deep-Fried Corn, and entrees that make use of pulled pork (choose your own rub and preparation from the pitmasters' recipes), such as pulled pork tacos (see recipe here from B-Daddy's BBQ in Texas) and a BBQ Tortilla Pie.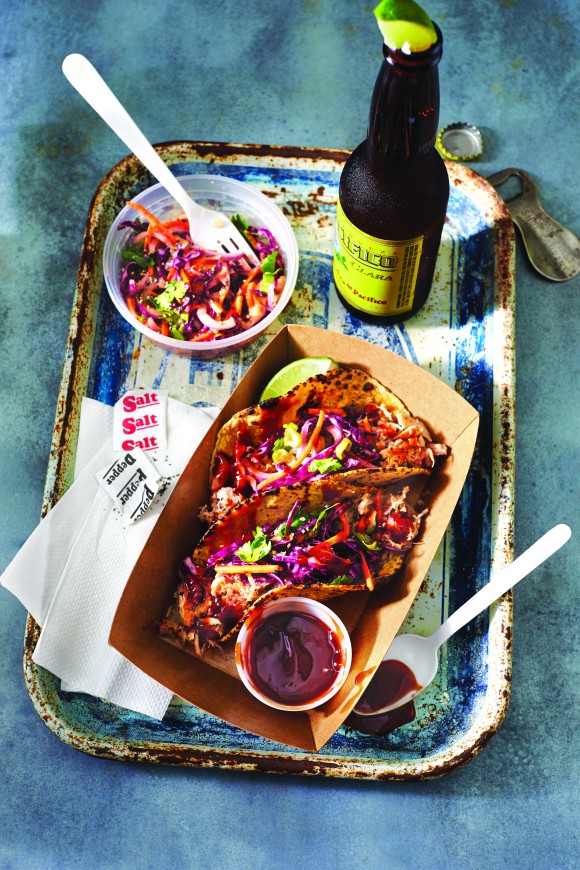 If you're inspired to cook, you'll need a smoker and you'll need some fuel. But if you're simply inspired to eat, now you'll know where to find some great barbecue and the stories behind it.
For something sweet to end your meal, try this Fried Banana Pudding recipe from Squealer's Hickory Smoked Bar-B-Que in Meridian, Mississippi.
"The South's Best Butts: Pitmaster Secrets for Southern Barbecue Perfection" by Matt Moore is published by Oxmoor House ($26.95).