The loss of a loved one can leave the bereaved grasping for answers. With no warning beforehand, the sudden flux is all the more frightening.
In truth, there is little anyone can do to help ease the pain of those affected. A helpful heart is the greatest gift one can offer, eliminating other worries so that grief can be faced head on.
Glendale, Arizona resident Geraldeine Tabor awoke one morning in August of 2015 to a devastating realization: Her husband passed away at some point during the night.
Tabor called the Glendale Police Department to alert them of his death. When officers arrived on scene, they found the grieving widow in need of some help beyond the call of duty.
Geraldeine Tabor's husband passed away at home overnight. She called the police when she woke up to alert them of his death.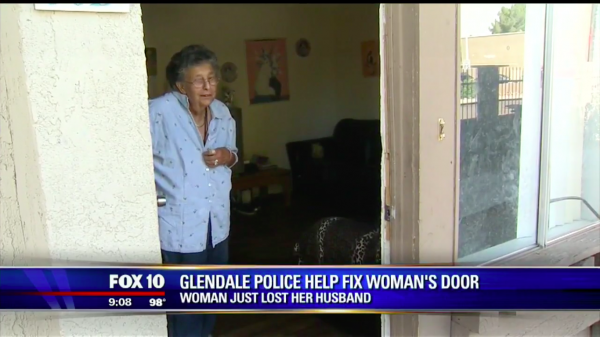 While the coroner examined Tabor's husband's body, Sgt. Jeff Turney with the Glendale Police Department noticed something peculiar about her front door.
"It was a lock that's normally used in the inside of the house for a bathroom and it wouldn't latch, there was no latch to it and she was using a dead bolt to try and keep it locked at night," Turney told Fox 10 Phoenix.
Worse, there was no way of locking the door from the outside. There were no keys for the lock, and if someone wasn't able to turn the deadbolt from the inside, the door would swing open.
With her husband gone, Tabor was going to need more help than ever. The lock would remain broken if someone didn't take the initiative to fix it.
Sgt. Jeff Turney noticed that the lock on Tabor's front door was broken, and took it upon himself to make repairs.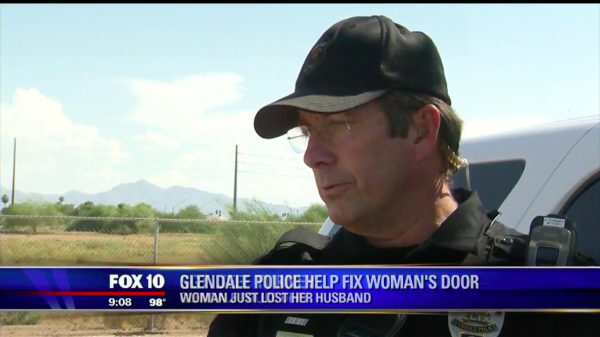 Turney had his tools in his car, and a Home Depot gift card. He sent one of the officers out to buy a proper front door lock and got to work with the repairs.
Meanwhile, Tabor was in her bedroom speaking with the coroner as he examined the body. Unbeknownst to her, Turney and his team were working in earnest to fix the lock.
"When the coroner finally came and got my husband, I walked over here and he was working on it, and I have never seen that before, that's a new one," she told Fox 10 Phoenix.
Turney didn't wipe out Tabor's grief by fixing her door, but small acts of kindness go a long way for those in despair.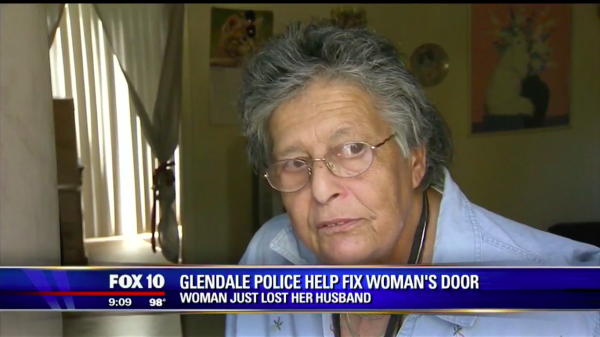 Tabor certainly appreciates Turney's compassion. It doesn't offset the heartache of her loss, but it's a practical, sympathetic gesture, and a show of support.
"They have enough, a big job taking care of us out there . . . and I really do appreciate it," said Tabor.
As a member of the community he serves, Turney sees thoughtfulness and consideration as part of the job.
"I've been doing this for 36 years now and I've seen a lot of people in trouble and we try to help them one at a time," said Turney.