Learning life lessons are just as important as the things that appear in the curriculum. After hearing some heartbreaking news from one of their favorite teachers, these students passed a test in empathy with flying colors.
For Matthew Groark, a teacher for 15 years, talking about it helps. His heart was heavy, and sharing his troubles with his students helped him grieve.
"I've dealt with my share of heartbreak," Groark said to the Courier Post. "I can't bring it to school and not show it. Everybody grieves and acts differently. For me, talking about it helps me."
It was the first time in a week the teacher was back at school— he'd taken some time off after learning his wife had a miscarriage.
Matthew Groark's students at Washington Township High School in New Jersey wanted to do something nice for their grieving teacher.
Last month, our gym teacher's wife had her 5th miscarriage 4 months into her pregnancy. After seeing how devasted he was, our class decided to pitch in for Sixers tix for him and his wife to show our gratitude. Enjoy the game, Mr. Groark :-)!! You and your wife deserve it ❤️ pic.twitter.com/Q5TqnAyEZR

— tina (@anhtinah0) February 28, 2018
It was the fifth miscarriage in seven years that Groark and his wife have endured. They already have two sons, but having their third child has been a challenge.
"We went to our 17-week ultrasound and didn't get a heartbeat and our world kind of crashed," he said to ABC 6.
Groark expected to vent some of his frustration, then get on with the lesson he'd planned for his students. The physical education and health teacher didn't think his story would have such an impact on them.
But even after class ended, the student couldn't forget how shaken he was.
"You could see how upset he was so Tina and I decided to do something nice," Evan Chu, a student in Groark's class said to ABC 6. "And once we mentioned it, money started coming from everywhere."
The students pooled their money and purchased their teacher a card— and a special surprise gift.
Groark, a devoted Philadelphia 76ers basketball fan, received two tickets to watch a game with his wife from the students.
His reaction: pic.twitter.com/sx9YGKyRO5

— tina (@anhtinah0) February 28, 2018
"And I opened it up and the tickets were cool, I love the Sixers but what they wrote was heartfelt. They wrote -'We want to show our thanks for teaching us. Keep your head up even when life hits rock bottom,'" Groark said.
"And to come from juniors in high school – 16 and 17-year olds. As a parent and what's going on in this world, it was amazing to see young adults show that kind of compassion an empathy."
The teacher received the gift several weeks after telling the kids what was going on in his personal life. The fact that they were still thinking about him made him eager to return the favor.
"For them to still be thinking about it, I couldn't help not wanting to make something happen for them," he said.
After contacting the basketball team, the team gave Groark enough tickets to bring his entire class.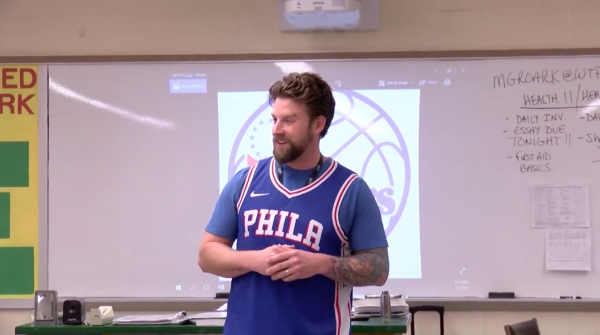 "They lost it. They were pretty much beside themselves," Groark said of his students when they heard the news.
The 76ers organization gave a total of 30 tickets to Groark and his students for a March 13 match-up. The teacher is happy to have his students coming along, but the fact that a date with his wife had become a chaperoned field trip isn't lost on him.
"I'm going to owe my wife a date night," he said.
Ultimately, it's the kind gesture by the students that set the entire story in motion.
"Our story is a tough one but this is about their reaction to seeing me hurt and sad on the most simple human level and wanted to make me happy," Groark said.