Watch the full video below!
Countless people are still recovering from Hurricane Maria, the devastating storm that struck Puerto Rico last September. It was one of the largest and costliest tropical storms on record and the biggest to strike the area.
Relief efforts are continuous, attempting to cope with the catastrophic damage dealt to homes and infrastructure.

In the wake of the disaster, many people have relocated and are trying to rebuild their lives—but they might have to do so without one member of their family:
Countless pets were displaced from their homes during the storm.
With all the chaos and damage from the storm, many dogs went missing. On top of that, many people had to abandon their pets when fleeing the storm, leading to chaotically overcrowded shelters, according to the Associated Press.
"The number of animals in need in Puerto Rico has increased dramatically since Hurricane Maria," Christina Hill of the Atlanta Humane Society told The Dodo back in November.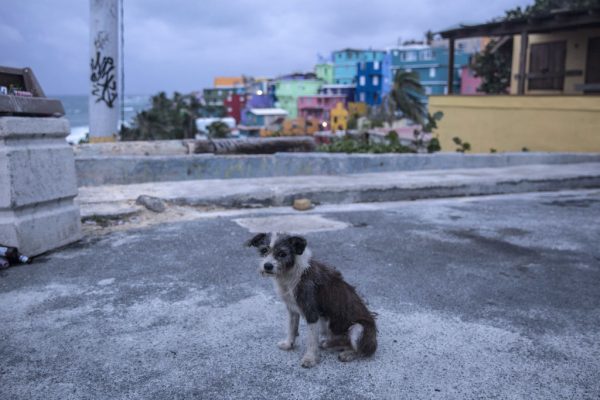 When one Puerto Rico family lost their dog Daya after she got out during the storm, they thought they'd never see her again. The family eventually relocated to Massachusetts, giving up hope on spotting their pet again.
But then, they got a miracle.
The family recently got a call they never expected:
After all this time, Daya had finally been found!
Daya was flown from Puerto Rico to Second Chance Animal Services in Massachusetts, along with 18 other pets from the area looking for a new home.
At first, Daya didn't know what to make of the new surroundings: "She was really shy," Diane Tillotson, a marketing manager for the shelter, told The Dodo.
However, all that changed when her owners came to pick her up:

Daya got excited, immediately recognizing her old family.

The pup jumped up and greeted the mom and two kids, thrilled to see them again.

It was an inspiring reunion. Daya's transport was made possible by St. Hubert's Animal Welfare Center and Puerto Rico Animal Unite, who are working to get these displaced animals home.
According to Second Chance Animal Services, the other dogs who traveled with Daya are receiving medical treatment and will be up for adoption soon. Hopefully they'll all go to good homes, and find a happy ending after all this devastation.
Watch the video below:
Video credit: Second Chance Animal Services (https://www.facebook.com/secondchanceanimals/) | http://www.secondchanceanimals.org.  Donate to help pets in need: http://www.secondchanceanimals.org/Donate.html