No one likes pocket change. Unless you have a lot of coins, it's essentially useless.
What can you buy with three pennies, a dime, and two nickels? Nothing, but if you're extremely patient one day you'll be able to afford something.
Morgan Porterfield recently shared her father's kind gesture on Twitter, and it went viral.
Happy Fathers Day dad, I love you more than words can express. You've done more for me than I could ever deserve, and no one has ever inspired me like you have. You are truly my hero, and I am so grateful that God gave me such an amazing father❤️ pic.twitter.com/HNplg176ej

— Morgan Porterfield (@morganp_2018) June 17, 2018
In 1981 the 17-year-old's father, Jim Porterfield, was involved in a head-on collision. The accident left him in a coma for weeks, and he had to undergo a dozen surgeries.
Despite the odds being heavily against him, he survived, but it left him with both mental and physical disabilities.
According to a GoFundMe page set up by one of his daughters, Jim was laid off from his job in 2017, and though he was able to receive disability, he struggled to pay his medical bills.
She didn't know it, but for a month her father had been collecting change.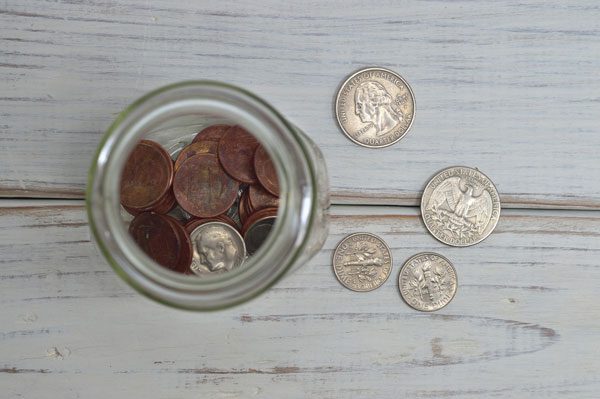 At the beginning of June, when Morgan returned to her family's home in Katy, Texas, after work her father told her he left her a present on her bed.
"I read the note and I couldn't help but cry," Morgan told PEOPLE. "It was so sweet that he had thought about that and did that for me even though he doesn't have much money himself."
One day he left her a surprise on her bed.
As some know my dad is mentally and physically handicapped and so especially now that he's older he's unable to work or earn an income but he's been saving his pocket change for the past month for some reason and I thought nothing of it til I came home from work to this today❤️ pic.twitter.com/rdEqu6u8rf

— Morgan Porterfield (@morganp_2018) June 2, 2018
Even though Jim didn't have a lot of money, he spent a month collecting pocket change for his 17-year-old daughter because he knew she liked coffee.
"She was telling me she likes to go to Starbucks [and] I knew she didn't make a lot of money … I was going to do what I could to help her," he told KPRC.
Morgan was moved by the pill bottle that contained $11.19 in change and shared a photo of it along with the note her father wrote on Twitter. It didn't take long before it received hundreds of thousands of likes, retweets, and comments.
The sweet gesture was too much for the internet to handle.
I read about your father's story and I'm touched. You're lucky to have him and he's also lucky to have you ☺️
Much love ❤️

— A$hley (@Ashtrologic) June 4, 2018
Please tell your dad that he is AMAZING! My son has an intellectual and developmental disability. I don't know if he'll ever work, but I hope he grows up to be a wonderful man like your father❤️

— Maribel Medrano (@mm_6875) June 9, 2018
I'm honestly crying so much right now. This is the type of love I look for in the world.

— Angelica Luna 🌙 (@Angelica_119_69) June 4, 2018
"I just think there's so much craziness going on in the world right now that it really warms people's hearts to see good people in the world and people are able to touch them … and I'm glad I could share his story for others because he touched my life," Morgan said.
The family has set up a GoFundMe page to help cover some of Jim's medical costs until he's eligible for Medicare in March 2020. In an update, Morgan wrote that she hopes to use some of the money towards a lift chair for her father.
"I'm touched by just living with him," the teen said about her father.