"Easy" isn't necessarily the first word a parent would use when it comes to changing a baby's diaper, and it mostly certainly doesn't come to mind when changing a baby on a changing table in a public restroom.
So, when Tamika Ives witnessed a woman yelling at a father for something that more than likely was already stressing him out, she had to say something.
Ives took her daughter to the parents' room to change her diaper and witnessed another woman yelling at a man.

In a post on the Sunny Coast Community Board on Facebook, the 18-year-old mother described the incident. When she walked into the parents' room with her nine-month-old daughter at a shopping center in Sunshine Coast, Australia, she noticed a man in the room in the midst of changing his son.
She wrote that he was "already having a difficult time with his son not wanting to be changed," when a woman who walked in with her two children started berating the father.
"It's only for mothers, get out you sicko," Ives recalled the mother of two said.
The woman yelled at the man and threatened to call security if he didn't leave.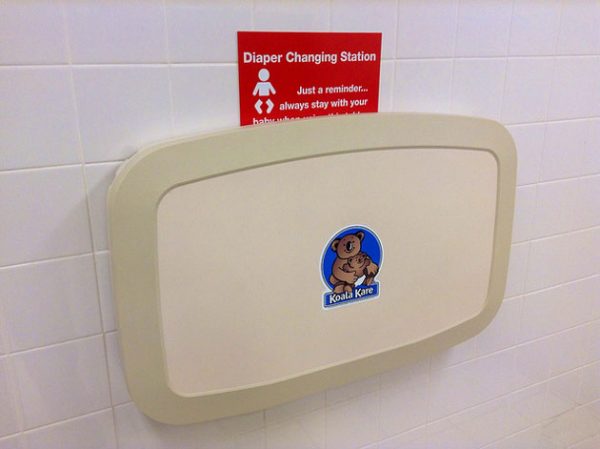 According to Ives, the woman continued to yell at the father and threatened to call security and accuse him of staring at her kids if he didn't leave the room.
Not wanting to cause any more trouble, the man picked up his son, who didn't even have a clean diaper on yet, and started out of the room.
Ives wrote that once she saw the father leave the parents' room she had enough. She noticed that a few of the other mothers in the room did nothing, but she couldn't sit around and act like nothing was wrong.
"[I] told the dad to come back in and finish changing his son, told the lady that if she wanted to call security to go ahead because I would 100% back the dad up," she wrote on Facebook.
Ives convinced the man to come back into the room and told the woman she'd stand behind him if she called security.

The man walked back into the room and finished changing his son, but not without stares from the woman who just yelled at him.
"I waited for him to finish, then we left together while the woman was still sitting there on her phone with her kids in the playpen," she said.
Ives hoped that by sharing what she witnessed caused others to rethink their attitudes towards fathers changing their children in parents' rooms.
"More people need to realise that being a parent is both a mother and fathers job," she wrote. "Dads shouldn't feel guilty about using a parents room, that's what they are for. But unfortunately there will always be people who think they can treat others like that and get away with it."