Veteran James Pack thought he was going to have to sell his car to bring his two dogs home.
After suffering a heart attack, the 58-year-old was forced to put his dogs up at a shelter during his recovery, unable to care properly for the two sweet young labrador-pit bull mixes for a couple of months.
That's where he ran into trouble.
His beloved dogs had been put up for adoption.
Unable to care for the dogs for the three months that he was in recovery, being shuttled from one hospital to the next, he was forced to surrender the dogs to the SPCA, who were put up for adoption at a local Petsmart after they spent so long in the shelter.
When he was able to go and retrieve them, he realized that it wasn't going to be an easy process. Since they'd been in the custody of the shelter for so long, they were now up for adoption officially, which meant that Pack was going to have to pay over $200 in boarding fees and fork over cash for the adoption itself.
He was reunited with the pups briefly at the Petsmart when they shared that info with him, but realized that he would have to leave empty-handed that day.
Pack, who had adopted both dogs over the last few years from different litters, knew that he wasn't going to just leave them alone and unwanted. Due to their pit mix breed, both dogs had gone without much interest from prospective adopters, and Pack wanted to make sure they knew he would love nothing more than to bring them back home.
He knew he'd have to sell his car to a scrapyard in order to come up with the necessary cash to bring them back home, and was prepared to do so upon leaving them at the Petsmart for the day.
A kindhearted employee of First State Animal Shelter, though, ensured he wouldn't have to do that.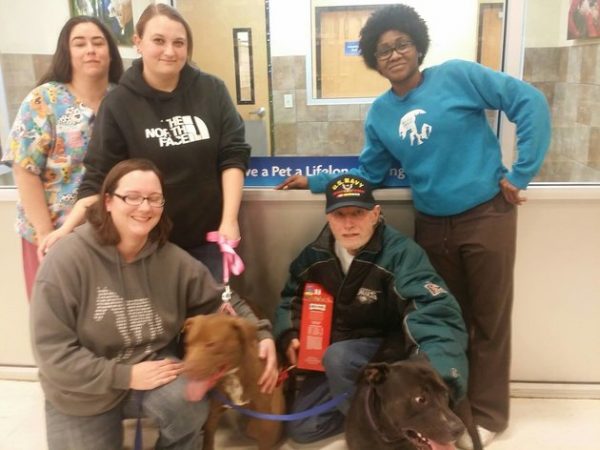 Melissa Eagle heard Pack's plight, and knew that she couldn't let him sell off his car for scraps just to bring his own dogs back home. The pair, 3-year-old Blaze and 2-year-old Bailey, were 'trained to a T', according to shelter workers—and even though Pack spent part of his time in the hospital dealing with partial paralysis, he still called daily to check up on his beloved animals.
Eagle quickly went to work.
She enlisted volunteer Chris Malec to pay the majority of the adoption fees, and other local volunteers chipped in to cover the rest—along with dog toys, food, leashes, and other supplies that Pack and his pups might need when he returns to bring them back home.
Eagle and Malec spent the rest of the afternoon getting everything ready after Pack left the store, then got in position the next day—complete with a video camera—to surprise the veteran when he showed back up to try and offer payment for his dogs.
"Here's your $40 back," said one of the Petsmart workers.
Pack was near tears and confused—he thought they were turning down his money because they couldn't give him his dogs back. Then the worker hurriedly explained that that wasn't the case—Eagle had raised the money to give him his dogs back because she was so touched by their story.
"Are you serious?" he said, starting to cry.
His reaction when they turned down all of his money was priceless; then, when they offered him the gifts to go with his homeward-bound friends, he broke down.

Pack couldn't believe what was happening.
He was already in awe that the dogs were both still around a full 30 days after he was first hospitalized—to then get to bring them home with tons of new toys and supplies, all free of cost for him, was more than he could have ever hoped for.
Now that he has his family back home with him in the form of Blaze and Bailey, Pack is getting their lives back on track. Although he's unable to continue his work as a tractor-trailer driver due to his health conditions, he's been in touch with Veterans Affairs and hopes to use his newfound resources to go back to school in order to become an x-ray technician.

He's gone from the unimaginable—prior to his heart attack, the Navy veteran had been strongly considering living out of his car with the two dogs until he found a permanent home—to a brighter future, complete with two smiling faces and wagging tails that won't leave his side. He says that the dogs even sleep with him in his bed at night now—and after all the three have been through, it's hard to blame them.