Noah, a boy from Lakeland, Florida, is only 9 years old, but he already knows what he wants to be when he grows up: a police officer.
"I'm going to make the world a better place and capture the bad guys," Noah explained to Inside Edition.
Obviously, Noah has a high opinion of law enforcement, so when he ran into one of his heroes in person, he knew he had to take the opportunity to thank them somehow.
In April, Noah was out with his mother, Amanda Cantin, for Take Your Child to Work Day, and the two stopped for lunch at Denny's.
When Noah spotted a police officer, he reacted like a celebrity had just entered the restaurant.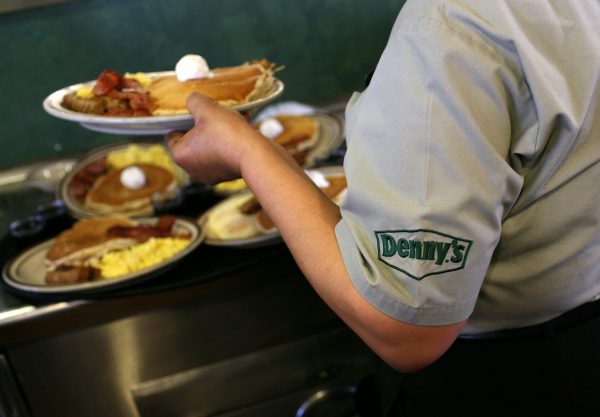 "He says, 'Mom there's a police officer down there,'" Cantin recalled to WTSP. "I said, 'Yeah I know I seen him when I walked in!'"
But she was stunned when Noah, on his own, suggested a surprising act of generosity.
"He's like, 'I know what to do,' and I'm like what?"
"And he goes, 'Can I pay for his breakfast?' And I said absolutely!"
Noah walked over and picked up the tab of Officer Eddie Benitez of the Lakeland Police Department. Cantin recalls that it was something the officer never expected.
"He didn't understand why this little boy was walking down there with his tab," she told Inside Edition. "His face was very shocked."
But it all made sense when Officer Benitez looked at the bill — and saw the kind note Noah had left for him.

"I helped him spell it," Cantin told Inside Edition.
Officer Benitez was incredibly moved by the act of kindness. He told WTSP that he was going to "keep [the receipt] as long as I can."
He immediately went over and thanked Noah and took a photo with him.
"It meant everything," Benitez told WTSP. "It meant that I'm supposed to wake up every morning and put on this uniform and go out there and do what I do."
"It means that I need to keep trying to be a good example to all these young guys."

The Lakeland Police Department was also moved by the story, and decided to share the photos on their Facebook page.
"Well Noah you touched all of our hearts today," they wrote. "Your support means so much to all of the men and women who put on the uniform everyday." The post also wished Noah a happy upcoming 9th birthday.
When asked about his good deed, Noah told WTSP that he "just wanted to make his day better."
But his mother believes this is a sign of something greater—one day, Noah might be the one in the uniform.
"If 10 years from now, he puts on that uniform and has that badge on, I will be one proud mom," she told Inside Edition.