Jon Hammell, the Deputy Sheriff in Tuolumne County, was out following a suspicious car past midnight. For Hammel, it was a regular patrol night. Little did he know he would meet someone unexpected before morning.
It was around 1 a.m. when the Jon Hammell stepped out of his car leaving the door open. As he went to speak to the occupants of the suspicious vehicle, unbeknownst to Hammell, someone else seized the opportunity, hopped into Hammell's patrol car, and curled himself in the passenger seat waiting for a ride home.
The Deputy Sheriff was at first surprised when he came back to see a black Labrador sitting in his car, but he guessed that the dog must have strayed far away from home unable to go back.

Pets, especially dogs, can be very adventurous, and they may sometimes end up losing their way home. But they are also good judges of character, meaning they are likely to fall into safe hands while wandering out on the streets. This strong instinct led one dog named Ruger into an unlikely place on one cold night. But he was right to do so since he got a ride back home with the help of the law enforcement officer.
California is not known for being a cold state, but there are some parts of Tuolumne County that can get quite chilly during winter. It was such a night in the city and temperatures were as low as 20 degrees.
And Ruger was out in the cold.

Hammell checked the information listed on the lab's collar, and he was right: The dog's owners had been looking for him all night.
During this time, Ruger was fast asleep in the warm seat of the patrol car leaving the law enforcement officer to do what he does best, "help you find your way home."
The canine's instincts were right since that is what the Deputy Sheriff did. He called the lab's owner while Dispatch got the lab's owner address from the information on its collar. Tuolumne County Sheriff department posted this incident on their Facebook page where they expressed the joy of having Ruger's company and successfully reuniting him with his owners.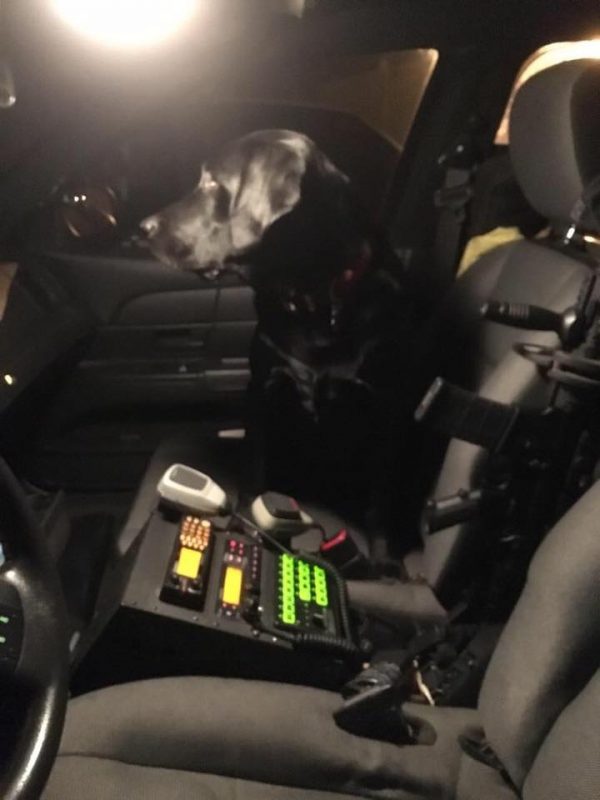 Tuolumne City consists of more than 50,000 people—it's not a tiny town where finding a lost pet is a sure thing. Pet owners should remember to place their contact information on the collar or tags for easy recognition and tracing once lost. Most animal shelters in the country will always adopt stray pets that lack identification. However, this leaves you suffering from the loss of an animal that had become a part of your family.
Pets especially dogs will always wander and lose their way home. This leaves them susceptible to many dangers such as harsh weather conditions, lack of food, and motor vehicle accidents. Most homeowners will always secure the compound with a fence to restrict the pets from moving far away from home, but they might also find a way of getting out of the home compound. Therefore, it is highly advisable to include the pet's name, your contact information, and home address for easy identification when it strays.